Description
Anthill's much loved Entrepreneurs' Night Out is back.
And Sydney... you're first!

Entrepreneurs' Night Out (SYDNEY)
Are you an...
Innovative Business Owner
Based in New South Wales
With a passion for business
And a desire to meet other like-minded business builders?
If so, you are invited to join Anthill's 'Entrepreneur's Night Out' at our secret location Sydney location on Tuesday 22 March 2011 (6pm-9pm).
The Facts...

When: Tuesday 22 March 2011 (6pm - 9pm)

Where: Secret Location, Sydney

The Cost...

This event will cost you one dollar for every year you have lived on this planet.
Yup, attendance is priced to reflect the age of each attendee. This means that 35 year-olds will be required to pay $35 for attendance, while 18 year-olds will pay $18.
This seemed like a fair way to subsidise the cost of booze, finger food and some flights from Melbourne to Sydney. (Gotta give a little to get a little, right?)
Simply click 'Enter Discount Code' and insert your age (i.e. 29 to pay $29).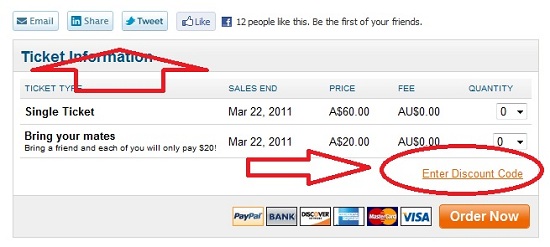 And don't forget to share! Tweet, Facebook like, Email!

What's it about...

Building a business at any age can be a lonely undertaking. But entrepreneurs have it tougher than most. Our friends and family often don't understand the complexities of running a business… or the personal stress that comes with the job.
Meet and learn from other business builders. Share a drink. Have a laugh. Gain insights from a panel of business builders who have 'been there, done that' and created successful ventures. Benefit from the experiences of other attendees.
And most importantly of all, help us build a culture of entrepreneurship in NSW!
Our Speakers...
Sebastien Eckersley-Maslin (Guest MC)

One of Anthill Magazine's 30under30 Award winners, Sebastien thrives on creating smart solutions to everyday problems. Sebastien is also the inventor and co-owner of a patented autonomous landing system for military unmanned aircraft.
Recently, he was recruited by Servcorp, a global serviced and virtual office provider, to feature in a documentary about start up businesses. His exploits attempting to secure clients in 6 cities over 12 days were filmed as part of a Guiness World Record attempt to become "the world's smallest multinational". This six part documentary is viewable online at www.smallestmultinational.com
When he is not enjoying his daily mountain bike ride, he is running Blue Chilli Technology, a firm that specialises in developing technology and software to help internet startups succeed. He is also actively involved in Kidpreneur project which aims to teach basic business skills to children to foster a generation of entrepreneurs.
Domenic Carosa
Starting his first business venture at the age of five, buying and selling postcards at the front of his parent's house. Domenic then moved on to trading train sets, video games and eventually businesses.
In the last 10 years, he has completed over 50 acquisitions and exits. By the age 25, he listed his first company, Destra Limited, on the Australian Stock Exchange.
At the time, he was the youngest CEO of a public-listed company in Australia. Today he is the founder and CEO of investment group Dominet and venture capital PDF the Future Capital Fund, investing specifically in internet 'upstarts'.
Ian Lyons

Ian Lyons is currently a director of The Cool Hunter (an online destination for all things 'cool'), teaches the ADMA Certificate in Digital Marketing and is an independent Social Media Advisor, working with clients such as Hon Michael Kirby AO, Sydney Festival, Starlight Foundation, Adam Brand, Emily Scott and National Disability Services.
Lyons' digital native status dates back to 1979 when upgrades involved a soldering iron. In 2000, Lyons was appointed the CIO of Line56 – a new media company in Los Angeles, set up to ride the dot com boom – mostly down.
Back in Australia, Lyons has held development roles at MassMedia Studios (Traction eCRM platform), pureprofile (Research panels and profiled media) and was in 2009 appointed Director of Social Media at Amnesia | Razorfish, before embarking on his own ventures as an independent consultant.
Katey Shaw

Losing her job as a legal secretary in the Global Financial Crisis, saw Katey fall into a role as a Virtual Assistant (VA).
Already a resourceful networker and lover of the book the 4 Hour Work Week, this new role drove her to seek out an Australian way to achieve the solutions of Tim Ferriss' book.
Today, she is owner of her own business, sourcing VA's for Australian digital companies.
When not building her own entrepreneurial empire, she is a playing secret agent to two of Australia's largest internet marketers, blogging at OutsourcingQueen.com and counselling online business strategy.
Mystery Guest
This person has started a business from the ground up, has endured hardship to get where they are and has done amazing things for entrepreneurship.
You will hear their story and be inspired to achieve great things during your own entrepreneurial endeavours.
Plus you!
We anticipate that our attendees will be an interesting mob (Yes, we're talking about you). Don't expect to be neglected from our MC's gentle probing.
Not based in Sydney?

If you are NOT based in Sydney and would like Anthill to bring this or a similar event to your neck of the woods, click here.
REGISTER AT THE TOP OF THIS FORM