Sales Have Ended
Ticket sales have ended
Want to know more info about GiveGet and what else we do to support business owners like you? Head to www.giveget.biz Also check out your Facilitators' businesses....and get ready for a power-packed day!
Sales Have Ended
Ticket sales have ended
Want to know more info about GiveGet and what else we do to support business owners like you? Head to www.giveget.biz Also check out your Facilitators' businesses....and get ready for a power-packed day!
Description
This is no ordinary business workshop event! If you'd like to learn with friends, connect with talented business owners and make your own success, the Co-Lab is for you
.
Fun. Interactive. Collaborative.
Our one day intensive, practical workshop series is designed to rapidly build your business skills, and make genuine connections with other like-minded entrepreneurs.
Want to grow your business in 2017 but feel like you don't have the right skills, confidence or a team to take care of everything? You are not alone in your startup journey.
"Really great day, enjoyed meeting new people and learning new skills. Thankyou!"
"Fab format and lovely group of people."
"The value was immense and jam packed with information and opportunities to chat."
"Loved it."
A team of local Melbourne facilitators will take you on a journey to roadmap your business action plan. Choose your own adventure to get the skills you need now.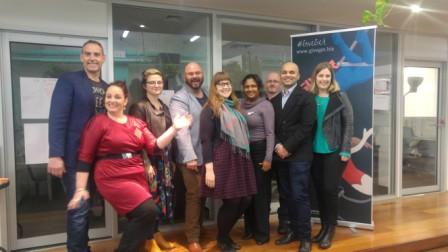 PLUS we invite you to draw on and contribute to the collective wisdom and expertise of your entrepreneurial peers in this community-style Skill Share event. Not your average business sesh!
CLICK HERE TO SEE MORE ABOUT YOUR CHOICE OF SKILL SESSIONS
All the stuff you Get:
Mix and Match your expert-guided, hands-on workshops in gorgeous surrounds to inspire clever minds
Actions Sprints – follow up each session by road-mapping your plans
1 x Bonus Session - for the brain or the body
Lunch & light Afternoon Tea
Sundowners – enjoy a cheeky drink with your new besties to celebrate your awesomeness
Co-Labber showbag
So many new skills and a custom-made formula to grow your business
What you Give:
One day investment of your best self to devote to your business
A willingness to share your knowledge and ideas with others
Who is this designed for?
Energised, inspired business owners ready to act
Solopreneurs, freelancers and creatives wanting to join forces and connect to something bigger
Those needing a confidence boost to tackle the 'too-hard basket' aspects of your business
Anyone seeking a genuinely supportive network and access to business opportunities arising through connections


---
CHECK-IN & CONNECT FROM 8:30AM. KICK-OFF AT 9AM.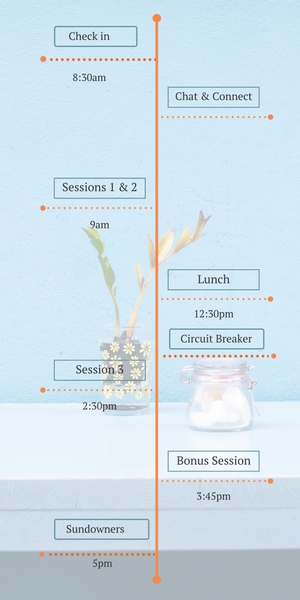 SPEND TIME CELEBRATING THIS EPIC DAY. FINISH AT 5:30PM
WORKSHOP LIST:
Facebook for Growth
So you've started a small business and you know you need to do "something" on Facebook, but have no idea how to build your page? Come along for a practical workshop on how to go about growing your presence. Together we will create a strategic calendar for a months' worth of postings, giving you a practical content creating process you can use again and again.
with Janna Taylor (Colour Me Social)
Website Like a Boss
Worked on your own website recently? You've probably had enough hair-pulling, computer-through-the-window moments for one lifetime.Hannah Sutton is a graphic & web designer who makes beautiful brands for budding businesses. She's been through the website mill as a complete newbie, had a hard slog at Wordpress, and eventually came out the other side running a team of web developers making hardcore custom sites. Her aim is to demystify the website building process and show you some more practical, painless ways of having a web presence (So take a deep breath, plug your laptop back in and sit down). If we have time in this workshop, we can also to address any pains you might be having if you're already running your own site and need help.
with Hannah Sutton (Hannah Sutton Design)
Managing Early Stage Legal Risks
3 quick steps you can implement today to manage the early-stage legal risks for busy start-ups.
Topics:
Do you know who you're doing business with? Basic due diligence for new clients and suppliers.
Are you complying? Consumer law basics for small business
Legal risks in collecting, storing and using customer private data
with Meldon D'Cruz (Cruz Legal)
Creating a Killer Offer that Generates More Leads for Less Money
Have you ever wondered what are the essential ingredients of a killer offer? In this session you will learn everything from understanding your customer to how to break down your core offer into bite sized chunks that generate higher quality leads for less money.
with Luke Duggan (Effortless Web)
Inspired Filmmaking Skills for DIY Online Videos
This workshop will introduce key skills and approaches to help you make your own online videos.
We will explore what can best help us to share the essence of our purpose, business and offerings in engaging and effective ways using online videos.
You will learn how to get the most out of video equipment that is already available to you, including your smart phone, tablet and laptop. Equipment that can augment these will be explained and demonstrated including tripods, microphones and lighting.
This workshop will be supportive, collaborative, educational, practical, creative and fun, to help you start making your own amazing online videos.
with Stefan Markworth (Markworth Media)
Introduction to Growth Hacking
In this session you will get ideas from Dropbox and Uber on how you can grow your company faster. The session will include a breakdown of how the companies managed to grow fast, and two short break sessions where you can apply the things they did well to your business.
with Bjarne Viken (Scale Up)
BONUS SESSION
How to Grow Your Business by Unlocking the Potential of Your Secret Selves
Ask any successful entrepreneur and they will likely tell you mindset is critical to your success in business. Yet, people tend to underestimate how much mindset actually impacts on all aspects of your business. Essentially, mindset is the way you understand and respond to the world around you. It's about your thinking, attitudes, beliefs and behaviours and can influence everything from the way we build relati nullonships, problem solve, our creative thinking, how we perceive success and failure, valuing our own worth and more. During this session, we will explore a coaching tool that I utilise with clients to help you understand and define your secret selves and delve into the roles they play within your business thinking. This will empower you to harness your secret selves to your full advantage to go forth and kick arse in business.
with Shevonne Joyce (The Business Experiment podcast/Yellow Palomino)
---
FAQs
How many Workshops will I attend and how long are they?
You are free to mix and match 3 workshops, plus you get 2 bonus sessions. The skills workshops are 90 minutes each for some deep diving hands-on stuff, and plenty of time for questions. When you book your ticket we'll be in touch to confirm your session preferences.
Are you charging for the event?
The Entrepreneurs' Co-Lab is massive value and we want to keep it accessible and affordably priced + you get food, snacks, sundowners, materials and tools to take away and connected to an awesome community of like-minded entrepreneurs and freelancers! AMAZING deal. Do not miss out.
GIVEGETTERS WILL RECEIVE A DISCOUNT - JUST ENTER THE PROMO CODE FOUND UNDER 'MEMBER PERKS' AT WWW.GIVEGET.BIZ
Are there ID requirements or attendee reqirements to enter the event?
You don't need ID, but this is an event especially for existing business owners. It can be a new or early stage business/freelancer, but you must be up and running as a registered business.
What should I bring to the event?
Most workshops require a laptop and also pens and paper

Snacks and drinks - Lunch & Afternoon Tea is provided but your brain will be working hard!

Business cards are gonna be super useful for your new peers
Where can I contact the organiser with any questions?
Contact GiveGet: info [at] giveget.biz
Is my registration/ticket transferrable?
Yes, but please let us know. We will need your replacement to give us the details you supplied during registration.
Do I have to bring my printed ticket to the event?
Nope. Save a tree. :)
What is the refund policy?
There are high costs associated with running this event and we're offering it at a super affordable price to make it accessible. Therefore, no refunds will be available. You may on sell your ticket or arrange a private transfer. If you let us know you need to cancel, we can also help you by selling on your ticket to any waitlisters to help you.