Sales Have Ended
Ticket sales have ended
Ticket sales have ended and we are likely all super focused in on setting up the event and the tech to make sure that everyone already registered is taken care of. If you are a previous attendee of Enlightenment in the Bedroom Gold Coast, know the hosts and where the venue is, you may wish to take your chances and bring cash to the door. We'd love to see you, we just won't have the bandwidth to be answering any questions right now. xxx
Sales Have Ended
Ticket sales have ended
Ticket sales have ended and we are likely all super focused in on setting up the event and the tech to make sure that everyone already registered is taken care of. If you are a previous attendee of Enlightenment in the Bedroom Gold Coast, know the hosts and where the venue is, you may wish to take your chances and bring cash to the door. We'd love to see you, we just won't have the bandwidth to be answering any questions right now. xxx
Enlightenment in the Bedroom Relationships, Intimacy and Sexual Wellness The Talks We Need To Have
About this event
Live event presenting cutting edge conversations that unravel the mysteries around sexuality, sexual wellness, relationships and intimacy.
About this Event
DO YOU WANT TO KNOW HOW TO TAKE YOUR RELATIONSHIPS TO THE NEXT LEVEL?
DO YOU ALREADY KNOW THAT THERE MUST BE MORE TO SEX THAN WHAT WE'VE EVER BEEN TAUGHT?
ARE YOU WANTING TO LEARN (WHILE HAVING A LOAD OF FUN AND SIPPING CHAMPAGNE) ABOUT THE MOST POWERFUL AND PLEASURABLE ASPECTS OF SEX & INTIMACY, FROM EXPERTS, THAT YOU CAN ACTUALLY USE IN YOUR OWN LIFE AND RELATIONSHIPS?
Enlightenment in the Bedroom is a luxe, 3 hour, multi-speaker, live event presenting cutting edge conversations that unravel the mysteries around sexuality, sexual wellness, relationships and intimacy.
Unlike other sexual education, this is not a dry, overloaded delivery of boring information.
And unlike other sexuality workshops, we won't be sitting in a circle singing kumbaya and sharing our daddy & mummy issues.
Instead, we gather highly engaging experts to bring you pioneering information. Meanwhile, you drink the champagne, nibble the nibbles and be part of the audience in a room of other classy men and women who desire to absorb the same kind of information while also having fun.
Do not picture Hen's / Buck's night.
Picture a Ted Talk, but with speakers and an audience who are actually alive, and with classy party vibes.
This is the premier event for the women and men who desire to know more about who they really are as a sexual being.
Those who know there is more available in pleasure, intimacy, relationships, connection and are curious to learn.
Those who want to open, those who want to deepen, those who want to activate and leave the old ways of 'doing' sex in the past.
Those who want to feel ALIVE in their bodies & INSPIRED in their relating
Those who refuse to any longer live with the 'halfway' life and the halfway relationships.
You want to have all pillars of your life fulfilled.
Yet, what most of us don't know is that because of our societal conditioning around sex, we can be held captive to this other, far less alive way of life.
We inherited from the wider world a life that diminishes our capacity to be at full power in the area of sex, femininity, masculinity...which in turn affects our relationships, our businesses and our potential across all areas of our lives.
During any Enlightenment in the Bedroom event, you will:
- Hear about the topics that are directly affecting your intimacy and relationships, right now.
- Explore why your intimate relationships with your own sexual nature (and with your partner/s) is the foundation for an integrated, fully expressed life.
- Understand more about the patterns that have played out in your past connections, and how to avoid them in the future.
- Discover how deepening your connection to your sexual energy supports your growth exponentially
- Revel in the new ideas and communication capacities that begin to flow through you.
- And so much more...
If any of that lights up your imagination, your body or your heart, you're in the right place and you should definitely join us!
If however you are in very fixed dogma about what sex, relating, intimacy and connection is all about and you're happy to stick to eyes-closed, missionary style, emotionally empty relationships for the next 20 years, please don't come.
There will be topics that may confront some, and that's okay, but you will be there with an open heart and and open mind and you are guaranteed to leave with insight and information that will make a difference in your life.
Oh, and we also have gifts & giveaways that will be shared on the evening too!
Because learning to receive is the new Netflix!
**********************
INTRODUCING OUR PRESENTERS FOR THE EVENING:
MIROSLAV PETROVIC
Speaker, presenter & facilitator
Over the last 10 years Miroslav has been devoted to reconnecting people to their eros. He has presented across Australia and internationally, appeared across mainstream media, and delivered a Tedx talk on the importance of following the current of life.
His personal journey with sexuality began over 13 years ago with Tantra, and has since involved studying globally with the leading teachers of the tradition. He recognised tantra was not just a path of sexuality, but that eros, or our desire for life extended into spirituality, business and anything we devote our time to. In his view our relationship to eros is one that guides not just our lovemaking, but our very relationships to life itself.
He is fascinated by how we can be more fully alive with everything we do, with our sexuality and beyond. He believes that being in connection with our own personal presence is the most important, dynamic relationship we have in life. This is the Power of Presence.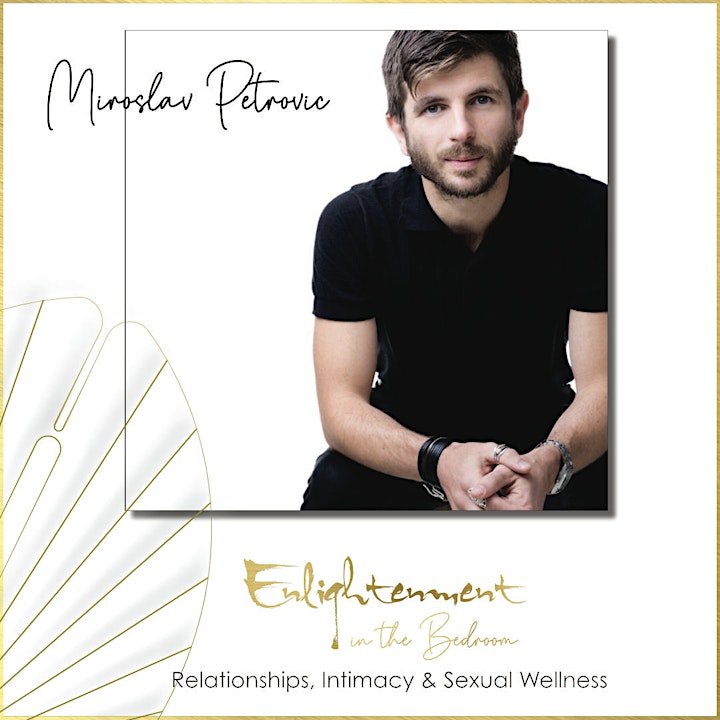 VICTORIA REDBARD
Somatic Sexologist
Victoria is a counsellor, speaker, author, researcher, open relating expert and fonder of The Institute of New Paradigm Intimacy.
She has studied tantra and sexuality in many countries and now resides in the Gold Coast Australia helping people have relationships that make them feel free and expansive.
Her Sexuality School The Institute of New Paradigm Intimacy offers deep learning into the psycho-social and somatic aspects of cutting edge sexuality education, that is impacting the globe and creating cultural change world wide.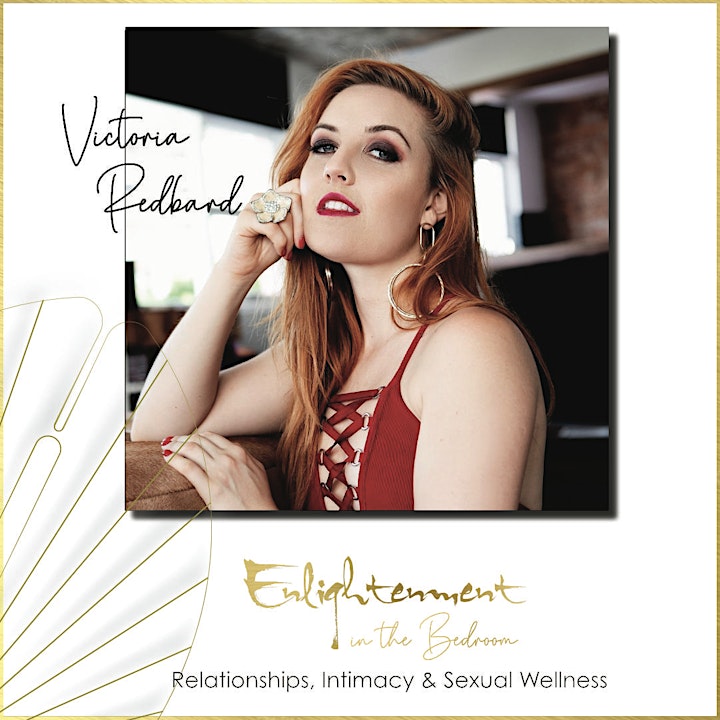 AND YOUR HOST ...
JASMINE CHERIE TURNER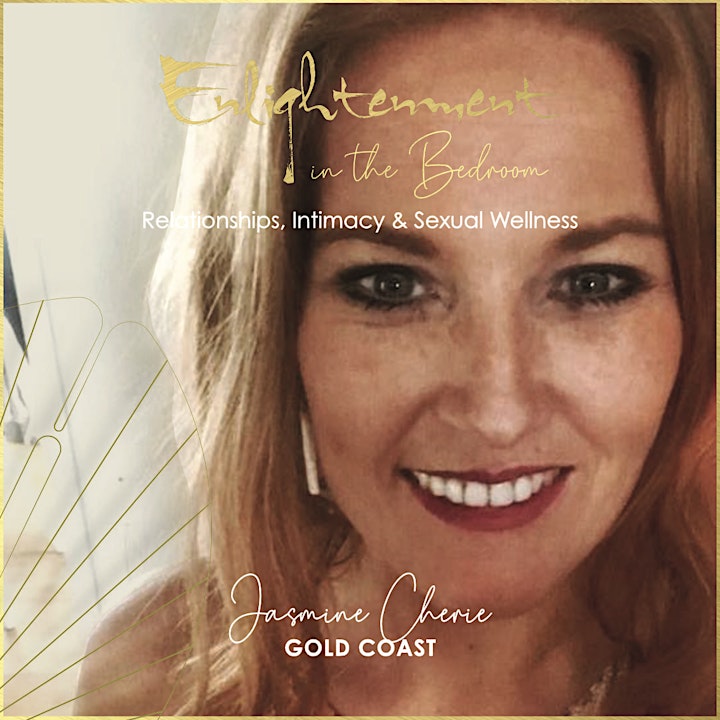 Organiser of Enlightenment in the Bedroom GOLD COAST
This is the Gold Coast's premier event for Women's sexual re-education.
We are evolving the way we relate in our relationships and we want more when it comes to sex, connection, intimacy, joy and pleasure. There is so much we were never properly taught about our bodies and our sex...