Description
Do you work with families?
Would you like to know how to better engage families in your service/program?
The Enhancing Child Friendly Communities Seminar will bring together research and practice that will highlight the importance of effective engagement with communities, parents and children to achieve better outcomes for families.
The Seminar will feature guest speaker presentations and facilitated reflection activities that will provide information and strategies that can be used to better engage with families. The seminar will also discuss how services can work more effectively with each other and provide plenty of opportunities for collaboration and information sharing.
FACILITATOR
Simon Brown-Greaves
Director, FBG Group
Simon is an experienced senior executive and organisational psychologist with more than 20 years' involvement in helping businesses and public sector organisations align people and performance. As a consultant and executive coach, he has worked closely with many of Australia's leading public and private organisations to help solve complex cultural issues and develop leadership effectiveness.
KEYNOTE
Annette Michaux
Director, Parenting Research Centre
Annette leads significant, evidence-informed practice and policy initatives that help Parenting Research Centre clients achieve their intended outcomes. She directs a number of government-funded, national and multi-year initiatives and is responsible for leading a talented team of researchers, implementation, communication and knowledge translation and exchange specialists. Annette will be discussing findings from the report Perceptions of Parenting Report: Mapping the gaps between expert and public understanding of effective parenting in Australia.
AGENDA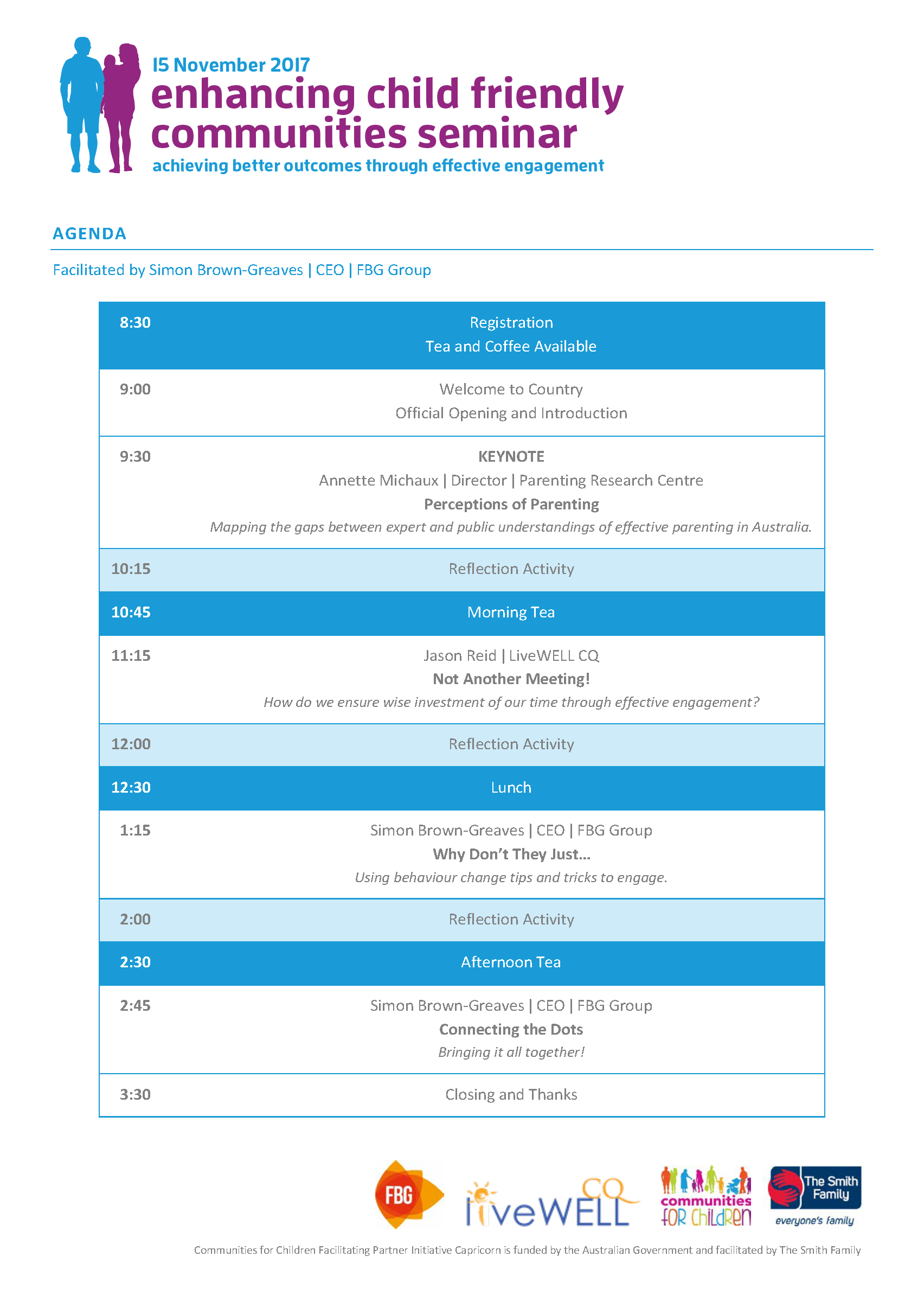 FAQs
Where can I contact the organiser with my questions?
P: 07 4924 8122
E: CFCCapricorn@thesmithfamily.com.au
What is the refund policy?
If you wish to cancel your registration, written notice is required as follows. A full refund of registration fees will be available for cancellations notified to CFCCapricorn@thesmithfamily.com.au on or before 08 November 2017. No refund is available for cancellations received after 08 November 2017.
In the event the Seminar is cancelled, Communities for Children FP Capricorn (The Smith Family) will issue a full refund as soon as is reasonably practicable after the date of cancellation.
Is my registration/ticket transferable?
Yes. Attendees may transfer their ticket to another person within their organisation.