Description
You're invited to a night of retail engagement & celebration.
Locally, Amy Roche is the former owner of The Good Guys Morayfield and VP of BPW Caboolture (Business Professional Women). She's also recently written a book called, The Retail Experiment, 5 proven strategies to engage & excite customers through in-store experience.
At a time where retailers are 'dropping like flies', Amy's timely book is all about winning back and engaging the modern customer. According to the latest research by Rosetta, "Highly engaged customers buy 90% more frequently, spend 60% more per transaction and have 3 x the annual value compared to non-highly engaged customers."
With Amazon knocking at our door, who wouldn't rather have that kind of engaged customer relationship!
Join Amy for the local launch of her book at the Caboolture Hub's NEW terrace area and find out more about how you can engage and excite customers as well as hear from content marketing and storytelling super-star Melanie Fawcett as they celebrate Amy's first book, The Retail Experiment.
Melanie will give retailers and small businesses some sneaky insider tips on how to grow their business through producing super-authentic and engaging content for their customers.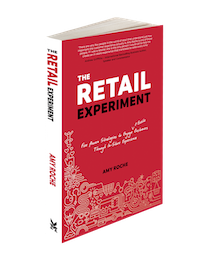 Tickets are limited due to space and include some light refreshments. First in, best dressed.


About Amy Roche:
Amy is a retailer, marketer and in-store experience champion with a passion for helping retailers easily re-connect with their very best customers. She's been in the retail and marketing industry in both the US and Australia for 20 years, owning a 2500sqm appliance store - The Good Guys for the last 11 years of that.
With a Bachelor in Biology, Genetics and Marketing, she's 1/2 marketing and 1/2 science nerd - therefore her obsession with 'experiments'. She's a speaker, author and director of
Retail Rockstars
- a retail marketing platform that sources unique experts to lead LIVE in-store events and experiences. Retail Rockstars promotes, creates and manages these events from start to finish.
About Melanie Fawcett:
As a freelance Journalist,
Melanie
writes about social entrepreneurship, conscious business, film and how our real stories are changing the world, being published across a range of media, most recently in Collective Hub and Screen Education Magazine. As a content marketing strategist, she's writing and runs workshops for Australian and global brands.
With a Masters in Film and TV, she's produced digital video content for business as well as commercial TV, she's lectured at the Australian Centre for the Moving Image and the University of Melbourne, as well as run media education programs for young people for the Victorian Government.
In 2018 she will publish her first book on human-centred-storytelling and start her PHD at the University of the Sunshine Coast.
Please Join us, limited tickets due to space.