Sales Have Ended
Registrations are closed
Thanks for your interest in this event with the Industry Mentoring Network in STEM! There is a waiting list, so please sign up - you will be contacted if a ticket becomes available. Learn more about IMNIS and our upcoming events at imnis.org.au #IMNIS #mentoring #networking #STEM
Sales Have Ended
Registrations are closed
Thanks for your interest in this event with the Industry Mentoring Network in STEM! There is a waiting list, so please sign up - you will be contacted if a ticket becomes available. Learn more about IMNIS and our upcoming events at imnis.org.au #IMNIS #mentoring #networking #STEM
Description
Perhaps you have a bold idea, some exciting data, or a prototype to optimise and license - and you want to engage with industry. To translate your research to knowledge, practice, policy or product, you need to know how to pitch the benefits and impact of your research clearly to a wide range of audiences, and what it is exactly potential industry partners need to know. Our speakers will share key advice on developing strategies to increase engagement and collaborations between industry and academia.
As part of the Industry Mentoring Network in STEM (IMNIS) you can connect with some dynamic individuals at this event – Engaging with Industry.
Our Keynote Speaker, Professor Robert McLaughlin, will share key strategies and advice for successul academia-industry collaborations. Dr McLaughlin is Chair of Biophotonics at the University of Adelaide. He will share his challenges and successes in research and innovation during his international research career.
Dr Judy Halliday will then lead our esteemed panellists in a discussion about fostering a culture of innovation and collaboration. Dr Halliday is the Director of Science, Technology and Commercialisation with the Department of Innovation and Skills in the South Australian Government. Discussion will focus on how, when and why to engage with industry, the importance of understanding commercialisation, milestones, timelines and budgets, developing strong professional connections beyond academia, as well as how developing an entrepreneurial mindset can facilitate resilience and success in any setting. Dr Halliday will also ask the panel how we can foster stronger collaborations between industry and academia and what is the best strategy for success.
This is an excellent opportunity to meet outstanding STEM professionals and industry leaders.
7:30am Registration (coffee/tea and light breakfast available)

8:00am Proceedings begin

9:30am Event close
This event is for all mentors and mentees participating in the IMNIS programs in South Australia. Other STEM students, early-career researchers and industry professionals are also welcome to attend. Registration is essential.
IMNIS is a national initiative of the Australian Academy of Technology and Engineering. The Academy is grateful to IMNIS Partners - MTPConnect, METS Ignited, NERA, AusBiotech and Mentorloop - and Sponsors BHP, KPMG and CSL, for their ongoing support of this flagship initiative.
Industry professionals who mentor with IMNIS generously donate their time, energy and expertise to the development of Australia's future leaders in STEM. Universities and Institutes support their PhD students to participate. The Academy gratefully acknowledges their visionary leadership and investment in the future STEM workforce.
This event will be held at Flinders University, Victoria Square. We thank Flinders University for generously sponsoring this event.




Peter Bradley

LBT Innovations Vice President, Global Business Development

Dr Marguerite Evans-Galea

Australian Academy of Technology and Engineering IMNIS Executive Director

Dr Jinzhe Gong

University of Adelaide Research Fellow, Water Engineering

Dr Judy Halliday

Department for Innovation & Skills, Government of South Australia Director, Science, Technology and Commercialisation

Dr Mel McDowall

Getinge Territory Manager, Aortic & Peripheral Intervention

KEYNOTE: Professor Robert McLaughlin

University of Adelaide Chair of Biophotonics

Tom Melville

Madderns Managing Partner
Organiser of Engaging with Industry - South Australia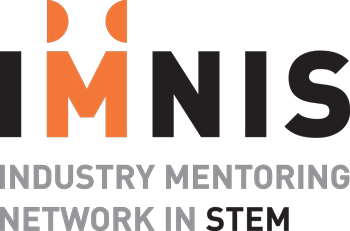 IMNIS is an award-winning industry national initiative of the Australian Academy of Technology and Engineering.
Working with experts in academia and industry, IMNIS connects motivated PhD students (mentees) in science, technology, engineering and mathematics (STEM) with outstanding high level industry leaders (mentors).
In a one-year mentoring program, IMNIS mentors and mentees meet in person in a professional setting for one hour each month. State-level networking events hosted by IMNIS allow mentors and mentees to connect more broadly.
IMNIS provides Australia's future leaders in STEM the opportunity to engage with industry, extend their professional network and learn from an outstanding industry mentor. Mentors are all volunteers generously sharing their time and expertise. IMNIS provides a diverse range of industry professionals the opportunity to engage with academia, share their mentoring skills, and 'give back' to the STEM community.
IMNIS has demonstrated success in providing industry mentoring to PhD students in universities around Australia and was recognised with a prestigious B/HERT Award in 2016.