Description

Thank you to New Venture Institute Flinders University for Sponsoring our Industry Breakfast
Join us for breakfast with a keynote presentation not to miss by Dr Charlie Day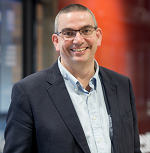 Australia – the innovation nation?
For Australia to realise its potential as an innovation nation, we must respond to wicked challenges across the triple helix of industry, research and education, and government.
Join Dr Charlie Day, CEO of Innovation Science Australia, your MC Kathryn Anderson, Deputy Director of Flinders' New Venture Institute, and a panel of experts as we discuss the shaping of Australia as an innovation nation.
Charles is the CEO of Innovation and Science Australia and was previously Program Director for the University of Melbourne's Carlton Connect initiative - a STEM innovation precinct that co-locates researchers with public and private sector organisations. Dr Day is now a key player in transforming Australia into a leading innovation nation.