Location
Entreprise Room - Innovation Centre WA
EU 3
9 De Laeter Way
Bentley WA, WA 6102
Australia
Description

Join us for another meeting
of the

Energy Innovation Network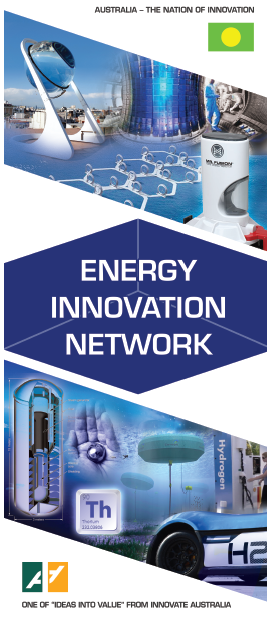 Presentations by:
Masoud Abshar, Managing Director and Founder, Magellan Power

Australian Innovations: Energy Storage Technology

Professor Ray Wills, Managing Director, Future Smart Strategies

Preparing for the (clean) tech tsunami of the 21st Century
Bios and Summaries:
Masoud Abshar, Managing Director and Founder, Magellan Power
Masoud Abshar is the Managing Director and Founder of Magellan Power, a Western Australian Power Electronics Manufacturing company founded in 1992. Masoud is a Chartered Engineer with over 30 years' experience and holds a Master Degree in Power Electronics. He regularly speaks at events ranging from the Energy Storage Expo in Sydney, to International Conferences, and local events.
Magellan specialises in customised back-up power equipment for some of Australia's biggest industrial projects, but for the past decade Masoud and his Research and Development team at Magellan have been working on innovative Australian made Energy Storage systems. Masoud Abshar will briefly canvass some projects completed by Magellan Power and also offer insights from his vast experience and expertise using power electronics in Renewable Energy.

__________________________
Professor Ray Wills, Managing Director, Future Smart Strategies

Professor Ray Wills has had a wide–ranging career and is an authoritative and respected commentator and adviser on sustainability and technology across all sectors including the built environment, cleantech, energy infrastructure, industrials, manufacturing, resources, transport, and water. Prof Wills' current research interests include adoption rates of technology, disruptive technology including automation, robotics, and additive manufacturing and the impact of social media on markets. Prof Wills is: Managing Director of the advisory firm Future Smart Strategies; Board Member of Western Australia's remote energy services provider Horizon Power; Partner and Director of the cleantech business, Sun Brilliance Power; Blue Leader of the 'blue economy' startup Blue Australasia; and Director of the bioenergy startup BioTek Fuels Pty Ltd. He is also Adjunct Professor at The University of Western Australia contributing to the academic program and providing advice to UWA on sustainability, and comments on behalf of UWA on climate change and sustainability, and Principal Strategic Advisor to Australia's largest private training organisation, Careers Australia. Prof Wills' was recognised by Singapore-based ABC Carbon as one of the Top 100 Global Leaders in Sustainability in 2011, an honour renewed each year since, and from 2014 listed by UK-based SustMeme Magazine as one of the top 100 Global Influencers in Social Media on Climate Change and Energy, based on independent social media metrics. Further, in 2016, analytics firm Onalytica listed Prof Wills in the Top 100 Influencers and Brands for Renewable Energy in the world.
Our experience of markets in the last 30 years tell us what to expect when disruptive technologies hit, how quickly new successful technology rushes through the economy, washing the old way of doing things from memory. The adoption of multiple smarter technologies - including cleantech, automation, robotics and 3D printing - in homes, businesses and industry in every city, and connected through social media and smart devices including wearables, is changing the world and the way we interact with family, friends and customers, and much faster than (almost) anyone imagined. What does this mean for how we plan for infrastructure and regenerate cities? What does this mean for future business growth given rapidly changing community expectations? What impact will this have on reducing global emissions and addressing climate change?
___________________________
Our Host

____________________________
Our Sponsors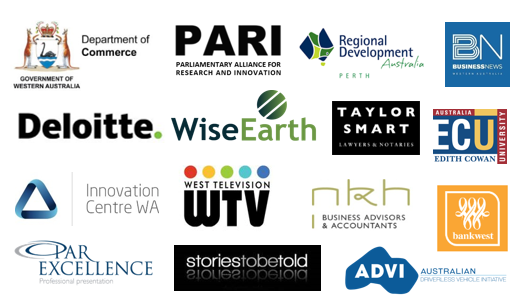 _______________________________________________________________________________

Come and join us. Tell you friends and colleagues.
Like us on Facebook
https://www.facebook.com/innovateaustralia.org

Let's make WA a true STATE OF INNOVATION !