People who are drawn to these classes are those interested in living in harmony, peace & unity in their life, both with others & themselves
About this event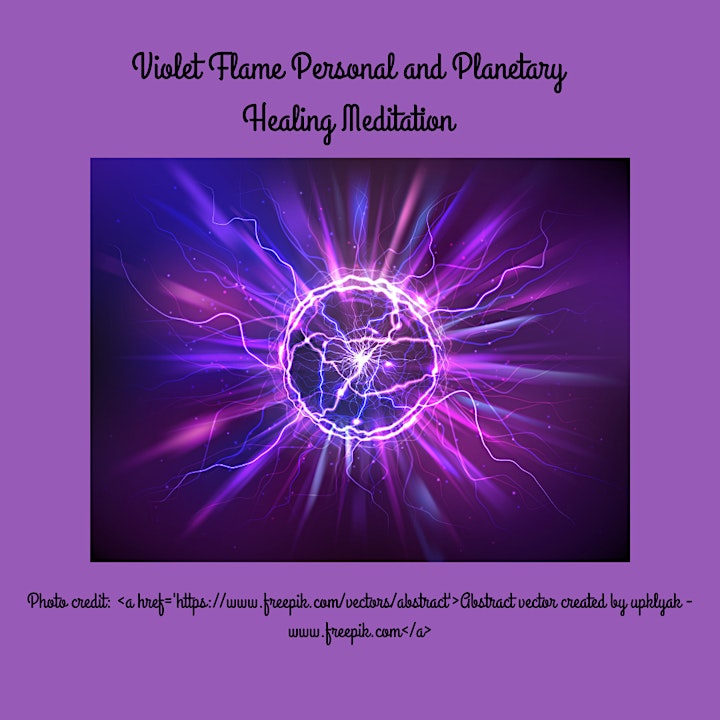 Welcome to this week's Energetic Hygiene and Self Mastery Class. Is this your first time? You are welcome to message with queries or concerns, if you wish to.
On the 11th November, we will be doing the Violet Flame Meditation, a personal and planetary healing meditation, which I am sure you will agree, we and Mother Earth are sure in need of right now.
We work with resources that are charged with Energy, a living document for you to continue with, strengthening you in regard to the topic.
You may have questions or like to arrive 15 minutes before class, feel free to do so and I will be there to welcome you. Alternatively, arrive two or three minutes be early so we can start promptly at 8pm. We finish at 9 and often ten minutes or so after, so be prepared for that if you can.
Every week are opportunities to imbibe a guided energetic hygiene meditation, and be involved in group sharing.
Classes focus on the Energetic Hygiene foundational resource, because our foundations are important, right? We need to look after our energy fields, just like we shower daily, we need to cleanse our auras, so that we can be aware. This helps us become less influenced by others and how they are, their moods, their beliefs, their unresolved stuff and habits.
We do meditation, and learn each week resources that we can apply ourselves to, on this road of self mastery. You see, it is for those who are specifically drawn to wanting to work on themselves in the personal development area.
Class fee is $5.50, payable after attendance via bank deposit.
Enjoy the classes via Zoom on Thursday evenings. You can learn to be free-er from the effect of other people's energy. And to feel more joy and determination, greater self respect and self love. I share resources that have assisted me over the years.
Each class brings to you a guided energetic healing meditation, as well as discussion and sharing with group members. The sharing is not compulsory and if you are unfamiliar or not wanting go join using Zoom teleconferencing, you can choose to phone into the class.
I ask for newcomers to log in at 7.45pm in order to go over the Basic Energetic Hygiene resource. If you choose to come at 8pm then please log in a few minutes early, as the class is locked for security soon after.
It is also suggested to receive the most out of our time together, that you be in a quiet, uninterrupted space for our hour together.
A little about Lynette and general background to the class.
Lynette has been involved in personal and spiritual development for 60 years, is a qualified Holistic Living Counsellor, Mentor and Life Coach, Qi Gong Healing, Crystal Healer and Laughter Yoga Teacher, to name a few. She is accomplished in Hatha Yoga, Numerology, Touch For Health and more.
Cheerio and much love to you.
Lynette Mitchell
Laughter For Living
https://laughterforliving.com.au/
Organiser of Energetic Hygiene and Self Mastery Class via Zoom
I facilitate Self Mastery classes, run a laughter club and bring Laughter Yoga to clients. I am a life coach, holistic living counsellor and incorporate these into my work. I believe in giving back to the community and run both self mastery and laughter club classes and sessions free of charge. I invite you to join me and feel how the self mastery class may assist you in your life to feel greater self worth and involvement in all that you do.