We will experience an energetic hygiene meditation, and learn how to live our lives in greater harmony and unity with ourselves and others.
About this Event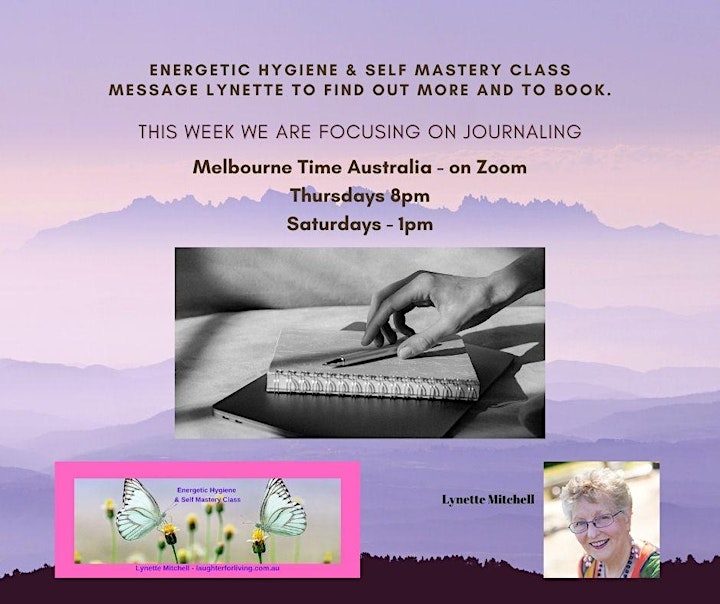 Welcome and I look forward to sharing this energetic hygiene and self mastery journey with some of you who will resonate with what I have to offer. We are all here to support and encourage each other, the only requirement to be a few steps ahead in our personal growth.
Your first two classes are complimentary, following which there will be a nominal energy exchange.
The Saturday class evolved for those living in different time zones, as well as national ones who find it more convenient or are unable to attend the Thursday night class. Please double check with www.timeanddate.com for your time, or your mobile phone may give it (my Samsung does), as the time zone is Melbourne, Victoria, Australia, which is on daylight savings time.
I look forward for you to join our harmonious little group. If you are unable to join using Zoom, it is possible to connect through the phone, putting in the code/password.
Each class frequently focuses on the importance of how energetic hygiene protects our energy fields, and includes a guided Energetic Hygiene meditation, other resources and group sharing of our experiences.
A little about Lynette and general background to the class.
Hello, a little introduction from me, Lynette Mitchell. I have been involved in personal self development for 55 years, studying hatha yoga philosphy, numerology, crystal healing and many other things along the way. Here I am, in the later years of my life, finding the desire to share back from my gathered experience. I do so with group activities, being the Self Mastery Classes and by a leading community laughter clubs, together with husband John.
For most of us, our life has been in turmoil and hugely restricted during COVID-19, which has brought forth new challenges. Many of us are looking outwards for more support, taking less that was 'normal' for granted. Our values and priorities are different. Many are seeking answers to their questions and feel ready to embrace new practices, such as what I offer here, self development in the form of energetic hygiene and self mastery classes.
These I bring to you, in your home via Zoom teleconferencing. What you can expect is in an organic way, to learn to become free-er from the effect of other people's energy. And to feel more joy and determination, greater self respect and self love. I would love to help share resources that have assisted me over the years. These are freely given and with no demands, except to be ready for class and on time.
Each class brings to you a guided energetic healing meditation, as well as discussion and sharing with group members. The sharing is not compulsory and if you are unfamiliar or not wanting go join using Zoom teleconferencing, you can choose to phone into the class.
Cheerio and much love to you.
Lynette Mitchell