END OF SUMMER YOGA RETREAT - HIKING, SUP & WINERY LUNCHING
Join Mads, Melly and Donna for 4 nights and 5 days of yoga and all the best the South West has to offer before summer ends.
About this event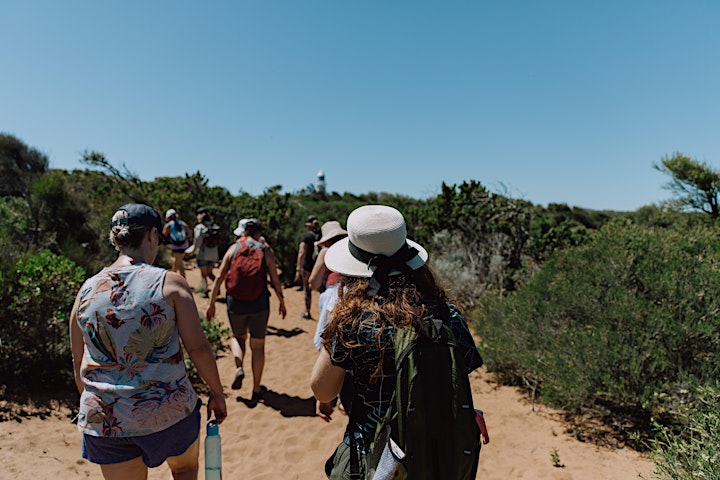 Join Madelaine Fisher, Melinda Fisher and Donna Buchanan in this delicious end of Summer retreat.
This retreat brings all the best the South West has to offer in one gorgeous package. Daily yoga, breathwork and meditation with massage, reiki, hiking, SUP yoga, a delicious winery lunch with tasting and of course beach time before that cold weather descends on 2022.
Set at the delightful Premalaya in Yallingup WA, with a full vegetarian ayurvedic healing menu, this retreat offers you the chance to either completely unwind, have an active reset, or do both.
Practice twice daily yoga in the gorgeous jarrah yoga shala with the sound of the wind in the trees overlooking the beautiful gum trees. Yoga will be led by Madelaine Fisher and Donna Buchanan.
Spend time at the beautiful beaches of the South West, give Stand Up Paddleboard Yoga a try or you may just want to chill with a good book, walks along the Cape2Cape track may be your thing.
Combine this with your carefully curated program of yoga, meditation and breathwork, as well as other grounding and balancing delights such as Sound Healing, specialised workshops and other activities.
The accommodation is lovely, comfortable and homey. Premalaya means "a place of love" and its an energy that captures you from the moment you arrive.
What's included:
4 nights accommodation at Premalaya
1 x Stand Up Paddleboard Yoga class (no experience necessary)
1x Advanced yoga workshop
1x Wine tasting and lunch at a premier local winery
Daily RAW cold pressed juice from Dunsborough
Complimentary Rok Kombucha from Margaret River
Plenty of free time to enjoy the gorgeous location
2x daily yoga
3x healthy and delicious meals per day included (brekkie, lunch and dinner)
daily afternoon tea
daily meditation & breathwork session
1x Sound Healing session
1x Massage or Reiki
Cape 2 Cape walks
Sauna and ice bath on demand
Add On's:
Private yoga class with Donna Buchanan $110
Private yoga class with Madelaine Fisher $110
Additional Reiki session or kinesiology $120
Additional massages $120
Private photoshoot by Donna Buchanan $350
What's not included:
alcohol and shopping money
How much and what are the room options?
Please note that the accommodation at Premalaya are apartments. Each apartment has two bedrooms and two bathrooms with a shared living area and kitchen.
For the solo traveler:
Entire apartment to yourself AUD$ 3299 pp
Want to share with someone?:
Share an apartment with your own room and bathroom AUD$2149pp
Share a room and bathroom (separate beds in one room) AUD$1573pp
Share a Queen size bed and bathroom AUD $1573pp
Book now. Maximum 20 people.
Secure your spot with a $330 deposit refundable up until 15 January 2022. Payment plans are available. Check out the details below. All prices are in Australian Dollars and include GST.
Who are the facilitators on this retreat?
Madelaine is your lead yoga teacher on this retreat supported by the vivacious Donna Buchanan to share the teaching.
Mads and Melly have organised many retreats and will ensure your experience is seamless, that you have the best possible time and to support you with anything you may need.
Terms and Conditions:
1. Payment Plans
Payment Plans are available upon election in this form. By electing to a Payment Plan, you are agreeing to pay the account balance prior to the retreat start date. Payments that are not made prior to the retreat start date may incur interest and related charges and may be referred to debt collection services.
Myu Retreats will issue tax invoices for each instalment payable under a Payment Plan.
2. Refund Policy
Refundable deposit available until 15 January 2022. Deposits will be-non refundable after 15 January 2022.
Cancel by 28 February 2022 for a full refund of instalments made minus the $330 deposit and a $60 admin charge. No refunds available after 28 February 2022.
3. Covid-19 Policy
In the event the retreat cannot take place due to restrictions imposed by the Commonwealth Government or any state or territory government, the retreat will be rescheduled and you will be offered a place on the rescheduled retreat.
Refunds will not be issued because of any Covid-19 interference or restrictions. Refunds are only payable in accordance with the Refund Policy outlined in Clause 2 of these Terms and Conditions.
4. Travel Insurance
Travel insurance is a requirement for any international travel when participating in a Myu Retreat. The registrant agrees to provide a copy of a valid travel insurance certificate to Myu Retreats prior to the retreat start date if international travel is required for participating in the retreat.
Got a question? Check out the FAQs below or get in touch here:
melinda@myuretreats.com.au
1. Do you cater for dietary requirements?
Yes, we can cater to all dietary requirements. We organize the menu in advance. Please ensure you let us know your dietary requirements so they can be included in the menu preparations.
2. Who are the teachers?
Madelaine Fisher and Donna Buchanan are the lead facilitators on this retreat.
3. Travel Insurance
Not required for this retreat.
4. How many people will be on retreat?
It is so important that every aspect of this retreat is top notch. This includes having a suitable sized group - not too big, not too small. We expect about 14 - 20 participants.
5. What happens once I have registered my deposit and filled out this form?
After filling out this form you will receive an invoice from Myu Retreats. About one month prior to retreat you will receive another email with start time, travel information, packing list and other details. You will receive another email approximately one week prior to retreat with any final details.
6. Will there be alcohol and partying?
Alcohol is not included in the retreat outside of any organised activities where it is stipulated alcohol is included. You are welcome to BYO and enjoy your own wine with meals if you wish.
7. Will meal times be shared?
Meal times will be shared. However if you wish, you can take your meal back to your room for some quiet time as well.
8. Injuries and Conditions
Sometimes there are things in our bodies we have to be mindful of when we do any form of exercise. As long as you have the all clear from your doctor you are welcome to take part in this retreat. We will work within your limits.
We have people attend who have never done yoga before, as well as more advanced yogis. We also keep the group size small so that you get the attention you need.
For those new to yoga we will offer a beginners yoga workshop complimentary to enhance your experience.
9. What if I have never been on a retreat before?
It's such a gift to yourself to take on this special experience. Don't you worry about a thing. Our retreat is a small group of people. All the yoga classes are completely modifiable. We will take good care of you and your body.
This is about giving yourself the opportunity this year to get out of your crazy rat race, and take some time to unwind deeper then you ever have before. The question is, are you willing to invest in yourself?
Waiver
By agreeing to these terms and conditions and registering my place, I confirm that I am fit to undertake the activities of this retreat and have consulted with my doctor or health professional provider prior to registration. I have disclosed any relevant injuries or conditions to the retreat organiser prior to registration. I understand that I participate in this retreat at my own risk, and agree to waive any liability by the event organiser for any injuries or conditions and I will not perform any postures to the extent of strain or pain. I accept that neither the instructors, nor the hosting facility, nor retreat organiser is liable for any injury or damages to the person or property, resulting from participating in this retreat.
Got a question? Get in touch on 0439 498 985 or via email melinda@myuretreats.com.au
Organiser of END OF SUMMER YOGA RETREAT - HIKING, SUP & WINERY LUNCHING
Madelaine and Melinda organise great retreats for really good yoga teachers and their tribes. With a passion for fantastically affordable, fun and meaningful luxury travel, Myu Retreats bring the highest quality experience for you, the hard working individual who deserves to have fun, relax and get more yoga into your life.