Description
EMUG-Vic is back and better than ever! We're proud to present our next fantastic event...
EMUG-Vic Meeting V: "Jelly that Belly!"
Abdominal Ultrasound at the Point of Care

When: Thursday 3 August 2017 @6.45pm
Where: Carlton Brewhouse, Cnr Nelson and Thompsons St, Abbotsford
EMUG-Vic is going back to where it all began for emergency point-of-care ultrasound: the abdomen! But there's more to abdominal scanning than our old friend the FAST scan - come along and find out just how much more!

We are excited to introduce a new innovation in EMUGs meetings: the chance for you to bring along your own cases, share your experiences and hear from our experienced clinicians!
From the beginner to the expert, there's something for everybody at our meeting!
But wait, there's more: finger food and a drink are provided, so come and relax with a drink and canapés, enjoy the education and entertainment, and meet some of your fellow ultrasound enthusiasts!
BONUS! Case discussions- NEW to EMUGs!
Had a great save? A puzzling image? An unusual case? We would love you to send us through your images prior to the night using a great open-source web based app called SONO CLIP SHARE. Upload your de-identified images to https://www.sonoclipshare.com/ and share with us through the website via email: emugvic@gmail.com Please include a comment with the case details and your contact details. We can then discuss and share the images with audience on the night.


Speakers
Dr Fiona Cowan
Fiona is an advanced trainee in emergency medicine whose interest in ultrasound started many years ago while studying biomedical engineering. After completing her fellowship exams last year, she travelled to Botswana to work in their health system and assist in developing their emergency registrars. Fiona will present some interesting cases from her time in Gabarone and offer her perspective on POCUS use in a resource-limited environment.
Dr Gaynor Prince
Gaynor is an Emergency Physician and DDU holder from Perth, with a passion for and a wealth of experience in ultrasound. You may recognise her from her inspirational and educational presentation at Das SMACC Berlin, where she regaled the audience with tales of expedition medicine and performing ultrasounds in Antarctica! She will join us via video link up and discuss some advanced modalities in abdominal ultrasound.
Dr Melody Hiew
A self-confessed ultrasound nerd from Monash Health, Melody is an Emergency Physician, CCPU holder, Diploma of Diagnostic Ultrasound (DDU) candidate, ACEM Ultrasound Subcommittee Member and somewhat reluctant Twitter user (@peppermint_frog). She's also the Victorian Co-Chairperson of EMUG Victoria. She will speak about pitfalls and pearls of abdominal imaging.
This night would not be possible without the generous assistance of our sponsors: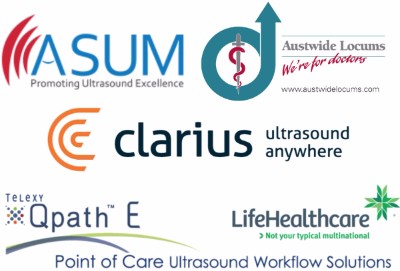 FAQs
What are my transport/parking options for getting to and from the event?
There is plenty of parking around the venue. The venue is easily accessed by public transport with North Richmond Train station being the closest station to the venue or you can catch the Number 109 Tram from CBD along Victoria Street.
Do I have to pay for the sessions?
EMUGs is committed to providing the most educational and informative sessions we can at a reasonable cost. As a Not-For-Profit, we need to cover our administrative costs whilst delivering the meetings, and we seek sponsorship to help cover this. Ticket costs cover venue hire, AV hire and food and beverage and allows us to continue promoting the work of EMUGs
PLEASE NOTE: If you have any problems getting your CME applications processed please contact us and we will organise a solution that is satisfactory to you.

INVOICES can be provided prior to registration by emailing emugvic@gmail.com
CME funded Staff Specialists/Medical officers will be separately emailed a detailed record of the meeting which will meet CME criteria.
Is this meeting ACEM CPD accredited?
Yes, like all EMUGs events ACEM CPD points can be accessed via the ACEM website.
Where can I contact the organiser with any questions?
Email emugvic@gmail.com for all questions/queries.
One of our committee members will respond to your query as soon as possible.
How can I cancel a registration if I find I cannot now make the sessions?
Email emugvic@gmail.com and let us know so we can adjust seating and other arrangements. We require a minimum of two weeks notice for a full refund. After this time unfortunately the registration fee is non-refundable.