EMUG-NSW: The Abdominal Education and Clinical Leaders Sessions
Description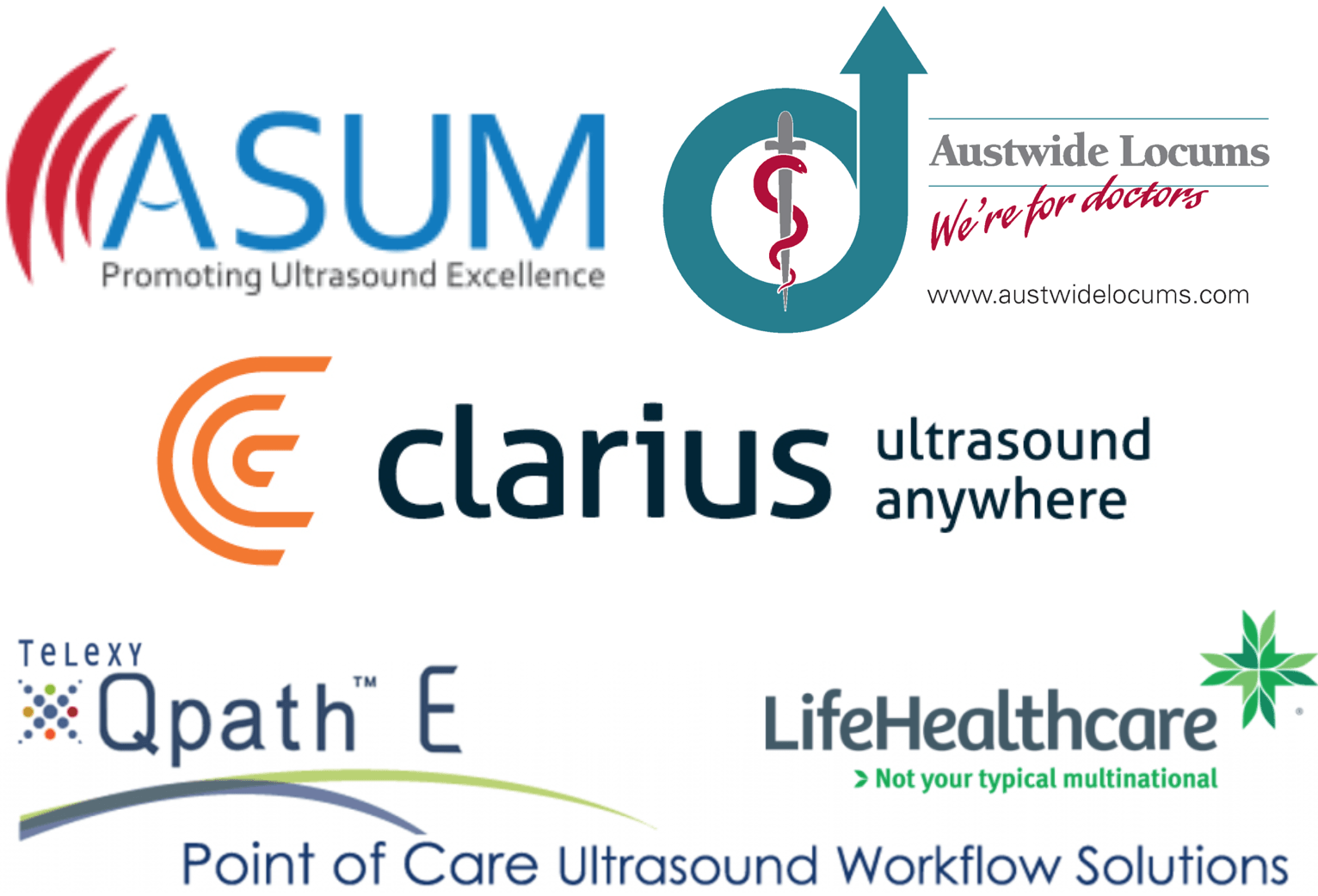 Individuals welcome to attend all or some sessions as per availability.
A. The EMUG-NSW Clinical Leaders Strategy Meeting Five
(Clinical Lead in emergency Ultrasound, Sonography Educators in the ED and POCUS enthusiasts)
B. The EMUG-NSW Social Dinner for Everyone!
C. The Abdominal Session "Jelly that belly!" Click here to see program

D. Q&A Panel and Forum Discussion
A. The EMUG-NSW Clinical Strategy Meeting Five
Thursday 17th Aug: 3.15 - 5.45pm
Building on the momentum and progress made from the Clinical Leaders Network Meetings around Australia/New Zealand.
Guests attendees include members of the ACEM US Sub-committee among other esteemed colleagues and ED Sonographer/POCUS Educators from local and distant centres.

Emergency Ultrasound Clinical Leads/Directors or similar are invited to a small group discussion and discuss progress of the CLUb Strategy documents to help coordinate our disparate hospital sites and move Focused Emergency Ultrasound forward to where it needs to be.

Previous Clinical Leaders Network meetings in NSW, VIC, QLD, NZ and WA covered a) The current state of play, b) Training and what we need to do, c) Credentialing – what needs to be, and what can be done to make things easier.
Numbers are limited and unfortunately we have only space for FACEMs or Senior trainees who are taking a lead in US in their dept as well as our Sonographer Educator colleagues.
Recent Clinical Leaders Network Meetings ran through progress from the earlier meetings and then went on to break into workshops of the following topics:
1. The Director of Emergency Ultrasound role and job description,
along with ED POCUS Faculty support
2. Sonography Educators in the ED ('Planting the SEEDs')
3. UTEC 2.0 - Ultrasound Training for Emergency Clinicians - ECI/EMUGs Initiative 2016
4. POCUS Finance
5. POCUS Documentation - Paper vs Digital
6. ACEM Special Skills Terms
B. The EMUG-NSW Social Dinner for Everyone!
5.45-6.45pm
A great chance to meet ED and other critical colleagues and sonographer colleagues and discuss the topics in a relaxed and informal way (things are always better over a glass of wine!)

Food and one drink provided as part of registration fee, no further payment necessary.
C. The Abdominal Session:

6.45-8.45pm
We've gathered another stellar cast of great speakers to entertain, educate and bedazzle you!
We have a diverse mix of Sonographers, FACEMs, Advanced Trainees, and also an experienced senior nurse Sonologist.
Our goal is cover to common problems encountered in our ED's using POCUS in the abdomen but we will also look at some novel new approaches that are coming on line. We aim to keep things pragmatic and relevant to your clinical practice.
Topics include:
eFAST pearls and pitfalls, tips and tricks in renal colic assessment, hints for paediatric scanning, we'll discuss pneumoperitoneum and even the CBD... how to find it! and how important is it really?
Our leading SEED (Sonography Educator in the ED) will bring you an update from the recent cutting edge conference on G.I. ultrasound in Europe.

It wil be an Abdominal Extravaganza!
D. Q&A Panel and Forum Discussion
8.45-9.15pm
We are bringing together a spectrum of POCUS experts to novices to accurately reflect our clinician population and we will dive a bit deeper into really, what should an ED physician/trainee be doing with ultrasound in patients presenting to our EDs?
We all know the significant time and resource pressures in our departments. This meeting is focused on what can we actually realistically do... We really are only interested what is high yield for our practice..



Look forward to seeing you there!
Cheers, The EMUG-NSW Team
FAQs
Who are the target audience?
We aim to target a broad spectum of health professionals. Although our priority is to cater for Emergency Consultants and Trainees we encourage all health staff whom Point of Care ultrasound is relevant to their practice to come along. This includes encouraging our Sonographer colleagues some of whom may ventrue into the POCUS field of practice as a future 'SEED'

Do I have to pay for the sessions?
EMUGs is committed to providing the most educational and informative sessions we can at a reasonable cost. As a Not-For-Profit, we need to cover our administrative costs whilst delivering the meetings, and we seek sponsorship to help cover this. Ticket costs cover venue hire, AV hire and food and beverage and allows us to continue promoting the work of EMUGs
PLEASE NOTE: If you have any problems getting your CME applications processed please contact us and we will organise a solution that is satisfactory to you.

INVOICES can be provided prior to registration by emailing ADMINnsw@EMUGs.org
CME funded Staff Specialists/Medical officers will be separately emailed a detailed record of the meeting which will meet CME criteria.
Tea, Coffee and water are provided throughout all sessions. Any other drinks can be purchased at the bar.
Do I have to go to all of the sessions?
No. We are aware that emergency and allied health staff have busy work and other commitments.
We are requesting Clinical leads or similar only to go to the 3:15pm meeting. This includes FACEMs and Senior Advanced Trainees and Medical Officers who have an active role in progressing Ulltrasound in the ED, and of course our Sonographer colleagues!

Is this meeting ACEM CPD accredited?
Yes, like all EMUGs events ACEM CPD points can be accessed via the ACEM website.
Where can I contact the organiser with any questions?
Email ADMINnsw@EMUGs.org for all questions/queries.
One of our committee members will respond to your query as soon as possible.
How can I cancel a registration if I find I cannot now make the sessions?
Email ADMINnsw@EMUGs.org and let us know so we can adjust seating and other arrangements. We require a minimum of two weeks notice for a full refund. After this time unfortunately the registration fee is non-refundable.
What are my transport options?
By Car - Parking is available at the following parking stations:

St Thomas' North Sydney
St Thomas Anglican Church, Fyfe Place North Sydney
approx. $16 for 6 hours
5 minute walk from the Union Hotel
Carpark closes at 9pm
North Sydney Council
37 Ridge Street North Sydney
approx. $32 for 6 hours
6 minute walk from the Union Hotel
Open 24 hours
Secure Parking - Mater Hospital
25 Rocklands Road North Sydney
approx. $28 for 6 hours
10 minute walk from the Union Hotel
Open 24 hours
Secure Parking - Poche Centre
40 Rocklands Road North Sydney
approx. $28 for 6 hours
11 minute walk from the Union Hotel
Carpark closes at 9:30pm
By public transport -

Attendees should check moovitapp.com for detailed step by step directions.
By train: The Union Hotel is a 12 minute walk from North Sydney Railway Station
By bus: State Transit bus 343 is the closest bus route. It leaves from Central Station. Alight the bus on the Pacific Highway opposite West Street.