Description
The 'Empowered Women in Real Estate' conference returns in 2017 to provide career oriented women in the real estate industry the opportunity to attend an event to be empowered, motivated, educated and inspired by other women who have enjoyed substantial success within their own careers.
This exciting and innovative event will showcase 5 incredible speakers who will share their own career success stories while also providing tangible tools for attendees to utilise in their own careers to help springboard their own advancement.
The Mission
Showcase the outstanding achievements and talent of incredible Australian female entrepreneurs and real estate professionals

To inspire and empower attendees to follow their dreams and aspirations through the experience and knowledge shared by the high profile guest speakers

Encourage women to connect with each other at the event

To hold the largest and most monumental female focused event in the real estate industry to inspire the next generation of female real estate professionals


For enquiries on the day, please call 0422 200 201

---
ANNOUNCING OUR SPEAKERS...
TAMMY BARTON from MYBUDGET
Tammy Barton (formerly May) is one of Australia's leading business women and the Founder and Director of personal budgeting company MyBudget, which has grown into a national success story.
In 1999 and aged just 22, Tammy started the business from her home kitchen table after realising she could help people reduce their money worries and improve their financial position through personal budgeting and caring money management.
Today MyBudget has helped more than 65,000 clients Australia-wide and, in the process, has increased its staff from just a few individuals to a team of 220+ that's spread across the country.
In 2009, MyBudget debuted on Business Review Weekly's Fastest Growing Companies list in the 52nd position. It remained on the Fast 100 list for a further three consecutive years: 37th in 2010, 41st in 2011 and 61st in 2012.
Tammy's recognition in the corporate arena has been outstanding where she has been named Telstra South Australian Business Woman of the Year, as well as Ernst & Young's 'Young' Entrepreneur of the Year for the central region. Tammy was acknowledged by International Business Times Australia in its 100 Women of Influence Awards. Most recently, Tammy was selected to be part of Ernst and Young's exclusive global Entrepreneurial winning women's program for 2017. Tammy has been on the BankSA Advisory Board for 4 years.
---
MELINA CRUICKSHANK
CHIEF MARKETING & EDITORIAL OFFICER from DOMAIN
Ms Cruickshank joined Domain Group in October 2014 with over 20 years experience and 17 within digital media. Melina leads the national marketing and editorial divisions where she is responsible for growing consumer and trade audiences as well as driving the content, social and mobile marketing programs.
Melina was part of the pioneering division within Fairfax Media that secured early product and audience leadership via Fairfax Digital. Most recently, Melina was Group Director at Fairfax Media leading the commercial content arm including brands Traveller, Daily Life, Executive Style and Essential Baby.
Melina was a dual winner in Fairfax Media's 2016 'Women of Influence" awards - for Innovative Leadership' and 'Overall Woman of Influence'. She has twice been named in Australia's 'Top 50 CMO's' list and one of 11 women named in 2016 'Adnews Power 50'.
---
AMANDA WALKER KORONCZYK
Hailing from Toronto, Canada (and moonlighting as 'The Lord' herself), Amanda's journey to co-founding Lord of the Fries with her husband has seen her travel the world. Starting out as a teacher in Canada, Mandy met Mark Koronczyk (Co-Founder) in Taiwan teaching English as a Second Language. With a shared passion for their favourite food, french fries, and creating food made with love, not animals, Lord of the Fries was born.
The vegetarian entrepreneurs wanted to see an alternative to the fast food that was out there, one that considered the health of the people, the planet and the animals. Prior to owning her own business, Amanda had little executive level experience but used her passion for the brand and its mission, a determination to succeed and a desire to bring good food to the people as her guide.
Now, 10 years on, Amanda, has supported the growth of the business into New South Wales, Western Australia, South Australia and most recently Queensland and enjoys the challenge of evolving and improving the business so that the staff, suppliers, franchisees and customers can all enjoy the benefits of doing great work and creating great food.
KYLIE DAVIS
HEAD OF CONTENT & PRODUCT MARKETING from
CORE LOGIC
At CoreLogic, Kylie Davis is the "chief sense-maker", responsible for cutting through the jargon of complicated data analysis, understanding the stories property data can tell and communicating them to the business and its customers.
Kylie, who created the Consumer Perceptions reports, recently implemented a survey to take the temperature of how much business education agents have had, their understanding of leadership issues and to gain some insights into how prepared principals feel in tackling their current business challenges.
She will be presenting these groundbreaking findings at the Empowered Women in Real Estate conference which is incredibly exciting, not only for you as a guest, but also for the industry as a whole.
MELISSA LEWIS
After obtaining a Bachelor of Business specialising in property, and joining retail giant The Westfield Group,
Melissa Lewis realised her passion was helping business women unleash their potential.
Over the course of a decade, she has worked with thousands of women who were professionally talented and accomplished, but struggled with their confidence, personal brand and their ability to commercialise their talents.
She decided to combine her skills and passion with her corporate experience, becoming an accredited stylist and launching her own company in 2011 – Style Confidante. Since then, Melissa has worked with blue chip clients such as the Bendigo Bank, Telstra, Ernst & Young, AMEX, The Age, Huffpost, the Victorian Chamber of Commerce and Industry and the Australian Women's Network.
In her one on one interview focused on personal branding, Melissa will share information on how to:
Become visible and memorable

Differentiate yourself

Send a clear message about who you are

Position yourself as an influencer

Have consistency across all social platforms
As professional women in a competitive industry, presentation is key in achieving a positive first impression, helping boost confidence and ultimately advancing your career overall.
DIGITAL MARKETING THINK TANK
Selected as one of Australia's best social media managers by Life Instyle, Cherie Clonan is passionate about helping individuals and businesses improve their knowledge of the digital world and help them with increasing their social profile.
She has a proven track record of bringing significantly increased social engagement, community growth and transforming social accounts. In 2015, she joined Feather & Noise [a Melbourne fashion label] as their freelance social media strategist and has grown their accounts to a combined following of over 66k in 18 months through best social media practices and strong influencer outreach marketing.
What Cherie is going to teach you in the Digital Marketing Think Tank:
How to build engagement and leads through e-marketing to your database

How to harness the power of videos in building your online profile

How to develop and implement an effective social media strategy to drive online engagement
You will leave with an in depth understanding of the power of digital marketing and how to use it to build your business, become more profitable and increase your own personal profile online.
---
OUR SPONSORS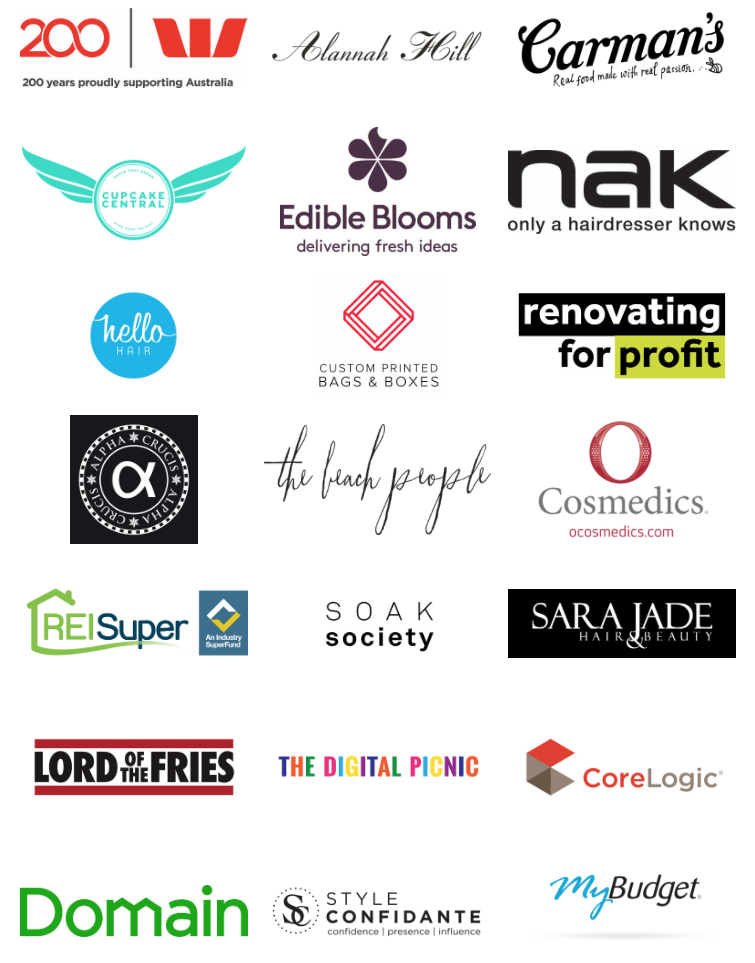 ---