Three days of powerful worship, intensive training & impartation to equip you for service, followed by three days of outreach & activation!
About this Event
Hope Ministries International & World for Christ have partnered together to launch the very first "EMPOWERED-School of Evangelism & Activation" in Australia this December!!
We have an amazing line-up of anointed worship leaders & powerful speakers to inspire, teach & equip you for 3 full days & nights, followed by 3 days of practical activation & outreach in various locations...this will be life-changing, you wont want to miss it!
There is no application process-the school is open to everyone, however registrations are a must to secure your seat as there are limited spaces available, there is also a small fee to help cover costs.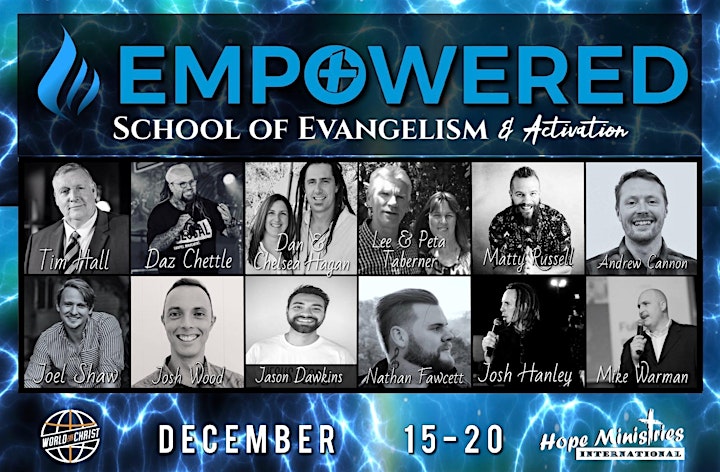 Empowered SOE schedule
Training-15th-17th
Day 1
8:30-9:15 Registrations
9:30-10:45am session 1
Morning Tea (Tea/Coffee provided)
11am-12pm session 2
*Lunch
2pm-3:15pm session 3
Afternoon Tea (Tea/Coffee provided)
3:30-4:45pm session 4
*Dinner
7-9pm session 5
Day 2
9:30-10:45am session 6
Morning Tea (Tea/Coffee provided)
11am-12pm session 7
*Lunch
2pm-3:15pm session 8
Afternoon Tea (Tea/Coffee provided)
3:30-4:45pm session 9
*Dinner
7-9pm session 10
Day 3
9:30-10:45am session 11
Morning Tea (Tea/Coffee provided)
11am-12pm session 12
*Lunch
2pm-3:15pm session 13
Afternoon Tea (Tea/Coffee provided)
3:30-4:45pm session 14
*Dinner
7-9pm session 15
Outreach 18th-20th (optional)
Venues-
Chinchilla-transport provided
Bundaberg-own transport
Local (Logan, Ipswich, Brisbane)-own transport
Schedule outline (subject to change)
Day 1-travel to location, evening worship & prayer & training local team
Day 2-morning street evangelism, afternoon outreach in park or similar (ie: community bbq, free gifts for children, jumping castle, etc), evening meeting
Day 3-local church morning service, travel home
*Meals not included