About this Event
We're looking forward to seeing you at church this Sabbath. It's Covid different, but it's been great catching up with our church family, some of whom we haven't seen in a long time. We've also welcomed quite a few people visiting EMP for the first time.
LESSONS FROM MALACHI II
Continuing our study from October 17.
- Pr Miljan-
See a 4 minute overview of the book of Malachi here...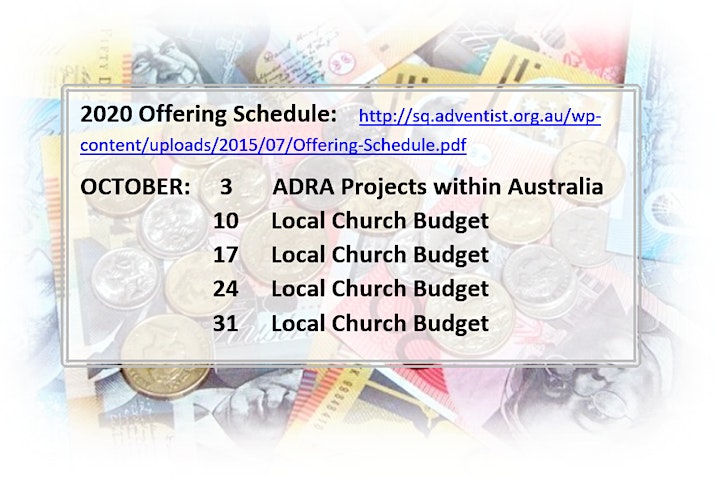 ELECTRONIC GIVING:
REGISTER TO ATTEND THIS WEEK - Please read carefully.
We have limited seating. Please register each person only once. Choose either...
1.CHURCH ONLY - for both Sabbath School and Church in the CHURCH building. You do not enter the Hall.
OR
2.HALL ONLY - for both High School Sabbath School and High School Church in the HALL. You do not enter the Church building.
OR
3.BOTH HALL & CHURCH - you go to the Hall for High School Sabbath School and then go to the CHURCH building for Church. That is, you enter BOTH the Hall and the Church buildings.
We need to know who was only in the church, OR only in the Hall, OR in both the Church AND the Hall, for contact tracing purposes.
For this reason it is essential you register if you plan to attend. Plus, we do have limited seats available due to Covid restrictions.
For more information about Eight Mile Plains Seventh-day Adventist Church visit https://empchurch.org.au/
As per government contact tracing requirements, any persons (including children) attending a place of worship must register with full name, phone, and email (or address if no email) contact. We take your privacy very seriously and will only share these details with the government at their request in the event of a Covid-19 case.
Covid-19 Acknowledgement *
I acknowledge that I will not attend church and that I will be refused entry if I answer YES to any of the following:
1. In the last 14 days have you travelled from overseas or a COVID-19 hotspot?
2. Have you been in close contact with a person who is positive for COVID-19?
3. Are you an active COVID-19 case?
4. Are you currently, or have you recently experienced cough, fever, sore throat, fatigue or shortness of breath?
Social Distancing Agreement *
I agree to comply with government requirements of maintaining 1.5m social distancing with persons of other households whilst at this venue.