Immerse yourself with angelic sounds and be anointed with 6 powerful essential oils. Release any blockages and reach your true potential.
About this Event
Imagine sinking into a deeply relaxing state as you are anointed with six powerful emotional oil blends designed to release any blockages that are holding you back from reaching your true potential. After the application of each oil, lay back and allow yourself to be immersed with the angelic sounds of voice and music that take you to a whole other realm. This 2 hour group session will create a feeling of inner peace and leave you feeling on cloud 9.
BYO: Yoga Mat, Blanket, Pillow/Cushion, Eye pillow/ Eye mask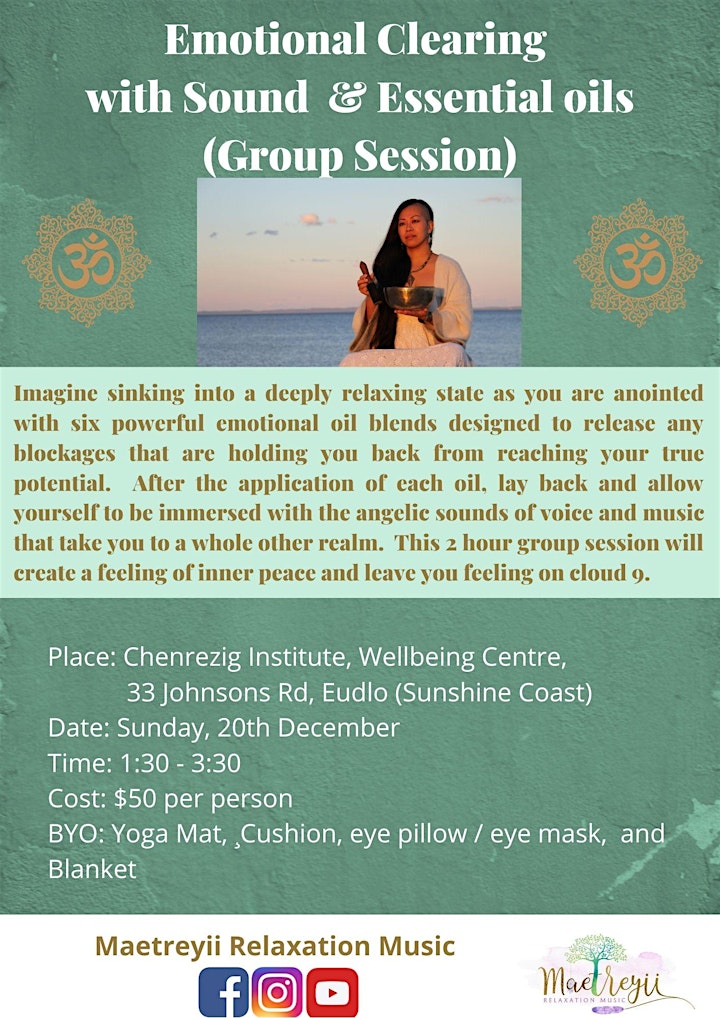 1. Please arrive at 1.15pm ready to start at 1.30pm.
2. If you are unexpectedly late, please enter the hall in a quiet manner and take a seat.
3. The session goes for 2 hours and we will be sitting on the floor. Please bring a cushion/mat for your comfort.
4. Part of the session will involve an oils balancing technique where you will be sitting cross-legged. Consequently, please wear loose comfortable clothing.
5. Ideally have a shower before the session so that the essential oils can remain on you for as long as possible.
6. At the conclusion of the event, we will be available to answer any questions you have. You will also have the ability to purchase items such as Maetreyii's CD, a gift certificate for a session with Maetreyii, and essential oils. We will not have the ability to accept cash so please bring a credit/debit card.
7. Covid safe practices will be adhered to throughout the session, including obtaining personal details at check-in.
8. If you are experiencing any cold or flu symptoms, please do not attend.
9. If you are unable to attend for any reason, you will instead receive a credit for another group session, or credit towards a private session or credit towards the purchase of essential oils.* (Credit towards the purchase of essential oils is applicable only for participant who do not have a current Young Living account).
10.Please ensure you have had something to eat prior to attending and bring your own filled water bottle as no food/drink catering is available.
*We do not refund