DRESS CODE: RAWR XD Best dressed wins a $50 bar tab.
About this event
DUE TO COVID RESTRICTIONS THIS EVENT HAS BEEN POSTPONED TO TUESDAY 25TH JANUARY 2022 - AUSTRALIA DAY PUBLIC HOLIDAY EVE!
All tickets will be valid for the new date.
If you cannot attend the new date please request a refund via your Eventbrite app within 7 days. Cut off date for refunds is Wednesday 29th September at 5pm.
Info on how to request a refund here: http://tiny.cc/eventbriterefund
IT'S NOT JUST A PHASE!
$5 CRUISERS 9-10PM
$5 DRINKS ALL NIGHT
FREE PHOTOBOOTH
DRESS CODE: RAWR XD
Best dressed wins a $50 bar tab.
Put on your favourite black skinny jeans and whip out your hair straightener, EMO NITE has hit Deluxe!
6PM - 8PM EMO & COCKTAILS for 2 hours of unlimited COCKTAILS & BEER
https://emococktails.eventbrite.com.au
Pre-purchase a ticket to EMO & COCKTAILS and get FREE ENTRY to EMO NITE!
Tell All Your Friends we're taking over Deluxe for one night only across 3 rooms!
Dig out your finest eyeliners and skinny jeans, prepare to Dance, Dance all night!
SET TIMES
SCENE CENTRAL FT DJ SCOOTER ALL NIGHT:
8PM - 9PM GREEN DAY VS THE OFFSPRING
9PM - 10PM BLINK 182 VS GOOD CHARLOTTE
10PM - 11PM PANIC AT THE DISCO VS FALLOUT BOY
11PM - 12AM MY CHEMICAL ROMANCE VS PARAMORE
12AM - CLOSE EMO/PUNK/ALT ROCK ANTHEMS
12AM AUSSIE BATTLE - SHORT STACK VS KISSCHASY VS GETAWAY PLAN
12:30AM ALL TIME LOW VS MAYDAY PARADE
1AM AVRIL LAVIGNE VS THE VERONICAS
1:30AM 3O3 VS METRO STATION VS COBRA STARSHIP
2AM MR BRIGHTSIDE SINGALONG
3AM LINKIN PARK THE END VS EVANESCENCE - WAKE ME UP FINALE
SAD BASEMENT:
8PM - 10PM MGK VS BLACK BEAR VS YUNGBLUD VS LIL PEEP VS CORPSE
10PM - 11PM SLEEPING WITH SIRENS VS PIERCE THE VEIL
11PM - 12AM PUNK GOES POP GREATEST HITS
12AM- 1AM BMTH TRIBUTE HOUR
1AM - 2AM ESCAPE THE FATE VS FALLING IN REVERSE
2AM - 3AM A DAY TO REMEMBER VS THE AMITY AFFLICTION
RAWR ROOFTOP:
9PM -11:30PM EMO BALLADS
ALL NIGHT DRINK SPECIALS:
$5 Wet P Shots
$5 Midori & Lemonade
$5 Malibu & Coke
$7 Tequila shots
$10 Cosmo's
$10 Aperol Spritz
18+ photo ID required.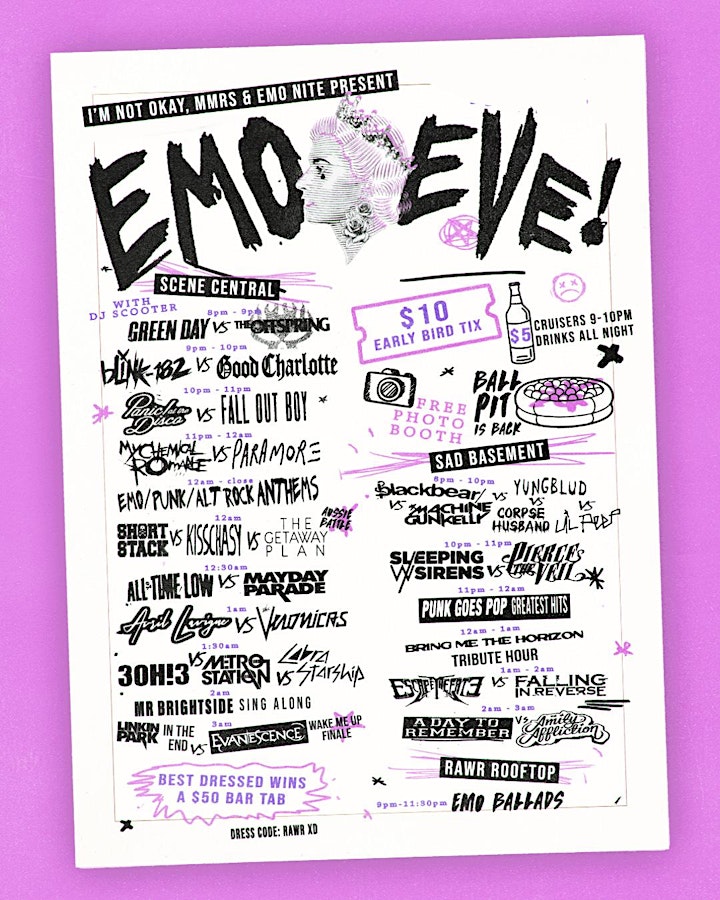 Organiser of EMO EVE AT DELUXE - PUBLIC HOLIDAY EVE