The Australian Laboratory for Emerging Contaminants (ALEC) invites you to participate in the Emerging Contaminants Workshop.
About this Event
The emerging contaminants forum will focus on chemicals risk of the future and will feature two international keynote addresses as well as local speakers. The morning keynote address will be by Dr Mark Strynar from the United Stated Environmental Protection Agency discussing "novel PFAS in environmental samples" while the afternoon keynote will be given by Dr Sonia Dagnino (Imperial College, London) discussing "exposomics". Local speakers will cover a range of topics from regulation, monitoring, risk prioritization and human exposure. Thanks to out supporters we can make this event free and open to all!
Workshop Details
This year, the Emerging Contaminants Workshop will be held online. This flexible format gives you the chance to attend the conference from your home or place of work, anywhere in the world.
Each attendee will be given a link to the live presentations given by each speaker. All videos will be made available on-demand if you are not able to join us live. We encourage you to attend live as you will be able to engage with the speakers and peers during short networking events throughout the day.
Registration is required.
Program Overview
10:00. Welcome
10:00 - 12:30. Session 1: Environmental Assessment
12:40 - 13:30. Lunch and networking
13:30 - 16:00. Session 2: Exposure and Impact
16:00 - 16:30. ALEC Launch
Speakers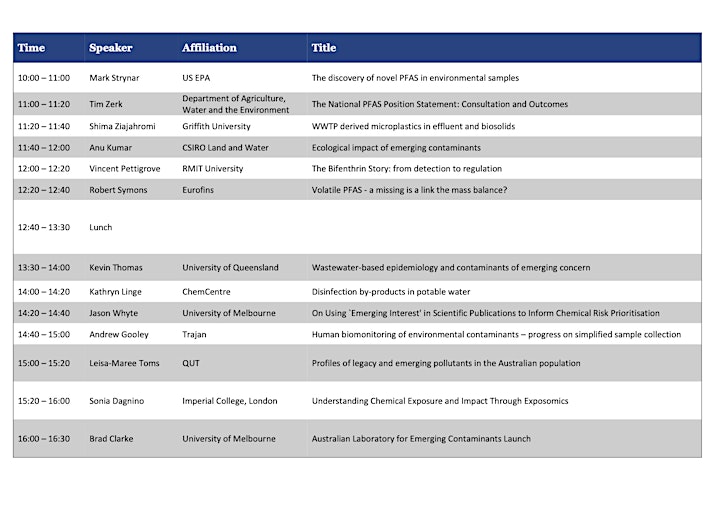 Sponsors
ALEC would like to thank the following organisations for their generous support for the Emerging Contaminants Workshop. This has allowed us to provide the event for free!
Agilent
Eurofins
Society for Environmental Toxicology and Chemistry (SETAC) Australasia Chapter
Australian Contaminated Land Consultants Association (ACLCA)
Water Research Australia
Trajan
PM Separations, and
Senversa