Theoretical and practical knowledge and ideas, to embed regular outdoor learning opportunities at their school or in their learning spaces.
About this event
This 1 Day Workshop is suitable for Primary School Teachers, Principals, Head of Curriculum, Teachers Aides and Homeschool Educators with all workshop content mapped to the National Curriculum (ACARA) and Australian Professional Standards for Teachers (AITSL).
This workshop will provide primary school educators with theoretical and practical knowledge and ideas, to embed regular outdoor learning opportunities at their school or in their learning spaces, whilst supporting ACARA and AITSL. The focus of the workshop is on planning, delivering, and reflecting on curriculum lessons taken outside of the classroom and includes resources to support progression and whole-school implementation.
Venue: Country Paradise Parklands
Meals: Participants will need to provide both morning tea, lunch and a drink to this event in order to comply with COVID Safe Plan. Please bring your own 'Keep Cup' for hot drinks and your own water bottle. Tea, coffee and biscuits are provided.
Session: Tuesday 14th September 2021, 9am-4pm
Cost: $250
Learning spaces are limited to 20 people.
The workshop Learning Outcomes are:
Discuss the researched impact of regular outdoor learning on children's physical, social and intellectual development, self-esteem and resilience
Explore how to embed and timetable regular outdoor learning experiences into your curriculum programming, supporting the National Curriculum.
Participate in a diverse range of outdoor learning 'lessons', across numerous curriculum subject areas.
Share ideas, resources and recommendations for developing nature spaces, playgrounds and outdoor classrooms at your school, including developing simple playtime and outdoor learning resource kits.
Discuss and practically explore how to maintain student safety outside of the classroom through the development of risk-benefit assessment, policies and procedures and most importantly by empowering your students.
Discuss suggested outdoor learning routines, expectations, rules and behaviour management strategies.
Discover a range of implementation techniques to engage and inspire parents, colleagues, your senior leader team, the local community and of your course your students.
Develop a 'action plan' to record your next steps to implementation at your school.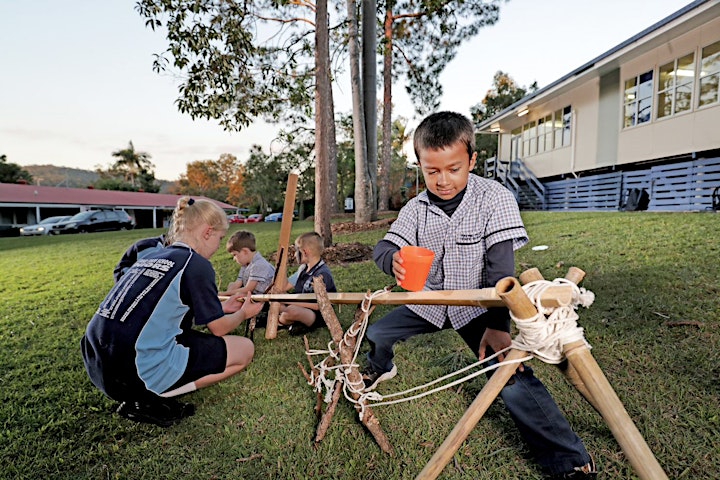 Organiser of Embedding Outdoor Learning Workshop - Gold Coast
Nature Play QLD provides support to educators and teachers through Professional Development, an array of workshops and resources. Whether you are beginning your journey in outdoor learning and nature play, or deepening your knowledge as the advocate for outdoor learning and play at your school or centre, Nature Play QLD offers professional development and networking opportunities for wherever you are in your professional development journey.