Sales Have Ended
Ticket sales have ended
Thank you for registering for the Embassy Conference: Unheard 2017! This is the first step to an extraordinary investment into your life and those around you. We look forward to greeting you in person and welcoming you to the event. Much love and blessings, From the Embassy Conference Team
Sales Have Ended
Ticket sales have ended
Thank you for registering for the Embassy Conference: Unheard 2017! This is the first step to an extraordinary investment into your life and those around you. We look forward to greeting you in person and welcoming you to the event. Much love and blessings, From the Embassy Conference Team
Description
About Embassy Conference: Unheard
You won't find a conference out there like the Embassy Conference! Combining our love of music [hip-hop, soul and RnB] and most of all, our love for Christ; Embassy Church exists to advance urban ministry and church throughout Australia, New Zealand and the Pacific.
It's an investment in the lives of individuals and churches that identity with urban subcultures (hip-hop and RnB scene, etc.) and communities, who desire for their world to experience Christ. Embassy Church is here to speak life into subcultures that mainstream church does not generally access.
The Embassy Conference is held over three (3) days, covering three (3) streams:
Urban Worship
Urban Youth
Urban Life.
The conference ends with a bang with one of the must-attend events of the year, the annual Soul Food Concert on Saturday, 7 October 2017.
Embassy Conference is a unique opportunity to share and meet like-minded people within the urban church community. So, if you're looking to see or experience what urban church is all about - this conference is for you!
Wayne & Libby Huirua are passionate about God and helping to facilitate an atmosphere where others can encounter with Him through music.
They have been in full-time ministry for over 25 years. Their experience is diverse and varied and includes being founding members of the Parachute Band, producing several worship albums, touring and leading worship and preaching in many nations around the world.
In line with their heart for training and equipping, Wayne and Libby offer seminars for local church worship teams. Their desire to equip and train also compelled them to launch 'Equippers Creative Lab' in 2014 - a full time creative arts school, based in Equippers Church, Auckland.
Wayne & Libby live in Auckland, New Zealand, with their two children Grace and Josh. They are on staff at Equippers Church, where they have been planted since 1992.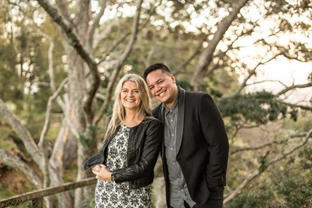 Conference Streams:
Urban Life: Includes 3 Day Conference Pass + Ticket to Soul Food Concert Saturday, 07-Oct-17 | We know God's heart is for us to know a full life and help others experience that too. How do we really do it though, out here on that regular grind? How can we be creative no matter our 9-5? How do we keep hustling for Our dreams? How do we apply leadership on the daily? Urban life is about exploring how we can enjoy and expand our lives by keeping Christ at the centre. REGISTER NOW!
Urban Worship: Includes 3 Day Conference Pass + Ticket to Soul Food Concert Saturday, 07-Oct-17 | If you're a muso, singer, poet, DJ, lyricist - this one's for you! We love God... And we love music! Specially that RnB, hip-hop, soul type'a sound you'll more likely hear on the streets than in the church. It's been unheard for too long. Time to come together so the voice of our God can be heard through the urban styles and genre authentic to us. REGISTER NOW!
Urban Youth & Young Adults: Includes 3 Day Conference Pass + Ticket to Soul Food Concert Saturday, 07-Oct-17 | God loves young people and we believe he wants them dynamic, bold, and risk taking - hungry to impact the world! But how many ideas, gifts, ministries, businesses, churches go unheard because we teach young people to pursue Insta-fame and C-list celebrity. Not this year! This year, #UrbanYouth and #YoungAdults are getting disruptive in life and in church. If you're 12-24(ish) REGISTER NOW!
Eats and Drinks!
Lunch, morning tea and afternoon tea are provided in the conference pass for the days of the conference.
Coffee & Hot Chocolate can be bought onsite. Teas and on tap, fresh, filtered water is available.
Conference Agenda Overview:
DAY 1 - Thursday, 5 October 2017: 6:30pm Registration desk open > 7pm Opening Night ! Dessert, coffee and chill afterwards...

DAY 2 - Friday, 6 October 2017: 8:45am Registration desk open > 9:30am-11am Combined Session - meet Iona Simeona & Grace Malu. Worship and the word from Wayne & Libby Huirua. . 11am-4pm Stream Sessions > 6:30pm Doors open for Night Session (PUBLIC event) > Ends 9pm
DAY 3 - Saturday, 7 October 2017: 9am Registration desk open > 9:30am-11:30am Combined Session with Wayne & Libby Huirua. . From 11:30am Lunch and Games!

DAY 3 - Saturday, 7 October 2017: Doors open at 6:30pm | Concert starts at 7:00pm-10pm Soul Food Concert 2017 Ticket included in Conference Pass or sold separately. PUBLIC event. Door sales available!
DAY 4 - Sunday, 7 October 2017: PUBLIC event - everyone welcome 9:30am-10am Morning Tea > From 10am-11:30am Sunday Service with performances from artists at Soul Food Concert.