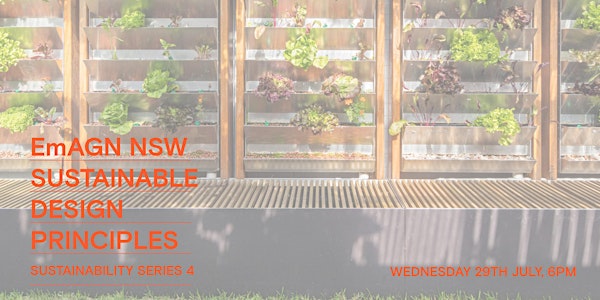 EmAGN NSW Sustainability Series #4 - Sustainable Design Principles
EmAGN NSW presents the fourth talk of the Sustainability Series by Clinton Cole
About this event
We are very excited to welcome Clinton Cole as our fourth speaker for the EmAGN Sustainability Series.
Clinton Cole is the founder and director of CplusC Architectural Workshop. He is a registered Architect, a licensed Builder and an accredited Construction Supervisor. With over twenty years of experience in the architecture and building industry, Clinton's unwavering dedication to producing genuinely sustainable projects that have been recognised at national and international awards programs for their sustainable, construction quality and architectural excellence.
Clinton's unique practice model, acting as both Architect and Builder, promotes innovative experimentation in architectural concepts and technologies. In 2019, Clinton presented his own home, 'Welcome to the Jungle House', at the World Architecture Festival, earning a Highly Commended award for its sustainable features and innovation. CplusC's project Aqua Perma Solar Firma has also earned accolades for creating a symbiotic relationship between architecture and permaculture.
This event is an initiative of EmAGN (NSW). The Emerging Architects + Graduates Network is a national network supported by the Australian Institute of Architects to empower the various graduate and emerging architects groups around the country.