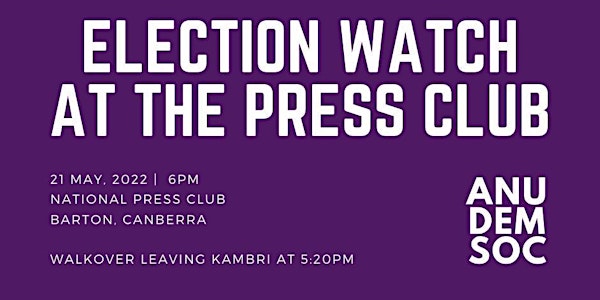 Election Watch at The National Press Club
Location
National Press Club of Australia
16 National Circuit
Barton, ACT 2600
Australia
Anu Democracy Society presents Election Watch at The national Press Club
About this event
Wanna know how election and democracy process works in Australia ? Don't have any election night plans? No worries! The ANU Democracy Society is going to the National Press Club for their election watch and "Eat your Vote" dinner.
A walkover will leave from Kambri, ANU at 5:20, otherwise meet us at the Press Club at 6pm.
This event is open for public but you need to be a member to participate. click this link to be our member
https://anudemsoc.getqpay.com/?fbclid=IwAR2_6HNVFxHBd6sAJMdT3Udn0uqmnNjMQCXCA0P3cwguftcI-omOIXY8WAM
If you are joining the walkover please bring a valid MyWay card as we will be taking the bus there.