Eid Milan & Dinner 2021 by Pakistan Australian Cultural Association (PACA)
PACA invites you and your family for Eid Milan dinner at Michael's Oriental Restaurant on Saturday, 15th May 2021 at 7pm (sharp)
About this event
Pakistan Australian Cultural Association (PACA) invites you and your family for Eid Milan dinner at Michael's Oriental Restaurant & Function Centre on Saturday, 15th May 2021 at 7pm AEST/BNE (sharp). Buy your tickets ASAP as Limited tickets (200 only) are available.
🎉🎉 Eid Milan 2021 & Dinner 🎉🎉
🎉🎉 Venue: Michael's Oriental Restaurant & Function Centre 🎉🎉
🎉🎉 Address: 223 Padstow Rd, Eight Mile Plains QLD 4113 🎉🎉
🎉🎉 Date & Time: Saturday, 15th May, 2021 at 7pm (sharp) 🎉🎉
Tickets are available on First Come First Serve basis on Sunday, 25th April, 2021 at sharp 2pm.
Adult Menu:
Starter:
Mains:
Butter Chicken
Beef with Black Bean Sause
Sweet & Sour Fish
Stir-Fried Seasonal mixed Vegetables with garlic sauce
Egg Fried Rice
Desert:
Sticky Date Pudding with Ice Cream & Caramel sauce
Children Menu (5 years to 10 years):
Chicken Nuggets
Chips
Ice Cream
NOTE: PACA functions are always sold out. There are only 200 tickets (including kids) due to COVID19 venue restrictions. Buy your tickets as soon as tickets are available on Sunday, 25th April at 2 pm (AEST/BNE) to avoid disappointment.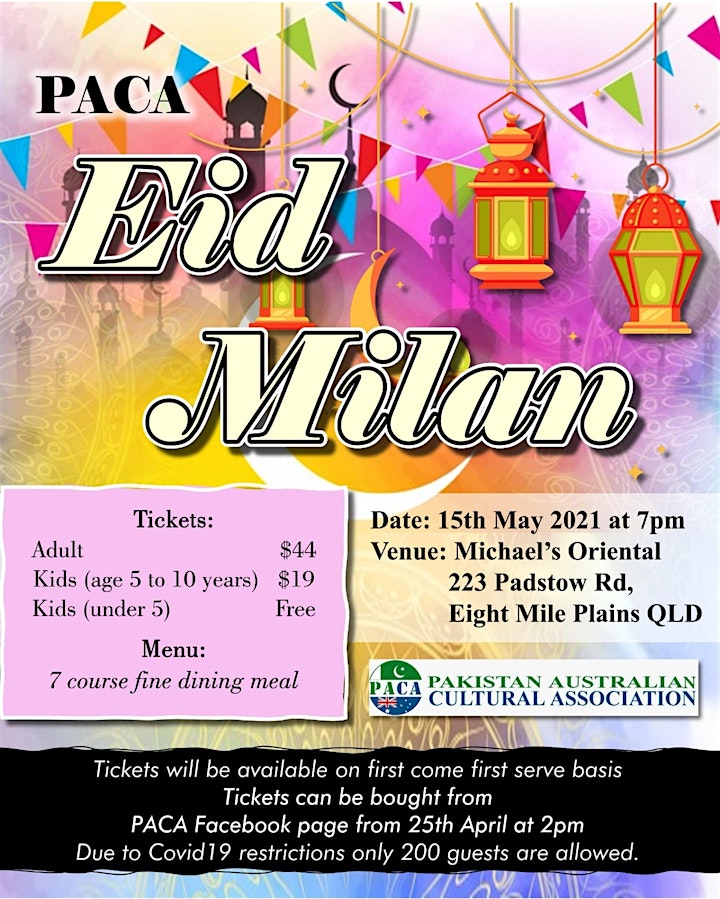 Organiser of Eid Milan & Dinner 2021 by Pakistan Australian Cultural Association (PACA)