About this Event
If you are registering as a subject matter expert, choose the "subject matter expert" ticket when you register
Problems revealed
P1: How might we apply the concepts of the circular economy which aims to retain or renew as much value as possible of products, parts and materials, in hospitals and healthcare?
P2: How do we use machine learning to improve patient outcomes?
P3: How might we address the social Isolation that is associated with dementia, disability or hospitalisation?
P4: How do we increase the speed with which pharmacy staff can cross match medication lists and information between disparate sources?
P5: How can we use readily and cheaply available consumer wearable devices to monitor patient from home in a way that is viable for patients, carers and healthcare professionals?
P6: How might we make it easier for food service businesses, consumers and regulators to seek or enforce food safety though a customer-centric digital solution?
P7: How might we improve the resourcing of distraction equipment available for use in the treatment room in regional Paediatric Units?
P8: How might we use unmanned aerial devices in Queensland Health to improve health services?
P9: How might we implement a new process (algorithm, tests, referrals) for falling patients in the ED in a way that reduces workload and provides fun feedback loops to encourage uptake from staff?
P10: How might we reduce the burden associated with inmates leaving a correctional facility for health service access?
P11: How might we use data to improve medical imaging services and assure the safe use of radiation?
P12: How might we make it easier to match addresses to geo-locations to improve reporting patient outcomes?
Building on the success of previous Hacking Health events, we're hosting the eHealth Innovation Jam at the 2019 eHealth Expo!
The three-day event brings a variety of bright and diverse thinkers together to shine a light on key problems and opportunities in healthcare.
Researchers, students, startups and corporates will work with healthcare professionals to come up with innovative solutions and initiatives.
At the end of the Innovation Jam – a partnership between eHealth Queensland and Hacking Health Queensland – participants will pitch their ideas and designs on the expo's main stage.
Become a subject matter expert for the eHealth Innovation Jam!
Want to take part in the Innovation Jam, but can't take off two days on June 4-5? Then register to become a on phone 'subject matter expert' and call into a team to help solve one or more of these twelve tricky problems in health.
We need healthcare staff or patients to share an hour of their time on the phone on the following hot topics:
waste management,
machine learning,
social isolation,
cross matching medications,
consumer wearables,
food safety,
paediatric distraction,
drones,
correctional facility health,
radiations use and geo-location.
At the end of the innovation jam participants will pitch their ideas and designs at the eHealth Expo.
Please be part of this great event and register to help our teams.
What is an Innovation Jam?
The eHealth Innovation Jam is designed to mix researchers, students, startups and corporates with healthcare professionals who have a deep understanding of problems that need to be solved, as well as strong connections to the healthcare community that would benefit from the solutions to these problems.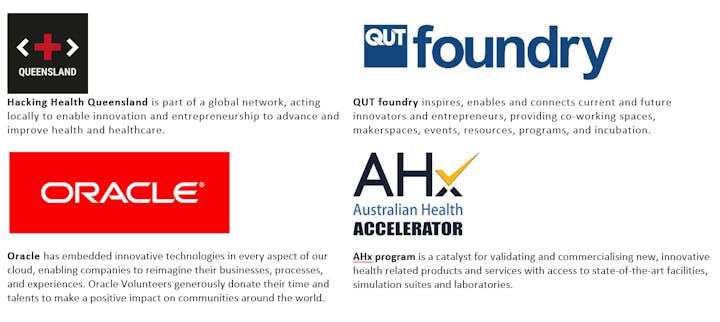 Personal information collected by eHealth is handled in accordance with the Information Privacy Act 2009. eHealth is collecting your information in order to manage registration information in relation to the Innovation Showcase. All work related or personal information will be securely stored and only accessible by authorised officers of the department. Your personal information will not be disclosed to other third parties without consent. If you have any queries regarding this process, please do not hesitate to contact eHealth Innovation team on Innovation@health.qld.gov.au.
For information about how protects your personal information, or to learn about your right to access your own personal information, please see our website at www.health.qld.gov.au
Agreeing to the transfer
The registration for this event is submitted via Eventbrite which means that information collected in this registration may be transferred outside of Australia. By completing this registration, you voluntarily agree to this transfer.
You should consult the Eventbrite privacy policy for further details about how they manage your personal information. If you wish to register for this event but do not agree to the transfer of your personal information outside of Australia, please contact eHealth Innovation team on Innovation@health.qld.gov.au to arrange for an alternative method.