Event Information
Location
Marrickville Library and Pavilion
313 Marrickville Road
Marrickville, NSW 2204
Australia
Egyptian cultural festival with food, music, culture and entertainment.
About this event
A festive celebration of Egyptian food, culture and history will take place in the Forecourt of Marrickville Library and Pavilion, on Saturday May 28th from 10am to 4pm.
The Egyptian Cultural Festival is part of a series of events by the Australian Egyptian Forum Council (AEFC) and its youth chapter the Australian Egyptian Youth Forum (AEYF), called 'Alexandria: The Cosmopolitan City' in celebration of the city's 2,400th anniversary.
The series was officially launched at NSW Parliament House in collaboration with the NSW Parliamentary Friends of Egypt, Ethnic Communities Council of NSW (ECCNSW), Multicultural Care and Multicultural NSW on Wednesday, March 30th, 2022.
There will be traditional Egyptian music, folklore dancing and food stalls, alongside short movies and photos of Alexandria, library tours, bilingual storytelling for children and much more.
Join us for this historic festival as we Reconnect, Revive and Restore a sense of community spirit following two years of COVID-19.
The AEFC is an organisation representing the interests of the Egyptian-Australian community in New South Wales. It promotes Egyptian heritage and culture in Australia, and aims to encourage and develop good relations with other communities, working towards the spirit of a multicultural Australia.
"We are working to provide the best community access possible but due to certain restrictions the event has been postponed until further notice"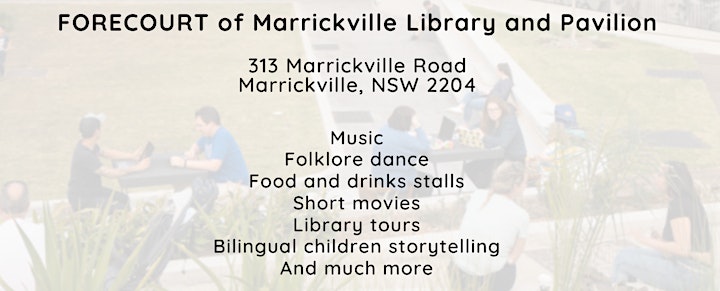 Location
Marrickville Library and Pavilion
313 Marrickville Road
Marrickville, NSW 2204
Australia