Educator's Symposium and Resource Emporium (ESRE) Sydney 2018
Sales Have Ended
Ticket sales have ended
Woo hoo!! You're coming to ESRE!
Sales Have Ended
Ticket sales have ended
Woo hoo!! You're coming to ESRE!
Description
IT'S NOT TOO LATE! You're just in the wrong place. To book tickets to the mini workshops and more information about the program CLICK HERE

To book tickets to the Resource Emporium CLICK HERE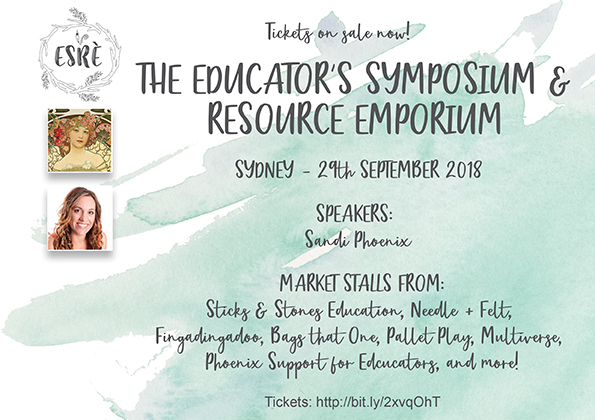 Speakers
Sandi Phoenix
Sandi is the founding company director and Principal Facilitator at Phoenix Support for Educators. Sandi takes a positive approach to guiding expected behavioural choices within inclusive learning environments, following vast experience working with children with disabilities and children who display complex behaviours. Sandi is highly regarded nationwide as a speaker, coach, mentor and Professional Development Facilitator for the education and care sector.
Contact Us
Sandi - Phoenix Support for Educators
Website: www.phoenix-support.com.au
Email: info@phoenix-support.com.au
Gabrielle - Sticks & Stones Education
Website: www.sticksandstoneseducation.com.au
Email: mail@sticksandstoneseducation.com.au