Description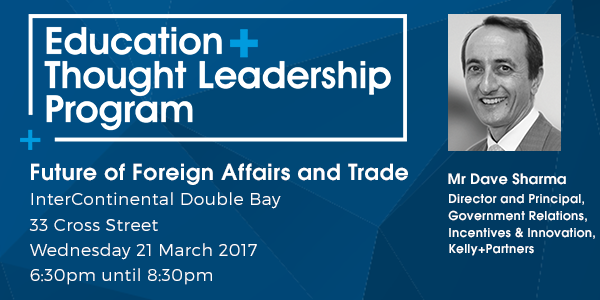 Please join us on the evening of Wednesday 21 March for our next Education +Thought Leadership event with special guest, Mr Dave Sharma, interviewed by Brett Kelly.
Dave has an extensive background in Australia's national security and foreign relations and most recently served as Australia's Ambassador to Israel from 2013 to 2017. This period coincided with some of the busiest and most productive years for the Australia-Israel relationship, with trade, investment and innovation ties strengthened significantly.
Dave's leadership and diplomacy delivered a number of achievements for Australia, including securing privileged access for Australia into Israel's start-up economy, improved air linkages, better visa products, negotiations to eliminate double taxation, high-level official visits by both Prime Ministers and the launch of the Tel Aviv Landing Pad - an entry point for Australian entrepreneurs into Israel's high-tech economy.
The evening will be held at Intercontinental Hotel Double Bay (33 Cross Street, Double Bay), from 6:30 pm to 8:30 pm. Kosher catering and light drinks will be served prior to the talk.

The format for the evening will be drinks and Kosher canapes from 6:30 pm, followed by Brett Kelly interviewing Dave Sharma on the topic of 'Australia's Evolving Place in the World' at 7:00 pm and the event concluding at 8:30 pm.