Description
Inherited a Website?
Not sure what you can do without getting into trouble?
Come to our hands-on beginner's guide to editing a WordPress website.
This is 3 hours of practical and hands-on guidance and advice. You'll discover the tricks 'n tips to navigating around the dashboard, understanding where those hidden things are and being able to work out what's what.
This course is suitable for businesses and individuals who have a WordPress website and don't know the first thing (or know very little) about editing it.
Fiona of DIY Digital has presented over 50 online marketing seminars to small businesses in Adelaide on topics from Search Engine Optimisation, Google, MailChimp, WordPress and Facebook. Her courses are fun, simple and practical.
Outcomes of course:

Be confident to move around in the edit dashboard of WordPress
Add text to your WordPress website pages, products and blog articles
Format text with bold, bullets and links
Change the navigaton menu on your site
Ability to upload images
Understand image sizes and why they matter
Understand what plug-ins do, what types there are and why you may want them
Understand how you can easily learn about Search Engine Optimsation (SEO) techniques
Understand how you can add and edit text for SEO friendliness
This is what past students have had to say: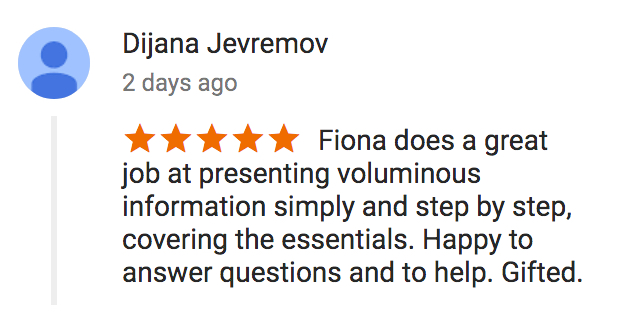 What the 3 hours will cover:

Key features of WordPress
Rows and Columns
The What You See Is What You Get editor (WYSIWYG)
Site Origin page builder
Divi page builder
Add and remove pages
How to update the navigation menu
Using images
WordPress plug-ins
Brief look at Yoast SEO plug-in

What attendees will need:
Log in details for their WordPress website. If you don't know if your website is a WordPress one, contact the organiser beforehand to find out (include your name, email address and a link to the website in the message). If you know your website is a WordPress one but don't have the login details you will need to work with your hosting provider beforehand to get these details.

The training room:
The course is conducted in the Cove Civic Centre IT Training Room. Laptops are available for use or attendees can bring their own. To ensure maximum learning and ability to ask questions, there is a maximum of 10 students per session. Coffee, tea and biscuits provided.

This event is brought to you by DIY Digital and supported by the City of Marion through their Open for Business program.