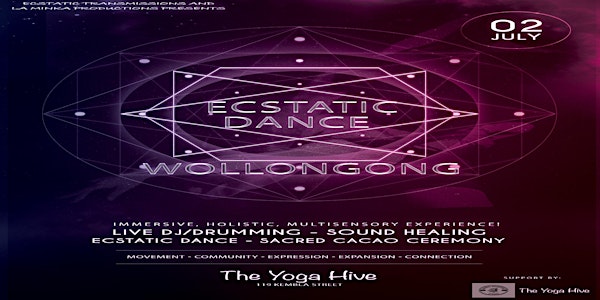 Ecstatic Dance Wollongong - Sensorial Cacao / DJ - Drumming / Sound Healing
Location
The Yoga Hive
119 Kembla Street
Wollongong, NSW 2500
Australia
Refund policy
Refunds up to 7 days before event
Eventbrite's fee is nonrefundable.
Immersive, Holistic, Multi-Sensory Experience!
About this event
Early Bird Tickets ✅ 𝙎𝙊𝙇𝘿 𝙊𝙐𝙏
First Release ✅ 𝙎𝙊𝙇𝘿 𝙊𝙐𝙏
Final Release ✅ 𝙎𝙊𝙇𝘿 𝙊𝙐𝙏
Double Pass Tickets (two tickets early bird price each) - ✅𝙎𝙊𝙇𝘿 𝙊𝙐𝙏
Join us in this immersive, holistic and multi-sensory experience that will take you on a journey of MOVEMENT, DANCE, CONNECTION, EXPANSION, FUN and EXPRESSION. COME AS YOU ARE, it's a place FREE of judgement where you will have the freedom to be who you truly are and connect with a like-minded COMMUNITY.
Raise your frequency and get high on your own supply. We will start the night with an intention setting and connection circle. You will have the opportunity to share your intentions for this collective experience. Feeling a deeper sense of connection from the very beginning, we will continue the journey with a heart-opening Sensorial Cacao Ceremony, opening the heart and awakening the mind's eye, connecting with the heart's wisdom and highest intuition.
At this stage, you will be likely already HIGH on your own supply, but it's just the beginning. Combining the power of drumming with the finest world electronic music, ethno, tribal, temple bass, organic, deep house and afro house, we will be taking on a journey of MOVEMENT, EXPANSION and full EXPRESSION of yourself. Move with INTENTION.
The night will end in bliss with a live immersive sound healing.
The entire experience is designed to boost your natural D.O.S.E (Dopamine, Oxytocin, Serotonin and Endorphins) of feel-good endorphin levels. You will leave feeling nourished & revived on all levels.
If you're looking for an immersive, holistic and multisensory experience and to connect with a like-minded community this is for you!
*No previous experience required!
What to expect
✔️ Intro and Intention Setting
✔️ Connection Circle
✔️ Cacao ceremony 100% Raw Organic Cacao.
(included with your ticket, made with love)
✔️ Sensorial Cacao Experience
✔️ Walking/Dancing Meditation
✔️ Connect with a High Vibes Conscious Community
✔️ Ecstatic Dance Live DJ and Drumming set
✔️ Heart Meditation and Sound Healing - Live instruments.
✔️ Short Sharing and Closing Ceremony
✔️ *No previous dance or ceremony experience is necessary.
✔️ * Suitable for anyone looking to have a fun healthy night out, dance and deepen their connection to mind, body & spirit.
✔️ Alcohol and drugs-free event!
Cacao Ceremony History
Cacao ceremonies have been around for thousands of years, originating all the way back to Mayan and Aztec traditions in Central and South America, used for spiritual, medicinal and ceremonial purposes for inner awakening and creative guidance. Cacao - plant medicine is used to gently touch your heart and to guide you into an inner journey deep into the emotional centre of our body – our heart (Anahata) chakra. Cacao is used in a sacred medicinal ritual, where intentions are set and once consumed, euphoric states are unlocked, negative emotions are released and we are able to connect to ourselves and the loving energy in our body.
Sensorial Cacao Ceremony
A sensorial Cacao Experience. Sacred Cacao deepens connection, opening the heart and awakening the mind's eye, connecting with the heart's wisdom and highest intuition. May we welcome all of what resides within us. Transform pain into peace, hurt into forgiveness and contractions into freedom. Expand your heart, and uplift your soul while experiencing ecstasy rooted in the body as the Sacred Temple. The Mayans and alchemists knew how to open the gate to the heart. Now it's your turn.
An Indigenous myth recalls that when the Earth and its people are out of balance, the cacao/sacred chocolate will come out of the rainforest to open people's hearts and return the planet to a state of harmony and balance. Cacao can be utilized to expedite inner work, facilitating creative energy, yet it's different to other plant medicines in that it does not carry you away on a journey, but rather supports you wherever you are, amplifying whatever is happening inside. The ceremony is an experience in multi-dimensional group energy.
Health Benefits of Cacao
Raw cacao has been used for centuries to heal the mental, physical and spiritual body. It is a natural and ancient plant medicine, with a high concentration of vitamins, minerals and is a powerful antioxidant. Cacao also increases blood flow (oxygen and nutrients) to the brain as well as induces the release of feel-good endorphins. It enhances the immune system and lowers cholesterol, blood pressure & so much more.
When you drink ceremonial grade cacao and prepare it with intention, it is a purely magical experience that makes you feel grounded, softer and more creative. Some even feel a drunken state of being that intensifies any practice that follows.
Ceremonial grade Cacao contains 90% more nutrients than any store-bought cacao powders. It is high in magnesium, iron, antioxidants and has five psychoactive chemicals (Note: It is not hallucinogenic) in it making you feel happy, in love and full of bliss.
What to bring/prepare:
* Bookings are essential, limited space.
* Please arrive early or on time.
* BYO water bottle.
* BYO Mug
* Loose comfortable clothing
* BYO Yoga Mat or Cushion to sit/lay on for Sound Healing
* Recommended to eat lightly, or fasting, for best results --- the emptier the belly the more you can fly.
* Prepare intention & hydrate well before and after the event.
* Arrive with an open mind & heart.
* Expect the unexpected
What is Ecstatic Dance?
Ecstatic dance is a form of dance in which the dancers, sometimes without the need to follow specific steps, abandon themselves to the rhythm and move freely as the music takes them, leading to an altered state of consciousness and a feeling of ecstasy.
With the added effects of Cacao, you will feel less inhibitions about dancing and be able to immerse yourself in the moment and feel the joy of movement and oneness with the tribe.
We will gently guide you through getting your body moving and then you will be free to move however you wish, free to express yourself without fear of judgement!
Meet your facilitators
ADRIANO BARCELLOS
Sydney's number one Ecstatic DJ, Adriano is a creative being who loves to co-create meaningful experiences and collaborate with like-minded people; He is a Master Nlp Practitioner, Master Hypnotherapist accredited by the American Board of Hypnotherapy, Behavioural specialist, Emotional Intelligence trainer, Digital Marketer, Event Producer, Researcher, Reiki Healer level 2 and passionate about arts in general and healing modalities. He has been focused on creating experiences that blend wellness with entertainment!
He has been playing the drums for various conscious communities around Sydney, and now he's venturing himself as a Dj for sober parties, workshops, retreats and any sort of uplifting experience! Playing some organic/tribal/ecstatic tunes, he takes the audience on a journey within, deepening the connection with themselves, Nature and others!!
LISANDRO AMBROSINO
Lisandro is a professional Multi-Instrumentalist musician who focuses in percussion and Afro-American rhythms. His passion for music plus his experience as a psychologist led him to create art therapy workshops and drum circles using the rhythms as a channel for healing throughout creativeness.
He has lived and travelled around the globe researching and learning about traditional music, sound healing, music therapies and general wellness. All this personal journey enriches his performances and persona, making him an eclectic music executioner which will take you with him on his music travel journeys!
ERNESTO AMBROSINO
Ernesto started his music journey almost ten years ago when he moved from New Zealand to Southeast Asia. Living there for over a year he connected with a vast network of creatives and musicians from all around the globe 🌎.
Since then he's been creating music spaces and connecting with people through music as a language. He is now focusing on musica-medicina, ceremonies and music healings but he always enjoys coming back to street music and basking which is a big influence in his music career.
In Sydney, he is also running musical gatherings and jam sessions promoting music as a tool to express emotions, connect with deep feelings and continuous search for self-knowledge.
DANI KINDGARD
Dani is an empath soul connector, focused on human interaction. She's been living and exploring traditional and ancient cultures for many years, taking her to places like Colombia, Mexico, India and Australia.
Many masters helped her deepen the roots of her body worker journey. As a body and energy healer, she provides many services as: remedial massage, reiki, colon hydrotherapy and Hatha yoga sessions.
Dani is a natural leader and loves hosting ceremonies, including woman's circles, Cacao ceremonies and pagan rituals. Her ceremonies are centred around reminding us how important it is to honour life and feel love within us.
The Cacao ceremony is an invitation to open our hearts and explore life force connections. She guide the journey through all our senses, allowing the natural healing power of love to guide you to your true self!
AUGUSTINA CANO
Tina is a multi-disciplinary content creator and yoga/gymnastics teacher based in Sydney.
She works in both photography and videography as well as communications for wellness businesses and performing arts.
She loves to tell stories through images capturing the raw essence of the moment with a fresh and spontaneous eye.
Disclaimer
Cacao and Ecstatic Dance are powerful experiential tools for accessing your own inner healer and can greatly intensify your transformational process. You will embark on a journey into the soul. Because this process can bring up intense emotions and strong physical experiences, be advised that it is not recommended for those with certain types of head injury, recent surgery, psychosomatic, serious mental health or other physical limitations.
By purchasing a ticket to this event, you agree that you have read all of the contraindications and consulted your doctor about any serious concerns you may have. You understand that we take no responsibility for any effects that may arise from the consumption of Cacao and that you are in control of how much you decide to consume, although we will ensure that each person is not given more than the maximum recommended ceremonial dose.
You also understand that we will be starting at 7pm and your ticket is non-refundable once purchased even if you cannot arrive on time and are not admitted entry.
For any extreme circumstances where you are unable to attend, we are able to transfer your ticket to a future event, so please reach out to us if you need to discuss this option.