Eco House Tour 2016

Sunday, 11 September 2016 from 9:00 am to 4:00 pm (AEST)
Event Details

We're running a special eco house tour in the Blue Mountains, NSW Australia on Sunday 11 September 2016.
You'll visit strawbale and earth homes that we've built.
Touch and feel the different homes, see how they 'work', check out the different finishes and renders, find out what you like and would love in your dream home...
You'll be leaving 9am sharp from Springwood and transport you all in a bus for $88.
We'll stop for lunch so you can buy or bring your lunch.
We've organised this because of your many requests for an eco house tour, so we'd love to see you there. Please register to save a spot as it will book out. Our beautiful owners have been so kind to let us through their home. 
We'll be visiting:
A home designed by us but built by them - Owner Builders. Get their knowledge on what it's like to build your own home.


A strawbale extension. They could have easily Owner Built, but listen to why they wanted a builder to do it for them. The house is in BAL40 bushfire zone, they have an earth floor, external straw walls and light straw walls, built the kitchen themselves, have tadeladkt in the bathroom (not tiles!), a door outside in their shower, internal cob walls, lime renders, clay renders... and have 3 small children. 


A new strawbale house where we had to finish the house from a previous builder. It's now a beautiful home with an incredible garden, learn what to do, what went wrong but also, how they got through it and how we did.


Visit our own strawbale house (which we retro fitted) and nearly-finished straw bale traditional framed straw bale office. 


A strawbale house with 7.5 stars (energy rating out of 10... that's great). It's been built to BAL Flamezone and is the community safehouse now. Internal rammed earth wall that Juli built herself (with our help), they are totally off grid with worm farm, PV solar power, clay paints they've made themselves 



Lastly, we'll see an incredible strawbale yoga retreat. It's an incredible location designed by an architect (learn the pits and falls of architectural homes). They only barely survived the Mt Vic fires, learn what they've done to protect their home.  
When & Where

Blue Mountains

Springwood, NSW 2777
Australia

Sunday, 11 September 2016 from 9:00 am to 4:00 pm (AEST)
Add to my calendar
Organiser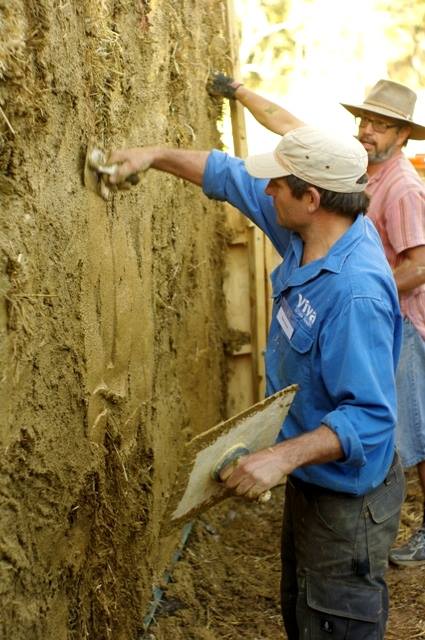 Sam educates builders, architects, owner builders and councils from all over Australia and regularly runs workshops at the Australian Rural Education Centre, Milkwood Permaculture, The HIA Sydney Home Show, Australian Technology Association (ATA) and local councils around Australia. He has built over 30 straw bale homes and have built 3 of his own straw bale homes. He lives in one himself.
Sam's qualifications include:
- Licensed Builder and Supervisor
- Bachelor of Economics (Agriculture)
- Diploma in Building
- Cert IV Carpentry
- Cert IV Training & Assessing
- Building Thermal & Assessment (Australian energy rating course)

- Master Builder with the Master Builders Assoc (MBA)
- NSW Rep & Member of Australasian Straw Bale Building Association (Ausbale)
- Member of Earth Building Association of Australia (EBAA)
- 2014 Excellence in Building awards from the MBA for "Environmental Management" and "Best House under $500,000".