Description
Join Cornersmith Picklers for this fun, hands-on, step-by-step Eco Heroes session. We'll learn how to preserve seasonal fruits and vegetables and discuss where food comes from; the science behind preserving methods; seasonality; the role of bees; and all-important knife skills.
Kids will make mixed vegetable pickles and bottled fruits with honey. They will also get to design their own labels and take home their finished products.
WHEN: Saturday 17 February 2018 TIME: 2:30pm-4:30pm
WHERE: The Classroom adjacent to the Randwick Community Centre, 27 Munda Street Randwick
AGES: This session is for 7-12 year olds, knifes will be used.
See you then.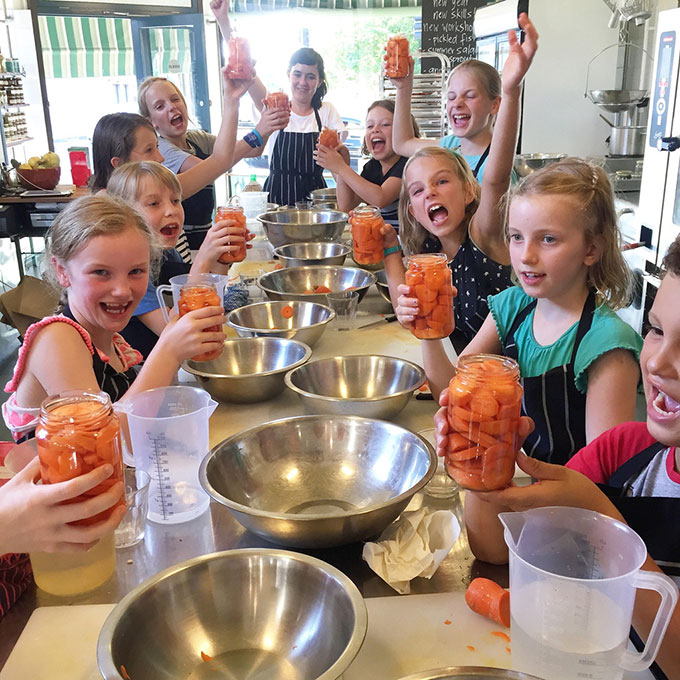 ---

About Eco Heroes Club...
Hey! It's awsome... At Eco Heroes, our 5 to 11 year olds (sometimes it will be for 7-12 year olds) participate in hands-on eco-activities that are fun... whether that's making a video, planting vegetables in the garden, learning about the wildlife critters we share Randwick with, learning about worms and compost or making art from recycled materials. We meet mostly on the third Saturday of the month between 2:30 and 4:00pm (excluding school holidays). These sessions are led by educators employed by Randwick City Council.
The Eco Heroes program offers social and recreational activities for children aged between 5-11; here, they learn to cooperate with others. it's also an opportunity for parents and carers to introduce children to a creative social environment where they do things in company with their peers.
Where do we meet?
Most of the Eco Heroes monthly sessions will take place at the Randwick Sustainabilty Hub, Randwick Community Centre, 27 Munda Street, Randwick.
Bookings essential
We take a maximum of 15 children aged between 5-11 years old who are accompanied by their parent/s or guardian/s. Special session might change this age range to include 7-12 years old.
On the day...
Here's some helpful details to know about registering on the day:
a parent or carer must accompany each child
children should wear clothing appropriate to the season and weather which might include a hat, sunscreen and closed-in shoes rather than sandals for garden activities
because some activities are in the garden or involve craft or cooking activities, it is best that children wear clothing that can get a little grubby
there is no cost to participate in EcoHeroes, although there may be a cost for any special activities.
Eco Heroes possibilities for our monthly meetUPs...
learn about our wildlife critters
make eco-art
making artwork for the Permaculture Interpretive Garden
cooking from the garden playing eco-games
make videos
learn about worms
plant a vegie garden
make friends...