Description
This month join Walkabout Reptile performers who will show us some live (non-venomous) snakes, lizards, frog, turtle and a young crocodile as well as fossils, a croc skull and sing-along songs on guitar.
Children will be entertained while they learn a thing or two about our amazing animals, their environment and the importance of conservation. They will be able to touch the animals throughout the show and will also learn about personal safety and hygiene. So come and join us!
WHEN: Saturday 15 July 2017 TIME: 2:30pm-4:00pm
WHERE: The Classroom at the Randwick Community Centre, 27 Munda Street Randwick
Watch Walkabout Reptiles video:
See you at 2:30 for sign in and the show starts sharp at 2:45pm.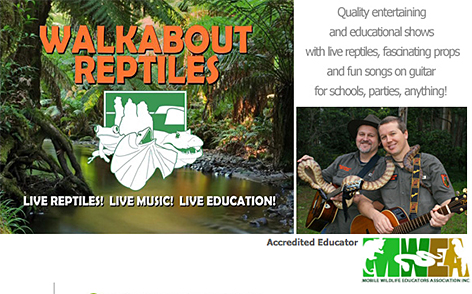 ---

About Eco Heroes Club...
Hey! It's awsome... at Eco Heroes, our 5 to 11 year olds participate in hands-on eco-activities that are fun... whether that's making a video, planting vegetables in the garden, learning about the wildlife critters we share Randwick with, checking out worms and compost or making art from recycled materials. We ususlly meet on the third Saturday of the month between 2:30 and 4:00pm (excluding school holidays). These sessions are led by educators employed by Randwick City Council.
The Eco Heroes program offers social and recreational activities for children aged between 5-11 where they learn to cooperate with others. It's also an opportunity for parents and carers to introduce children to a creative social environment where they do things in company with their peers.
Where do we meet?
Most of the Eco Heroes monthly sessions will take place at the Randwick Sustainabilty Hub, Randwick Community Centre, 27 Munda Street, Randwick.
Bookings essential
We take a maximum of 15 children aged between 5-11 years old who are accompanied by their parent/s or guardian/s.
On the day...
Here's some helpful details to know about registering on the day:
a parent or carer must accompany each child
children should wear clothing appropriate to the season and weather; that might include, for garden activities, sunscreen and closed-in shoes rather than sandals
because some activities are in the garden or involve craft or cooking activities, it is best that children wear clothing that can get a little grubby
there is no cost to participate in EcoHeroes, although there may be a cost for any special activities.
Eco Heroes possibilities for our monthly meetUPs...
learn about our wildlife critters
make eco-art
making artwork for the Permaculture Interpretive Garden
cooking from the garden
playing eco-games
make videos
learn about worms
plant a vegie garden
make friends...