Eat That Frog! The World's Most Popular Time Management & Productivity Syst...
Description



The Most Popular Time Management and Productivity System in the World developed by Brian Tracy.
Over 1,000,000 attendees world-wide! Now it's Your Turn!
Double your Productivity, Performance and your Output and Improve Your Earning Potential!
Time management is really management of your life. Time management is the ability to determine the sequence of events—what you do first, what you do second, and what you don't do at all.
What would it mean for you, your career or your business if you could double your productivity, your performance, your output? How much more could you do? How would you use your extra time? How will it impact your earning capacity?
Eat That Frog! is the most popular time- management program in the world developed by best-selling author, trainer and coach, Brian Tracy. More than 1 million people have successfully completed this 1-Day power-packed workshop and we expect this most popular program to sell out quickly! So, reserve your place now!
In this fast-moving, 1-Day workshop, you learn how to apply the most important personal management principles ever discovered to every area of your life.
The goal of Eat That Frog! is to enable you to double your productivity, performance and output and thereby increase your potential to earn more!
The Benefits
Decide exactly what you want

Determine your most important goal

Set priorities in each area of your life

Unlock your mental powers

Focus on your most valuable tasks

Eliminate low-value, no-value activities

Apply "Zero-Based Thinking" to every area of your life

Downsize, delegate or eliminate non-essential work

Double your productivity and double your free time
The Program
Personal Goal Setting

Mindstorming

Diamond Mining

Four Ways to Increase Your Productivity

Zero-Based Thinking

Identify Your Special Talents and Abilities

Time Allocation Exercise

Constraint Analysis

Six Steps to Simplification

Decision Making
What will happen during the workshop?

Eat That Frog! is a fast-paced, interactive program that combines Brian's strategies, activities, and in-depth discussions. You and your fellow participants can expect to combine serious learning with fun as you complete the course work.
What We Include For You?
Certificate of Achievement to Eat That Frog!

Professional facilitation by our Certified Trainers.

Eat That Frog! Workbook.

Writing collateral.

Morning tea; Light Lunch and Afternoon tea.

Time maximising methods that you can start using immediately!

Discount coupons for other career-changing programs.

Through your participation, you are also contributing to the great work been done by Beyond Blue.
Take advantage of our Early Bird price and lock in the opportunity to purchase Brian Tracy's Eat That Frog! (latest edition) at the special workshop price of only $9.95.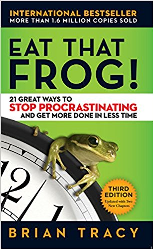 ---
Join us and have a great time at Eat That Frog! This is an intensive, but incredibly fun day of training not to be missed!
JOIN THE 1,000,000+ who Eat That Frog!