Event Information
Location
East Lismore, NSW 2480
Australia
Refund Policy
Refunds up to 1 day before event
Description
This is the last Studio Door Art Workshop for the year. Thankyou to everyone who's come along this last twelve months. I've loved being able to share with you.
DRYPOINT INTAGLIO PRINTMAKING
I have two presses, and enough space to have about 8 people easily.
Each person will be working at their own pace, though I'll be demonstrating various techniques in the course of the day, as needed. If it happens that 8 people are working on 8 different techniques at any one time, that's a fine day for me. Choose now, or on the day. Contact me if you want to check anything.
1) EXPLORE BASIC SKILLS
Suitable for artists, or non-artists, who've never done printmaking before.
Learn how to make a simple drypoint plate, ink, wipe and print it. Explore various printing variations, create a small edition, Christmas cards, or just play for the day.
*Drypoint is the simplest form of printmaking, where an image is scratched into a flat surface, originally copper. Ink is forced into the scratches by hand, wiped off, then printed on an etching press.
Magpie XIV, 2017 drypoint, wiped a la poupe, 8x8cm edition of 30.
www.christineporter.com.au/magpie/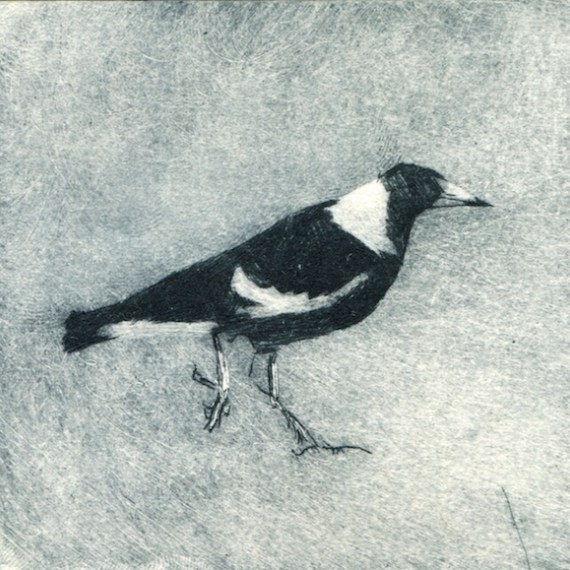 Or 2) CONTINUE WITH THE 50 WAYS TO PRINT YOUR ETCHING
In May we began the process of documenting the 50 different ways a single plate can be printed. if you like, you can continue along with this. We can add another twenty or so techniques to the small book of samples you began earlier in the year.
Suitable for artists who attended in May, or last November, or who have some experience in printmaking. Even if you haven't had much experience it's still ok.
Or 3) LEARN HOW TO DO COLOUR PRINTING
If this is something you've always wanted to try, then I can show you some single plate colour printing , wiping a la poupe, masking and some multi-plate techniques. This image of the dragonfly, was from Christine's 2010 series of etchings "the Dragonfly Diaries". Moondreamer 2010 multiplate colour etching, 6x3cm Edition of 90.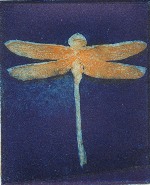 Again, if you've got the basics of inking, wiping and printing down pat, this will be straightforward. Contact me if you are unsure of your experience level.

Or 4) WORK ON YOUR OWN PRINTS or PROJECT
Bring a collection of drypoints you've made at home. Proof or print them, with input from me including inking, wiping and printing suggestions. If you would like to bring your own etchings to print that's fine too. You'll need to contact me so we can discuss the specifications for thickness of plate and best sizes.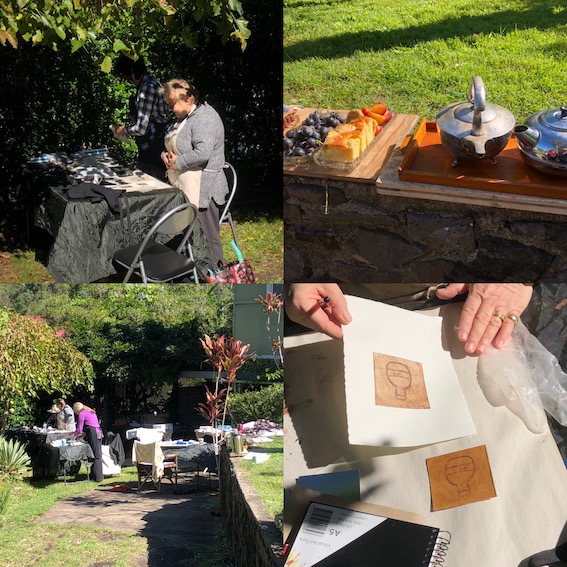 Skills you will learn include
- how to make a drypoint engraving using various surfaces and tools
- how to ink, wipe and print the plate,
- how to make an edition of prints
Suits
- raw beginners. no previous printmaking or art experience required
- experienced printmakers will be given more complicated ways to ink, wipe and print
- uni, high school or TAFE students who want to add to their mark making folio
Class Size
Maximum 8
Payment Options
- Use credit card or Paypal by following links on this page
- Pay by installments, directly by bank transfer, or with cash, contact Christine directly 0407170471
- Barter garden skills, contact Christine directly
Included in the day
- tuition by prizewinning artist and respected educator Christine Porter
- all materials, inlcuding coloured ink, paper, and other consumables.
- use of the etching press and other tools
- notes + folder to store experiences
- lunch, morning/afternoon tea (please advise if vego, vegan or GF)
Program
- 8:30am. Studio opens. Tea/coffee will be available from then.
- 9am. Christine starts teaching promptly at 9, so please arrive at least 15 minutes before, to settle in.
- Midday. Lunch (provided) Morning and Afternoon tea provided as the day progresses.
- 4 pm Class finishes.
Needed for the day
- participants must wear closed in shoes
- if you have done some printmaking, bring along samples of what you've done, if they are portable.
Children?
This class suits adults. If there is enough interest Christine will organise a teenage or children's class, though there are a number of children's art classes in Lismore.
Getting to the workshop, parking.
The workshop is being held at Christine's studio in East Lismore. When you have enrolled we'll send you a mudmap with directions and parking information.
Refund
The latest day for 100% refund: Wednesday immediately prior
50% refund if you let Christine know by the Friday before.
Contact Christine
Email: cp@christineporter.com.au
Website: www.christineporter.com.au
Date and Time
Location
East Lismore, NSW 2480
Australia
Refund Policy
Refunds up to 1 day before event