Grab your friends, family and K9-unit to investigate a spine-tingling true crime from 1899 on the streets of Melbourne.
About this event
Amongst the shopfronts of Melbourne's once-thriving Eastern Market, a sudden attack on a popular fortune-teller left her husband violently murdered. The culprit? A phrenologist with a steadfast defence, who will get away with the grisly murder if not proved wrong.
Travel through the city - exploring crime scenes, questioning (virtual) witnesses and collecting evidence to outsmart the killer and reclaim justice for the victim's family. Blood red radishes, a business rivalry, whispers of false friends. When everything is not as it seems, will you foresee how it ends?
What Should I Bring?
You'll need a fully charged AR compatible device and charger.
Download Eastern Market Murder on the App Store or Google Play ($4.99) before you arrive.
The game is best played with headphones.
Walking shoes (approx 1.5 - 2hr play time, 2.5km).
Make a day of it and stop for lunch at one of Melbourne's fantastic laneway cafes.
Well behaved pooches welcome (BYO doggie treats and poop bags).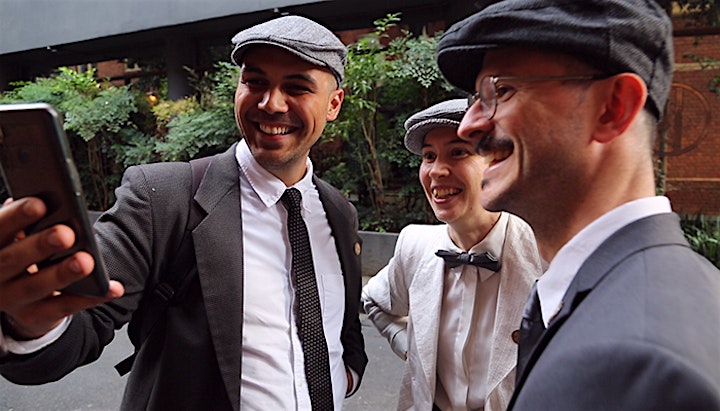 FAQ's
Is the game suitable for children?
Eastern Market Murder is suitable for ages 12+, has some adult themes and witness testimonies of a violent act.
What if it's raining?
Bring an umbrella! Knowing Melbourne it will be raining one minute, sunshine the next.
Is the game accessible for all audiences?
The game has been designed so locations are wheel chair accessible. Subtitles are able to be turned on for hearing impaired. Our team will be there to help you navigate the game and the city if needed.
Can I play on my iPad/Tablet?
Yes but it may get heavy to carry around. Check if you iPad/Tablet is AR compatible here.
What Is Melbourne International Games Week (MIGW)?
MIGW runs from 2 -10 October 2021 and is Asia Pacific's largest digital games celebration – featuring online conferences, events and activities for the games industry, games enthusiasts, general public and educators. Check out the full program here.
Is this a COVID safe event?
Yes, all locations are outdoors. Attendees are asked to do a symptom self-assessment prior to leaving home and not attend if they are unwell or have been instructed to isolate or quarantine. Attendees must maintain at least 1.5m physical distance between those from other groups at all times. Please observe requirements for face masks and personal hygiene measures based on goverment health advice at the time. In the event of a lockdown the event will be cancelled, you can still play Eastern Market Murder at home anytime in offsite mode.
Is this an ongoing event?
This is a special one off event for Melbourne International Games week, though Eastern Market Murder is available on the App Store and Google Play, so you can play from home or in Melbourne at the actual crime scenes anytime.
Need more info?
Get in touch if you need any more details - hello@truecrimegames.com
We look forward to seeing you there!
Developed & Released With Assistance Of:

Organiser of Eastern Market Murder - Dog Friendly Detective Day