Description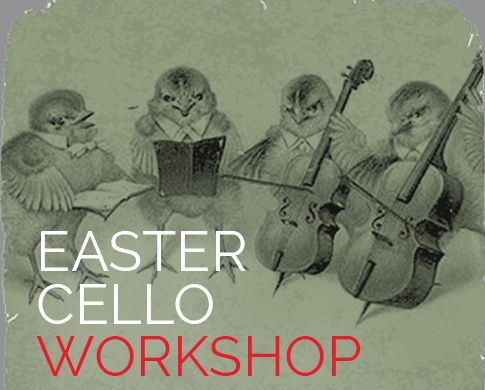 "...Great fun! I loved it!" "Interesting music, helpful tips - a really inspiring workshop."
WORKSHOP SCHEDULE
> 1:30-3pm WORKSHOP 1 Ready Set Go! BEGINNERS
> 3-5pm WORKSHOP 2 Grooves & Moves INTERMEDIATE
> 5-7pm WORKSHOP 3 Cello Dreaming Ensemble ADVANCED & ADULTS
10am-1pm PRIVATE LESSONS are avaialble. Please book on 0415 128 799 or info@cellodreaming.com.au
ABOUT http://www.cellodreaming.com.au/education/cello-dreaming-ensemble-workshop/

Louise King presents workshops throughout the year. Are you a cellist or a music teacher looking for someone inspirational and dynamic to work with you or your students? Louise is a highly experienced educator and conductor who leads students and musicians through a range of practical performance workshops. Each workshop culminates in an informal performance. The workshops are designed to unify and bring together musicians in an inspiring, motivating performance experience.
Come and enjoy playing music for Cello Ensemble. Play Celtic Grooves, classical greats and dance music such as Tangos, Sambas, Bourrées, Jigs and Minuets - all arranged for several ability levels.
Learn side-by-side with fellow cellists and play along with a professional musician. Participants come and develop their playing and individual performance style. Workshops are designed to bring together players in an inspiring, mentoring and informal performance experience.
Be inspired to take great musical leaps in a short time in a concentrated and engaging learning environment. Workshops are ideal for all aspiring musicians. All cello players are welcome.
about the presenter
English cellist, Louise King moved to Australia in 2003 after working extensively in professional orchestras in the UK, Hong Kong, Cairo and Europe. An award winning graduate of the Royal Colleges of Music in London and Manchester, Louise studied with Emma Ferrand, Leonid Gorokhov and William Bruce and the baroque cello with Richard Boothby. Louise is in Toowoomba to tutor on the Australian Youth Orchestra Easter program.

Louise is in great demand as a soloist, chamber musician, master class presenter, adjudicator and orchestral tutor and performs at Australia's finest music festivals and with the Australian Chamber Orchestra, Topology, Queensland Symphony Orchestra, Southern Cross Soloists, Muses Trio, Tulipwood Quartet and as a tutor for the Australian and Queensland Youth Orchestras. She is a dedicated and inspiring teacher at the Young Conservatorium QCGU Brisbane and particularly enjoys working with aspiring young musicians and adult students. www.cellodreaming.com.au