About this Event
Hosted every week by none other than Adam Hills, Easey Comedy will be Zoomed LIVE into living rooms across Australia and the Universe.
Come get reacquainted with live comedy, catch up with your favourites and discover your new comedy crushes. It's like a weekly comedy gala in your lounge room!
This week's line up sees Annie Louey, Brett Blake, Claire Hooper, Zoë Coombs Marr and Denise Scott take the stage.
We are frankly out of our minds with excitement to bring Easey Comedy back to comedy fans – the people we have missed the most. JOIN US!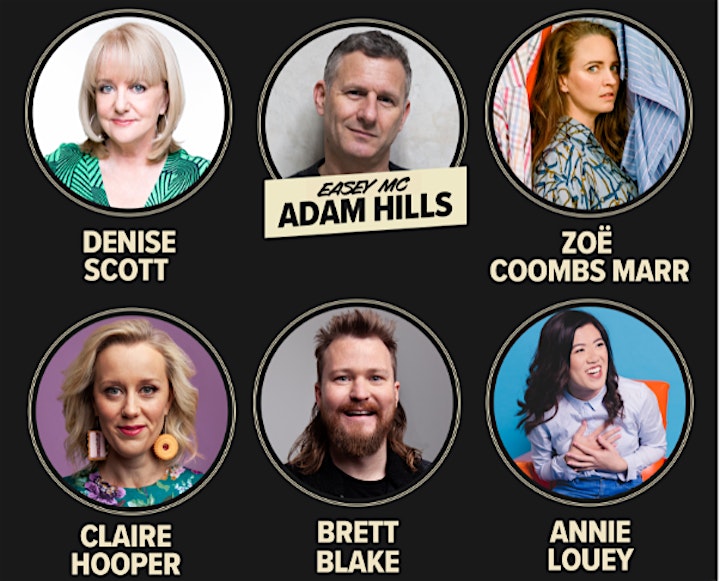 TICKET PRICES
Solo Viewing ($15) - If your viewing the show solo this is the ticket for you.
Household Viewing ($25) - If your viewing as a group of up to four people at home this is the ticket for you.
Comedy Party Viewing ($35) - If your viewing as a group of five or more people at home this is the ticket for you.
JOINING THE SHOW IN FOUR EASY STEPS:
1. Purchase a ticket. You will need an Eventbrite account to do this.
2. Download Zoom here if it is not already installed on your computer.
You do not need a zoom account to access the show, you just need the app.
3. Follow the Zoom link which can be accessed by clicking the 'Go to online event page' button on your Eventbrite confirmation and reminder emails.
You will need to log in to your Eventbrite account in order to access the Zoom link. The Zoom link will become live once Doors Open.
4. Enter your name and email address and click 'JOIN WEBINAR IN PROGRESS'.
That's it, you're in!
RUNNING TIMES
7PM AEST - Doors Open
Join Adam Hills and other audience members for a pre-show chat.
7.30PM AEST - Show Starts
Audience members should take their seats and will have their video turned off.
8.30PM AEST - Show Ends
PRE & POST SHOW
Your audio and video is disabled to the rest of the audience when you enter Zoom.
Some audience members may be given the opportunity to turn their camera on and be part of the onscreen audience who are visible to the rest of the audience at home. The onscreen audience is selected at the host's discretion.
To request to be seen, simply click on the "Raise Hand" icon at the bottom of the screen.
You may then be promoted to a panellist, at which point you will re-join the zoom and you will see a pop up saying "The Host has asked you to start your video" which you can accept or reject.
Your video can never be turned on by another user or the Webinar host.
Suitable for ages 16+.
Need more information? Check out our Frequently Asked Questions.
While we do our best to keep lineups as programmed once announced they may be subject to change.