Ear-gasms & Harmony - March workshop

Sunday, 26 March 2017 from 11:45 am to 2:00 pm (AEDT)
Event Details
After the second Ear-Gasms & Harmony workshop the idea of a performance in June really starts to sound very exciting to me. The vibe for the Feb workshop picked up where the last one left off. There were some really enthusiastic people from the first one and some inspiring newcomers all ready to share their voices. There's nothing better than singing together!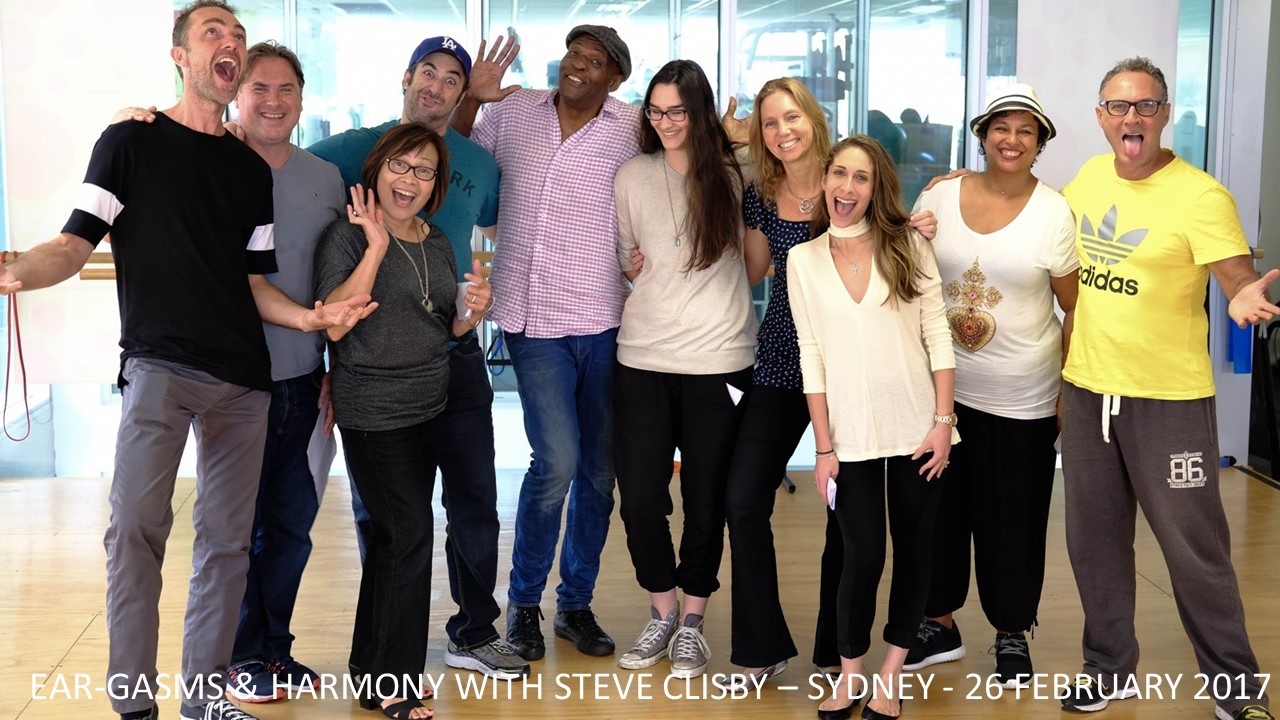 Only three more workshops to go before we get to take our group to a public (secret) location and let people hear what we've been up too. Remember, we're accepting and encouraging all levels of experience from beginner to near pro, everyone helping and encouraging each other and it's always a whole lot of fun.
If you're able to join the next three in a row we'll discount your fee to $125 for three workshops and a guarantee to get you into the performance (Monday 5 June). There will also be some Ear-gasms points to use for entry into Ear-gasms & Harmony 2.0 starting later in the year.
Join our Facebook group to keep and eye on the latest and share some of the experiences we've been having singing and loving it.
Stay peaceful,
Steve
Ear-gasms & Harmony:  Singing Workshop - Led by Steve Clisby
Group singing and arrangements facilitated by Steve Clisby, finalist on The Voice 2013.

No experience required.

Singers of any style welcome, including jazz, folk, pop, classical, gospel...

Lyrics and recordings provided 1 week prior to familiarise yourself with the songs.

Easy and fun group sing-along... Better than Karaoke!

Enquiries: info@heartshavebeats.com
Past participant comments:
 "I would definitely give Ear-gasms & Harmony a 10 out of 10, because it captured my imagination."
 "I loved that you engaged everyone and the choice of song helped to connect people."
 "Loved the harmonies… Oh look, I just had a great time!"
"Definitely a 10 out of 10! I've always been interested in joining a vocal group. This has just come up organically and I enjoyed it a lot."
"I am really hoping it continues as I don't see myself looking for another vocal group. If this one continues… great!"
"Singing is a great skill that everyone should have, as it teaches you about breathing."
"The whole concept of working and blending as a team is such a beautiful skill to have."
"I loved being able to learn how to harmonise with a group better. Usually I sing my harmony part too loud. This was the first time I was able to maintain a volume that I could still hear everyone else, which made it possible to blend."
Events coming up!
Next Ear-gasms & Harmony workshop:
26 March - sign up now on singingmarch2017.eventbrite.com.au
Hearts Have Beats - intensive coaching program:
Email info@heartshavebeats.com for details of this multi day program including song writing, performance preparation, vocal training and various other elements to get you ready to develop yourself as an artist.
Mon 24 April: '40up' - the new dance event for 40-plus dance lovers:
Tickets here. This event will sell out so be quick! Includes live performances and original funk/soul/pop tracks and visuals. See also the Facebook page on www.facebook.com/40updance
When & Where

Bronte Fitness
1/360 Oxford Street
Bondi Junction, NSW 2022
Australia

Sunday, 26 March 2017 from 11:45 am to 2:00 pm (AEDT)
Add to my calendar
Organiser
Steve Clisby
The Steve Clisby story is largely unsung, but his are the classic hallmarks of a life lived in music and the stuff that dreams and careers are made of. The California native played the piano and saxophone from age seven and studied singing throughout high school. In the 70s, he and his fellow 17 colleagues took the Hendrix trail to Europe – and there they stayed. Based in Barcelona for a year, playing every stage in Spain, the group, American Gypsy, eventually made Holland their base and a two decade career ensued.
A record deal and release of the eponymous 'American Gypsy' resulted in a string of hits, numerous television appearances and a cemented position as the African American soul voice in Europe. They toured alongside Chaka Khan, Hot Chocolate, Kool and the Gang, Crusaders, Mothers Finest, Level 42, Santana and Frank Zappa, and Taj Mahal.
He collaborated with award winning producer/writer, Narada Michael Walden (Madonna, Whitney Houston, Mariah Carey) and Errol Brown (Hot Chocolate). Groove Armada re-recorded 'Inside Out' as 'Whatever Whenever' and Neneh Cherry recorded 'Golden Ring' on her album 'Man'.
His first three local albums are recorded live and indicative of the artist – one where the power and beauty lie in his live performances. His most recent recording, 'Golden Ring' in 2009 represents for him a watershed moment and a journey that has reached a full circle. It is the classic musician's tale – from fame to humility, from gratification to the search for redemption.
Experience the blood, sweat and tears of an artist's journey soulfully and beautifully rendered. Where lifting the soul is the aim and the game is pure entertainment.
Ear-gasms & Harmony - March workshop