Dunga Dash Family Fun Run - Raising Funds for Dunga Derby - HEAPS OF EVENTS
The Family Fun Run for Everybody! Anytime, Any Day, Anywhere, Any Way
About this event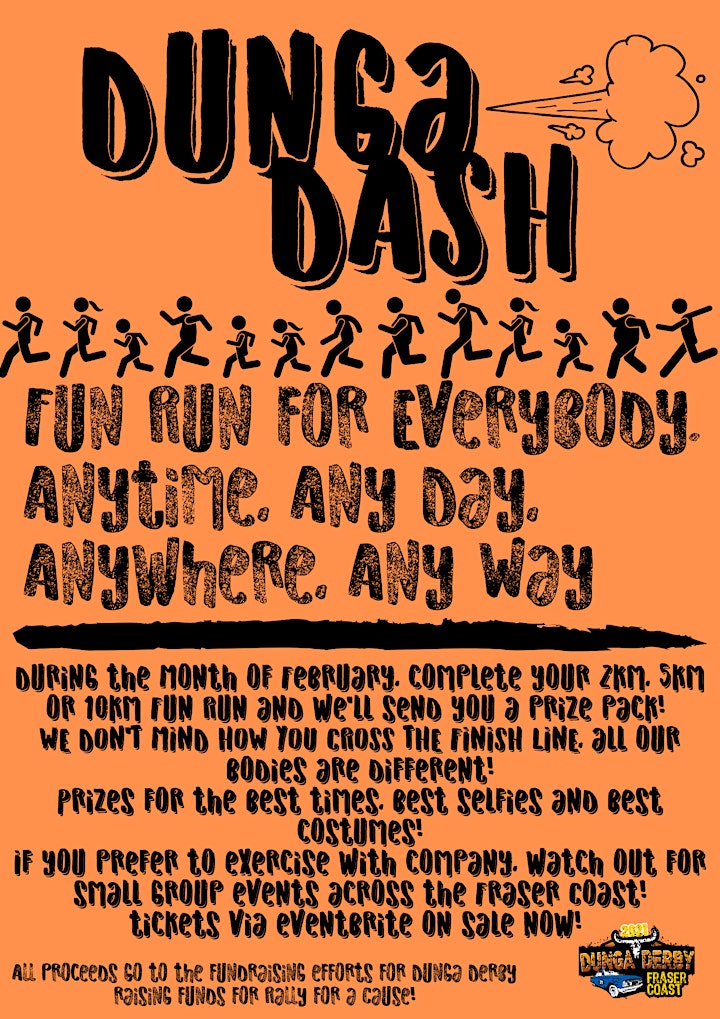 During the Month of February, complete your 2km, 5km or 10km Fun Run and we'll send you a prize pack!
We don't mind how you cross the finish line, all our bodies are different! Those using walkers, wheelchairs, scooters, trikes, rollators, prams, hoverboards and rockets are encouraged to please participate!
Prizes for the best times, best selfies and best costumes!
If you prefer to exercise with company, watch out for small group events across the Fraser Coast, make sure you select the right tickets!
Dunga Dash for Dads & Kids
Dunga Dash & Dinner
Dunga Dash & Drinks
Dunga Dash Virtual Runs
To demonstrate you have completed the event, send a photo of your garmin, strava, apple workout or equivalent to dungaderby@comlife.com.au and we will send you the prize pack!
Companion Cards are of course accepted, and all Companions need to please select the 'Companion' Ticket.
tickets via eventbrite on sale now!
All proceeds go to the fundraising efforts for Dunga Derby "Team Car #37 Imagine Amazing Together", working hard to raise funds for Rally for a Cause!
https://www.rallyforacause.org.au/