Duldig Studio invites you to join our 3D Me! Sunday Sculpture Talk on 18 April 2021, featuring Evan Tindal, a sculpture conservator.
About this Event
The Duldig Studio Museum and Sculpture Garden invites you to our Sunday Sculpture Talks and Sculpture Workshops as part of our '3D Me! Unpacking The World of Sculpture' project.
The 3D Me! Project brings sculpture experts and workshops into the Stonnington community to explore meanings behind sculpture, how sculptures are made, and to speculate what the future of sculpture will hold.
SUNDAY 18 APRIL 2021, 2-4PM: SUNDAY SCULPTURE TALK WITH DR. EVAN TINDAL
Sunday Sculpture Talk with Dr. Evan Tindal, Principal Objects Conservator, The Grimwade Centre for Cultural Materials Conservation, The University of Melbourne.
Evan has worked extensively with archaeological materials, on conservation projects in both the United States and Australia. Evan was formally manager of the conservation lab for the Florida Bureau of Archaeological Research. His additional interests include the treatment of metals, functional objects and large, immovable heritage - with an emphasis on integrating multidisciplinary approaches.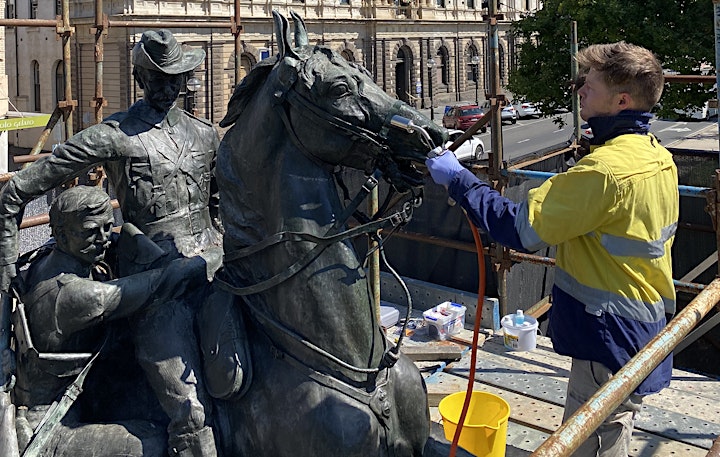 3D Me! Program Pricing List
Sunday Sculpture Talks (13 March, 18 April and 20 June, 2021, 2:00-4:00pm)
1 Sunday Sculpture Talk: $20.00
3 Sunday Sculpture Talks: $50.00
Sculpture Workshops with Duldig Curator and Sculptor, Stefan Damschke (14 April, 2021, 1:30pm-3:30pm)
1 Sculpture Workshop: $60.00
2 Sculpture Workshops: $100.00
3D Me! Booking Packages
3 x Sunday Sculpture Talks + 1x Sculpture Workshop Package: $100.00
For enquiries, please contact Matt, Program Assistant at matt@duldig.org.au, or contact Duldig Studio on 03 9885 3358.
If you are either a Member or Volunteer of the Duldig Studio and are interested in attending a talk or workshop, please contact Matt at matt@duldig.org.au for the discount code that can be applied to all tickets that you would like to obtain for the 3D Me! Program.
This only applies to individual talks and workshops and not the 3 x Sunday Sculpture Talk + 1 x Sculpture Workshop package deal.
PLEASE NOTE COVID19 REQUIREMENTS:
Each attendee is asked to do a symptom self-assessment prior to leaving home and not attend if they are unwell or have been instructed to isolate or quarantine.
Attendees must maintain at least 1.5m physical distance between those from other groups at all times.
To minimise movement, attendees must stay within their allocated spaces or seats where practical.
Face masks are strongly recommended when social distancing cannot be maintained, observe cough etiquette and personal hygiene measures.
3D Me! is generously supported by City of Stonnington.
These events take place on the land of the Wurundjeri and Woi Wurrung peoples of the Kulin Nation. The Duldig Studio respects all First Nations Peoples and Elders past, present and emerging.