Special double workshop event! In the morning: Compost as a Catalyst. In the afternoon: Making the Transition to regenerative agriculture.
About this event
As part of the Compost for Conservation Cropping project, Bruce Maynard and Michelle Miller are hosting a special double workshop event.
Workshop 1. Compost as a Catalyst
Morning workshop: 9:00 am - 12:00 pm
This workshop is focussed on how compost works for soil health, farm productivity, and the local economy. This event is for producers and anyone in the community interested in growing the compost supply chain.
DISCUSS HOW COMPOST CAN BE A CATALYST FOR...
Increasing soil function, soil organic carbon and water holding capacity
Managing for long term productivity and sustainability
Closing the nutrients loop - returning nutrients back to farms and the soil
Connecting local economies - though recycled organics and compost supply
And - give feedback on the Compost Buddy online compost advice tool!
Workshop 2. Making the Transition
Afternoon workshop: 1:00 pm - 4:00 pm
Speaker Bruce Maynard
This workshop will look at how farmers transition to regenerative and resilient farming practices, including building their toolbox, management planning and sector support. This event is for producers and suppliers interested in transition to regenerative farming.
IN THIS AFTERNOON WORKSHOP, DISCUSS...
Building a tool box for regeneration that maximises use of nutrients
Incorporating new practices into farm management and planning
Identifying what is needed as a sector, a community and a local economy to support transition
Bruce Maynard will share his journey and principles for regeneration.
ABOUT BRUCE
Bruce is one of Australia's leading Agricultural innovators. Over 30 years he has pioneered the fields of No Kill Cropping, Stress Free Stockmanship, Self Herding and Grassland Grain. Implementing on his own farm as well as supporting landholders across Australia he continues to extend constructive practices for local communities and landscapes that have global impacts.
He invented No Kill Cropping as a response to the current and emerging challenges unique to Australian farming. No Kill Cropping grows crops within grasslands rather than replacing grasslands as conventional systems do. The methods are adaptable and resilient, providing profitable production whilst slashing inputs and, therefore, risk. Bruce has also developed Stress Free Stockmanship, an approach that changes the interactions between people, animals and the landscape. It is more than animal handling, but a way to enable animals to initiate new, learned behaviours that positively impact people and landscapes.
LOCATION
1st Dubbo Welchman Street Scout Hall, 5 Welchman Street Dubbo
Attend one or both events for free. If you attend both events, bring your own lunch!
Contact: admin@constructivefarmingcoop.com.au
Find us on Facebook at @compostasacatalyst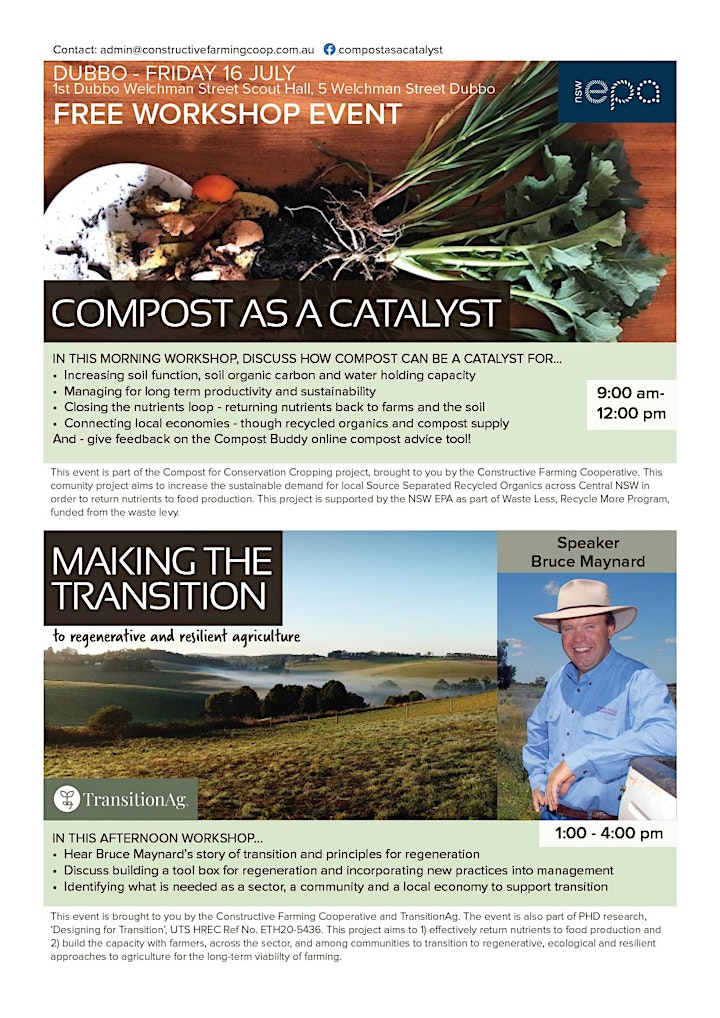 Event sponsors
The Compost as a Catalyst workshop is part of the Compost for Conservation Cropping project, brought to you by the Constructive Farming Cooperative. This community project aims to increase the sustainable demand for local Source Separated Recycled Organics across Central NSW in order to return nutrients to food production. This project is supported by the NSW EPA as part of Waste Less, Recycle More Program, funded from the waste levy.
The Making the Transition workshop is brought to you by the Constructive Farming Cooperative and TransitionAg. The event is also part of PHD research, 'Designing for Transition', UTS HREC Ref No. ETH20-5436. This project aims to 1) effectively return nutrients to food production and 2) build the capacity with farmers, across the sector, and among communities to transition to regenerative, ecological and resilient approaches to agriculture for the long-term viabiilty of farming.
Organiser of DUBBO: Compost as a Catalyst and Making the Transition