Description
DRUMBEAT Facilitator Training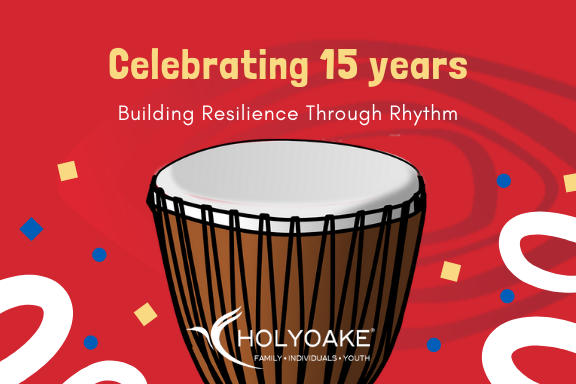 We are celebrating 15 years of building resilience through rhythm with DRUMBEAT.
DRUMBEAT is evidence-based Social and Emotional Learning program, combining group drumming and conversations to build resilience. and show measurable changes in social behaviour. With a 15 year track record of delivering real, positive results in behavioural change, DRUMBEAT is the program you've been searching for to connect with the people you work with. Read more about the evidence here - https://www.holyoake.org.au/drumbeat/about-us/evidence-research/.
Register for the 3 day Facilitator Training
Over the 3 days you will experience the power of group drumming, engaging games and exercises and insightful discussion about group facilitation, behaviour management and motivation and the power of human connection. By the end of the training you will be a provisionally accredited DRUMBEAT facilitator, ready to take the program back to work and apply all that you've learnt to engage, empower and change lives.
What will I learn?
Basic hand drumming skills
Group facilitation techniques to apply in your program delivery
How to apply the 5 core elements of DRUMBEAT to engage and empower group participants
How to facilitate musical creativity through improvisation to build participants' confidence
How to use the drum to open up group discussion and encourage self-reflection
FAQs
What is included in my registration?
Your training package includes:
Training Workbook and CD of DRUMBEAT Core Rhythms
Program Manual
Evaluation guidelines and tools
Morning tea and lunch each day
What if I need to cancel or transfer to another training?
Please refer to the Terms and Conditions below.
Where can I contact the organiser with any questions?
Email us drumbeatservices@holyoake.org.au or call (08) 9416 4444 (8.30am-5pm AWST).
Training Testimonials
"Thank you Holyoake!!!!! I just completed your DRUMBEAT facilitator training yesterday and it was excellent!!!!! The best PD I have ever done. I haven't felt so comfortable and engaged at a PD before. It was paced very well. My co-facilitator and I are already looking forward to implementing the program and excited about helping the youth we work with. Tara was a wonderful trainer and went out of her way to answer our individual questions and followed up quickly. Thank you so much Tara!!! Sarah De Sousa Roque
"I just finished the Facilitator training! What an amazing experience! Geoff was an awesome trainer, fun, experienced and always available to listen to us and help us! I came home the last day and started practicing! I can't wait to start my first group! What an amazing program!" Gretchen Marie Cabranes
What is DRUMBEAT?
Watch the video: https://youtu.be/8JJSZt2HMx4
DRUMBEAT engage peoples, lifts their self-confidence and teaches a range of life-skills that will enable participants to be emotionally and socially healthy members of the community.
Under the guidance of a facilitator, participants develop and practice social skills such as problem-solving, active listening, empathy and tolerance through playing music with others.
Their learning is extended through discussion that promotes self-reflection and awareness on how their thoughts, feelings and actions impact their relationships with others.
Program Testimonials
"The games and activities which promote fun and sharing of information have been a catalysts for personal discussions and problem solving within the group. It has been rewarding to witness some students with leadership qualities, leading discussions to solve others problems in positive and supportive ways. The program has enabled some quieter students to become more assertive in this setting, which has flowed on to the classroom." Janelle Wheatley, Specialist Educator, NSW
"A brilliant addition to my therapy toolkit, just what we need to engage young people reluctant to share their feelings." Emily Harper, Clinical Psychologist WA
"The group had mental health, intellectual and physical disabilities, and many felt that this program would not work for them. However, I believe the group members gained a real sense of belonging. Potentially this was the only sense of belonging to something that they have ever had. They also gained a sense of contribution and recognition that they do matter; they can contribute and achieve something. The opportunity to have their voice and story heard and to take the lead really appeared to be therapeutic for the group. From observation, there were a reduction in the frequency and intensity of the behavioural incidents, an increase in communication demonstrated within the group and an increase in the sense of group cohesion and togetherness. Overall, running this group was a highlight of my career to date." Angie Zappala, Behaviour Practitioner (Adults) NSW
To learn more about DRUMBEAT, please visit our website www.holyoake.org.au/drumbeat
Holyoake is a not for profit organisation. By attending events and/or purchasing resources you are supporting the development and delivery of programs and services that benefit the members of our communities.
DRUMBEAT is a registered trademark of Holyoake.


TERMS AND CONDITIONS
PAYMENT
We accept payment online or offline via, direct deposit or credit card.Our preferred payment method is online.
You will receive a confirmation email and a tax invoice upon completing your registration. Your payment must be received in full 14 days prior to commencement of the Training Workshop.
Direct Deposit: Bankwest BSB 306-053 ACC 4168611 (Please reference the invoice number)
REGISTRATION TRANSFERS
Substitution - If you are unable to attend, you may nominate someone else to attend in your place at no additional cost.
Event Transfer - You may choose to transfer your registration to another Training Workshop, up to 14 days prior to commencement of the Event for which you have registered. Registration transfers that occur within the 14 days period prior to the commencement of the event will incur a $120.00 transfer fee.
REGISTRATION CANCELLATION
Should your circumstances change and you are unable to attend the Event, you may request a refund no later than 14 days prior to commencement of the Event.Cancellations must be in writing. A cancellation fee of $120.00 will apply. Should you cancel less than 14 days prior to commencement of the Event, no refund will be given.
Refunds will not be given for 'No Shows'. Unfortunately, being unable to attend due to illness/health/personal or work issues is considered a 'No Show', and no refund will be given.
CHANGES TO EVENT
In the event of unforeseen circumstances or if minimum registrations are not met, Holyoake DRUMBEAT reserves the right to change or cancel the Event. If the Event is cancelled, you will be notified by the email address you provided and receive a full refund.
REFUND PROCESSING
Holyoake DRUMBEAT will refund any fees paid, after taking into consideration the relevant cancellation policy. Credit card surcharges are non-refundable. Refunds will only be processed to the credit card or bank account of the individual or organisation from which the payment was received.