About this Event
Seminar 6: Cultural Aesthetics + Borders with Mahwish Chishty
Mahwish Chishty's artistic research combines her interest in Pakistani traditional folk art/culture and contemporary politics as it relates to US/Pakistan relations. This talk will cover the inspiration and motivation behind the projects that Chishy has been working on since 2011, including: Drone Art series, Wagah Border, Basant: Let's Go Fly a Kite and Danyore. Chishty will share paintings, installations and collaborative projects as part of this discussion.
Mahwish Chishty is a multimedia artist who initially trained as a miniature painter in Pakistan. Her work combines traditional artistic practice with her interest in contemporary politics, particularly the relationship between the US and Pakistan. In 2017, Chishty was awarded a Guggenheim Fellowship, and in the same year she held a solo exhibition of her drone art at the Imperial War Museum, London. Her 2018 installation, Naming the Dead, was shortlisted for the ArtPrize. She is currently Professor of Art at the University of Massachusetts, Amherst.
(Image: X-47B (2012), Mahwish Chishty, Drone Art series)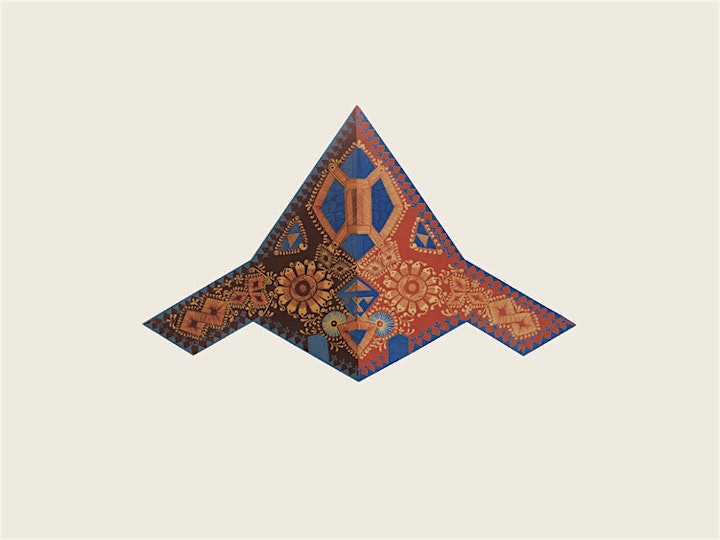 About the Drone Futures series:
Drone Futures brings together leading artists, humanities and social science scholars whose research intersects with the emerging field of drone studies. From the neo-colonial violence of contemporary wars in the Middle East and Africa to the strange histories of unmanned aerial vehicles to activist uses in struggles for justice, this seminar series looks to the past and present to think into the future. By showcasing inter-disciplinary scholarship, it aims to spark new connections and inspire debate about how to build more just drone futures.
Taking place from August through to November 2020, the Drone Futures seminars will be streamed live to YouTube, where participants can converse and post questions through the comments function. Please register your interest in attending this virtual event.
The Drone Futures Seminar Series will culminate in the Drone Cultures Symposium, hosted virtually on the 8-10 of December by the UNSW Media Futures Hub. For a link to a recorded podcast of Drone Futures seminars, as well as information about the other presentations in the seminar series and the upcoming Drone Cultures Symposium, visit the project's website: www.dronewitnessing.com.
The Drone Cultures Symposium is funded by an Australian Research Council Discovery Early Career Researcher Award.
Drone Cultures acknowledge and pays respect to the Traditional Custodians of the land on which we work and live, particularly the Bedegal, Bidjigal and Gadigal Peoples, and their elders past and present. Sovereignty was never ceded, and the struggle for justice continues.