Event Information
Location
B117 Theatre, Basement
Melbourne School of Design
Masson Road
University of Melbourne, VIC 3010
Australia
Description
2018 Droga Architect in Residence – Alexis Sanal
Open Markets Open Play, Rehearsals and Particulars to Time-based Architectural Design
The Australian Institute of Architects Foundation, in partnership with the Melbourne School of Design, invite you to attend a special lecture by distinguished architect Alexis Sanal, 2018 Droga Architect in Residence.
Alexis is co-founder of SANALarc, a knowledge-centric studio focused on civil and civic architecture, research and city-design, based in Istanbul. In this talk, Alexis will discuss her research around open one-day markets and how their timeless acts of self-organized urbanism across civilizations and geographies are as pertinent to contemporary architecture, place-making and iconic identity as are museums, public libraries and entertainment centres. Istanbul's unique construction of market making is defined by its use of residual and under-utilized city spaces into places of vibrant community centric public life, one day each week. SANALarc has earned international recognition for their public realm works and their practice focuses on investigating ways city-makers can self-organize in re-imagining the potential for transforming underutilized spaces into places for living culture. These are also envisaged as sites for robust micro-ecologies, and as inclusive environments for sub-cultures to flourish. Alexis will share SANALarc's Imaginable Guidelines design tool, as an inventive actuator of crowd-sourced city-making knowledge, and that engages an inclusive process in public realm design. As open markets are perceived as playful acts of civic life, have simple program rules and are stages for actual multi-generational playtime, her residency research is focused on developing this notion of 'Open Play'. Alexis will elaborate on this as a concept that can underpin an alternative repositioning of regulations as enablers, to rehearse multi-functioning living, working, trading, playing, and sharing into particular time-based architectural designs.
Biography
Alexis Şanal holds a Barch'95 from Southern California Institute of Architecture and an Master of City Planning '02 from MIT. Her passion is exploring living culture and built environments that blend contemporary urban realm with timeless physical and natural contexts to create imaginative and meaningful experiences. Her recent efforts in this sense include creating HEY! Imaginable Guidelines Istanbul, "Pazar- Making", revealing 'pazars' as a man-made generative approach to tactical urbanism and re-thinking public libraries as enablers of localized knowledge communities.
She is recipient of a 2014 Graham Foundation research grant, and has exhibited works at the MAXXI Rome, Istanbul Modern and Garanti Galeri. Her studio's internationally award winning works include Sishane Park, SALT Research and "Pazar- Making" as well as creative campus designs like BU Rasathane Master Plan and Bomontiada. Each of these projects reflect how the design of an interconnected public realm can shift possibilities and create a participative platform for advancing communities' shared futures.
Location map: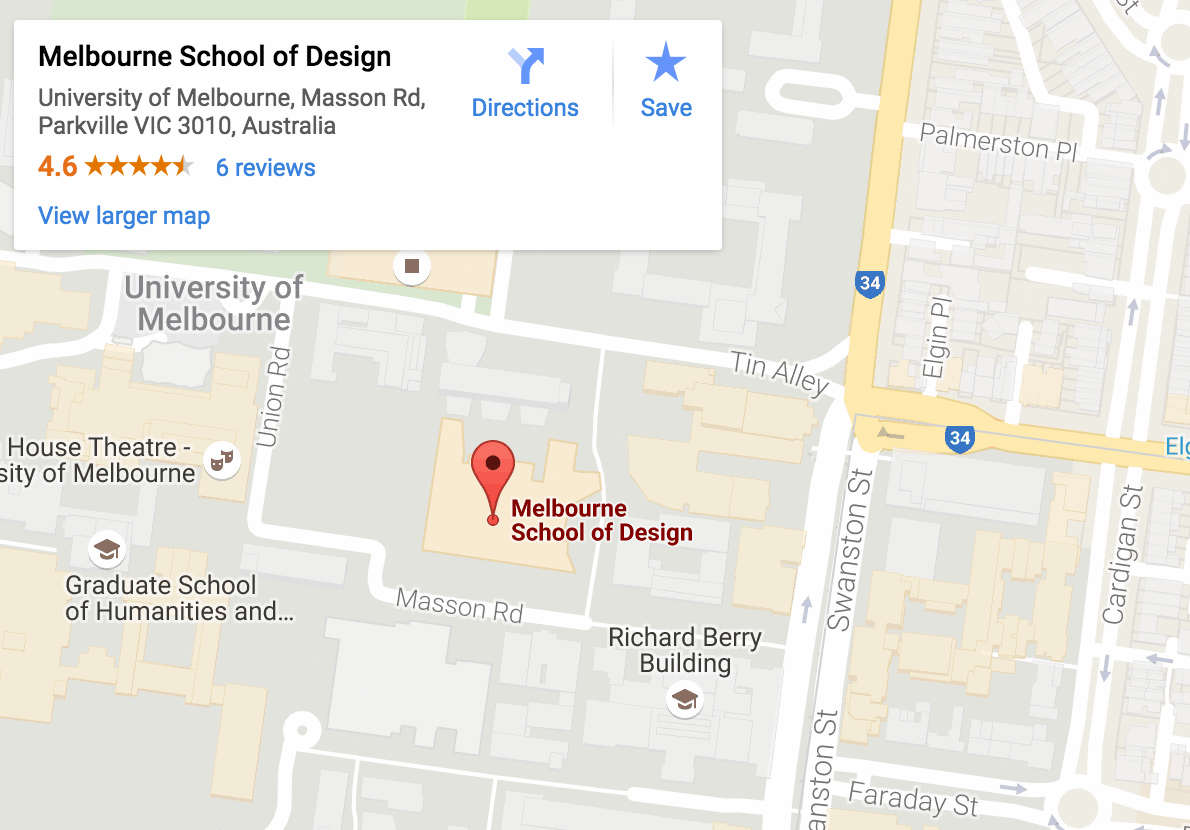 Date and time
Location
B117 Theatre, Basement
Melbourne School of Design
Masson Road
University of Melbourne, VIC 3010
Australia
Organiser of Droga Architect in Residence Talk: Alexis Sanal
The Faculty of Architecture, Building and Planning, incorporating the Melbourne School of Design, is a vibrant community pushing the boundaries of knowledge to produce graduates, thinkers and practitioners at the leading edge of their fields.
The University of Melbourne and Eventbrite collect your personal information to manage your registration and to contact you regarding this event. Your information may also be used by the University and Eventbrite for analysis, quality assurance and planning purposes. For further information please visit the University of Melbourne's website and Eventbrite's Privacy Policy.