Description
This post-apocalyptic sci fi LARP is set on a world colonised 260 years ago by humanity and dubbed "Last Hope" as it was the only inhabitable planet discovered. Everything went to hell 70 years ago when an experiment gone wrong caused three quarters of the population to go mad, regenerating mass murderers following their primal urges called Zed-Synths and human-hunting machines designed to take down the Zed-Synths but which now attack everyone. Things have settled down since then but the world is still a dangerous place.
This session focuses on Drifter's March, an inn set between two larger settlements on a particularly lucrative and dangerous salvaging spot where locals and travellers alike both branch off from this spot to scavenge the area.
Although the genre is post-apocalyptic, the majority of people who live on Last Hope try to help each other survive rather than murder or abandon their fellow humans to die on this world. However that doesn't stop them from trying to get the better deal, hiding the better piece of salvaged tech from their buddies, conning their colleagues, stealing an unsupervised piece of tech or manipulating the situation to their own advantage.
AGE LIMIT: MA 15+ due to mature references and gore effects.
SETTING: Last Hope. Once upon a time over two hundreds years ago, humanity discovered a way to colonist another planet through transdimensional travel. For a hundred and fifty years these colonies flourished and became cities, but an attempt to help hasten human cellular regeneration led to mad nanite-fuelled monsters (zed-synths), killer robots (initially trained to kill such zed-synths but have since failed to differentiate between them and humans), and radiation storms caused by nuclear fallout from atmospheric detonations of nuclear warhead to try to turn off the robots through an EMP.
LUNCH & AFTERNOON TEA: There will be a themed lunch and afternoon tea available for both characters and players.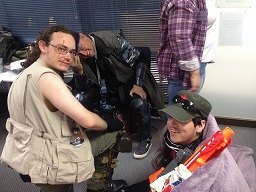 COSTUMING: The Wastelanders who live here often have metallic traceries across the skin around their faces due to those initial nanite injections and very well-worn post-apocalyptic clothing. You aren't required to come in costume or wear facepaint but you are more than welcome to do so and there will be a face painter on site who can apply traceries for you for a gold coin donation to players who arrive early on a first come, first served basis.
GAME STYLE: A Player versus Environment game where player characters operate out of a waystation and range into the local wilderness to scavenge supplies, salvage devices and deal with some of the threats wandering around all while trying to accomplish their own goals. Although this game uses boffer weapons, people who don't feel comfortable / aren't able to get involved with simulated foam combat can still have a major role in the game due to a number of in-game devices that allow them to roam without fear of battle (though they can still die). Please contact us if you would like to know more about noncombat roles.
CHARACTER CREATION: All characters are written by the organisers. You can choose any character from the cast list that will be shown on the order form. Examples include:
Salvager Tavern Dreamer is always keen to explore with strangers.
Artificer's Union Second-in-Command is a base flatterer who double checks contracts.
Anti-Raider Force Sergeant has seen way too much but just keeps going.
Merchant Caravan chemist brews chems in the back of their coach.

You will receive information on the character, several secrets and goals, and a culture packet to help define what this mysterious world is like.
What is a LARP: LARP is an acronym for a Live Action Role Playing game. You are not yourself at a LARP. You are portraying someone else. You go by a new name, present a new personality and have all new motivations while moving through a setting that has been designed by someone else. Perhaps you are a brave warrior in a fantasy town under siege, a medieval villager trying to cope with the plague or perhaps you are a grieving widow trying to identify your husband's murderer. You can learn more here: https://arc-adelaide.com.au/what-is-larp/.