Description
Relax in a safe, comfy & inclusive space and let your creatives out for run. No matter, novice, professional, or simply itching to sketch, you're all welcome. Draw, or kick back over a glass and watch others draw; this is an informal event where you are encouraged to enjoy yourself.
For this special XMAS edition, we're featuring model Mina along with festive adornments, just for fun.
Tix $12+bf / $15 @ the door if seats available. Seating limited, bookings recommended.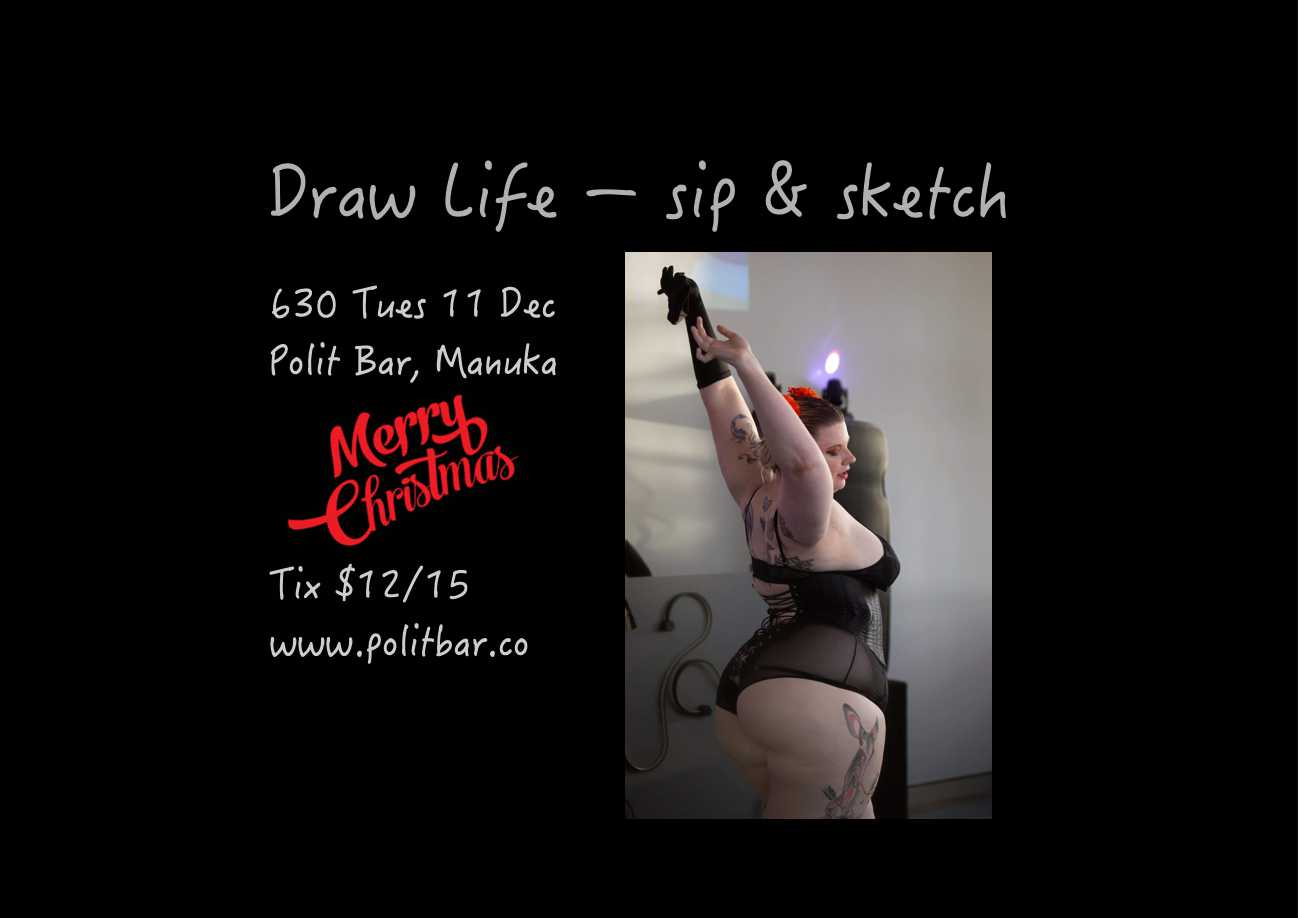 What to expect
There will be a (99% - liquor licence restrictions) naked model – aged anywhere between 20 and 65 years old, male or female and sporting a variety of builds and body types. They'll be posing in the middle of the 'Royal' corner of our venue around which you can stand or sit in a wide semi-circle with sketch pads on your laps, tables or easles. Food and drinks will be available from the bar during the event and there will be music playing in the background.
Participants will discuss and agree the pose schedule at the beginning of the event. Usually, the event will start with short warm up poses of 1 minute each, followed by longer and longer poses of 2-5 minutes, 10 minutes and finally, after a break if desired, a longer poses of 20 minutes. The model can hold more difficult poses when it's just 2-5 minutes, but for the long poses will have to do something easier. That's why they're often sitting or lying down for the long poses.
What to bring with you?
Bring the basic life drawing starter kit, including some good quality 2B or B pencils or sticks of willow charcoal, an eraser, some paper (preferably at least A3), a sharpener and a board or something so you have a hard surface to draw on (if you prefer to draw at an angle other than on our flat table surfaces). Bring an easle too if you have one. If you need more information check out this full guide to life drawing equipment.
General etiquette
This is a casual life drawing opportunity and participants are welcome to come and go as suits their schedules. In doing, so we ask that you do your best to avoid disturbing others.
Model etiquette
Please respect the model at all times but especially when the pose is in progress.
Please respect the vulnerability of the model by avoiding physical contact unless he or she indicates that help is required in moving around.
While we will look after the model's comfort, we ask that participants are also consider the model first. For example, if the model is comfortable and you are too hot, please take a layer off rather than asking for the aircon to be turned up.
The pose contract
It is important for all participants to bear in mind that, once the pose and its duration have been discussed and agreed between the participants and the model, that agreement immediately constitutes a contract. These are its terms:
- If it is a quick pose (anything between the shortest time and twenty minutes, say) the model agrees to do his or her best to hold the pose for the agreed length of time.
- If it is a long pose (more than twenty minutes), the negotiated period before any break and the duration of that break must be respected.
- If marking the model's position is required, this must be done with respect, and only after the consent of the model has been given.
- The model may, at any time, indicate his or her discomfort and may expect immediate and appropriate relief
- At no time may a member of the group unilaterally seek to extend the duration of any pose (this is unfair to the model, who may have agreed to a strenuous pose only possible within the time contracted; also to the other members of the group, most of whom will have successfully timed their work and should not be made to waste precious moments at the whim of someone less efficient. It is obviously a different matter when working 'one to one' with a model)
- The full and undivided attention and service of the model is required. Unless it is for some special reason, the model should not seek to read a book or magazine, or to perform any other apparently innocuous but actually quite distracting activity while engaged in a pose.