Drag Queen Bingo! Free Event, Bingo Wednesday at The Rubber Chicken!
About this event
👑 Drag Queen Bingo 🥳🔥
Free Event, Wednesday Bingo Night
Wednesday at The Rubber Chicken is full of colour, laughs and BALLS!
Every Wednesday from 7 pm grab your friends for a drink and meal as the glamorous Alexander McKween calls the numbers and announces the winners.
Prizes include jugs of beer, bottles of wine, vouchers and even a ticket to learn stand-up comedy with The School of Hard Knock Knocks.
It's free to watch, and $5 to join with your own bingo card. There's plenty of tables and chairs, so bookings aren't necessary.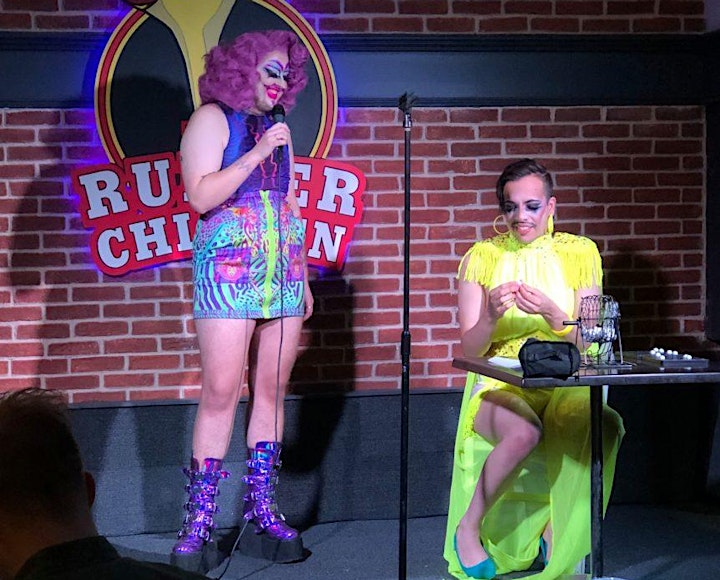 Really, Bingo?
Yes! And I'll tell you why...
These fun social events are designed to get you out and easily talking to new friends. Going to a loud packed nightclub is HARD.
Now picture naturally socialising at this event, enjoying your drink while playing Uno with new friends.
Social activities and our fun hosts break the ice for you 🧊
I mean I see people going out again and I like talking to friends, but initiating chat with someone new? 😐
I get it, I haven't spoken to many people lately either and that's why this is perfect, we're all new, let's get out and let's make friends and smile 😊
I've found us the BEST bar and these are the easiest social events to make connections too
So get in fast, RSVP and click the Free link below to book your spot before it gets away...
We're meeting at The Rubber Chicken from 6:30pm the 23rd of June with large table areas booked for our for your new crew. That way you know everyone there is part of our group and open to friendly chats too.
And the bar sells drinks for when you get thirsty too. 🙌
RSVP and book your Free ticket Now before places get away

Organiser of Drag Queen Bingo! Free Event, Bingo Wednesday at The Rubber Chicken