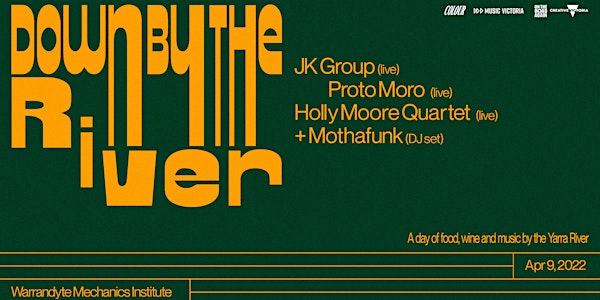 Down By The River: JK Group, Proto Moro, Holly Moore Quartet
Colour, Music Victoria & Creative Victoria
Performers
JK Group
Proto Moro, Holly Moore Trio, Mothafunk
Location
Warrandyte Mechanics Institute
180-186 Yarra Street
Warrandyte, VIC 3113
Australia
Down By The River - Saturday Jan 15th at the Warrandyte Mechanics Institute
About this event
Down By The River is a new day trip through jazz, funk and everything in-between to the banks of the northern Yarra River, on Wurundjeri Country.
Presented by Colour Club & friends (with the help of Creative Victoria and Music Victoria), Down By The River invites some of Melbourne's finest local performers to the Warrandyte Mechanics Institute, which has hosted arts and cultural events in the North East of Naarm for sixty years. The space, reimagined in this fresh image, feels like a true music hall, and a fitting host to the sounds of JK Group, Proto Moro and the Holly Moore Quartet. Their dulcet tones will be drifting down the banks and across the water from early afternoon til late in the evening.
We'll be serving up cups of only the finest local liquids throughout, with beers from Bodriggy and a selection of our favourite grape juice (+ some non-alcs for those that way inclined). Food from our faves at Polly's Kitchen.
For those wanting a tipple, the 906 bus comes straight to our door. We can't wait to see you!
Lineup
JK Group
Proto Moro
Holly Moore Quartet
+ Mothafunk (DJ Set)
3pm — 10pm
~~~~~~~~~~~~~~~~~~~~~~~~~~~~~~~~~~~~
This event is available to vaccinated patrons only. Sanitiser will be provided on entry and all patrons must check-in using the QR code provided on entry.
We live, work and play on land that was forcibly taken from Aboriginal people. There has been no Treaty with the First Nations of this place and the effects of colonisation continue to this day. We would like to acknowledge the Wurundjeri Woi Wurrung people, on whose land this event will take place. We pay our respects to the Elders past, present and emerging and recognise that sovereignty has never been ceded.
There is a strict zero tolerance policy towards racism, homophobia, transphobia, sexism, ableism or harassment of any kind. Please report any unwelcome behaviour to staff or event organisers. There may be some strobe lights used in performances.