Double Dutch: Could Australians sue the Commonwealth on climate and win?
Description
This event presents selected excerpts from recent sell-out forums in Brisbane, Syndey and Melbourne featuring Dutch climate case winner Urgenda's Directer, Marjan Minnesma, followed by Q and A and lively discussion. Join us!
Strictly hypothetical.... could we do it?

The Urgenda Foundation's climate case forced the Dutch government to adopt more stringent climate policies, requiring them to take more effective climate action to reduce the Netherlands' share of global emissions. This is the first time a court has ordered a state to take precautions against climate change.
Would such an approach even be possible within Australia's legal framework?
This public forum and panel discussion with the audience explores the possibilities.
To explore these questions, the UWA Law School in association with the Environmental Defender's Office is pleased to host Patrick Pearlman, principal solicitor with the Environmental Defender's Office WA, and Norman Pater who serves on EDOWA's Management Committee.
You are invited to preview a recording of EDO Queensland's Public Forum with Marjan Minnesma here if you wish.
This is a FREE event but RSVP is essential.
EVENT DETAILS:
Date: Thursday 6 August 2015
Time: 6 to 8pm
Venue: Social Sciences Lecture Room 1, Ground Floor, adjacent to the southern side of the Law School in the Social Sciences Building 352
Parking: P3, Hacket Drive Entrance 1
Cost: Free, but RSVP is essential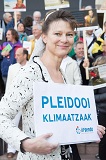 Marjan Minnesma will feature on video. She is the Director of Dutch climate case winner the Urgenda Foundation



Organiser of Double Dutch: Could Australians sue the Commonwealth on climate and win?
The University of Western Australia's Faculty of Law has over 85 years of academic excellence in teaching and learning, in scholarship and research. Founded with considerable assistance from the Western Australian legal profession, this close bond is still retained today, ensuring high rates of employment for our graduates.
Continually evolving to meet contemporary challenges, we are international and multi-disciplinary; with academics drawn from around the world with a range of legal and socio-legal backgrounds, to deliver quality teaching programs and research with impact.
The Western Australian Environmental Defenders Office is a non-profit, non-government Community Legal Centre specialising in public interest environmental law. The EDO's mission is to empower the community to protect the environment through law. Our services include:
providing community groups and individuals with free legal advice and representation on environmental issues,

promoting environmental law reform, and

undertaking community legal education.
The EDO (WA) is part of a national network of EDOs servicing each Australian State and Territory.